---
Portland Copwatch Analyzes Compliance Officer Report on US DOJ Agreement August 2022
Table of contents
Introduction
FORCE: Still No Analysis by PPB of Force Increase on People in Mental Health Crisis
TRAINING: Crowd Control Training Despite Lack of Specialized Unit, Policy or Analysis
MENTAL HEALTH: Cops Still Won't Lock Up Guns in Hospitals
CRISIS INTERVENTION: Advisory Group Still Not Looking at Real Force Incidents
OVERSIGHT: DOJ Much More Critical of Accountability System than COCL
COMMUNITY ENGAGEMENT: Community Committee Nearly Disbanded
NEW REMEDIES: Focusing on "The Big Three"
Conclusion
Footnotes
---
Portland Copwatch
a project of Peace and Justice Works
PO Box 42456
Portland, OR 97242
(503) 236-3065/ Incident Report Line (503) 321-5120
e-mail: copwatch@portlandcopwatch.org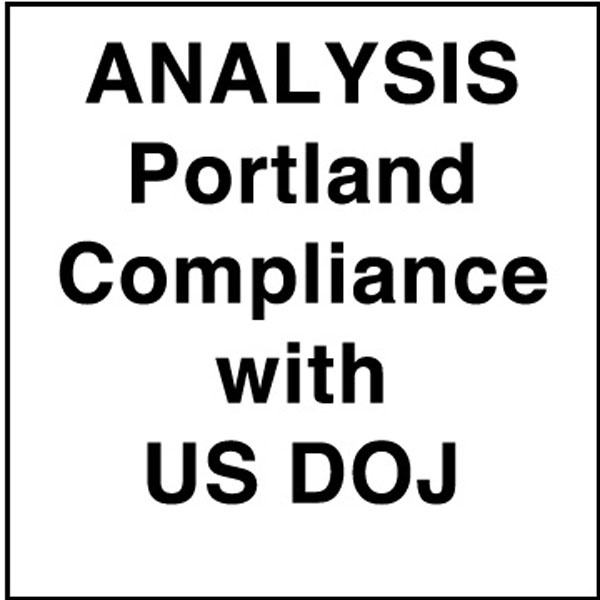 To: Compliance Officer/Community Liaison
US Department of Justice
cc: Hon. Judge Michael Simon
City of Portland
Portland Committee on Community Engaged Policing
AMA Coalition for Justice and Police Reform and other community organizations
News media
PORTLAND FALLS FURTHER OUT OF COMPLIANCE WITH SETTLEMENT AGREEMENT, SAYS COCL
an analysis by Portland Copwatch, August 22, 2022
The latest report from the Compliance Officer/Community Liaison (COCL), the group of consultants who check Portland for adhering to the 2012 US Department of Justice (DOJ) Settlement Agreement regarding police use of force, found some progress and other setbacks in its Q1 2022 Report. The new Report, released in mid-July*-1, draws attention to paragraphs which are not in compliance. Portland Copwatch (PCW) notes below the three paragraphs they find problematic which were not part of the DOJ's June 30 analysis,*-2 and 10 other paragraphs the DOJ found lacking but for which the COCL gave the City passing grades. In total, DOJ found 30 places the City strayed while the COCL found 23. As in the past, PCW does not necessarily agree with all of either Reports' conclusions, but continues to welcome the scrutiny, inside information and mostly useful critique coming from both bodies.
A key finding by both COCL and DOJ is that the Behavioral Health Unit Advisory Committee is not in compliance with the Agreement because they have refused to review actual force encounters with people in mental health crisis to advise the Bureau how to avoid such confrontations in the future. Many of the other non-compliance ratings are still linked to the PPB not having completed a satisfactory review of its violent treatment of protests in the wake of the killing of George Floyd in Minneapolis in 2020. That analysis is expected to be ready in early 2023-- nearly 2.5 years after most of the protests ended. As noted in our analysis of the Q4 report, the COCL expressed deep concern with the biased and racist crowd control training slides revealed in January, but is unable to make a comprehensive set of recommendations because the internal investigation into the slides is still ongoing.*-3
The COCL also gives a cursory review of three of eight new paragraphs which were amended to the Agreement in late April. Since those paragraphs kicked into effect in Q2, PCW is looking forward to more information in the next Report.
This analysis is shorter than PCW's usual reviews of the COCL's work, but is still intended to highlight important issues and information that is not available elsewhere. Where appropriate, paragraph numbers appear in (parentheses) and Report page numbers in [brackets]; unless stated as a DOJ page number, the page numbers are for the COCL's Q1 draft.
back to table of contents • back to top
FORCE: Still No Analysis by PPB of Force Increase on People in Mental Health Crisis (or COCL on Race)
The new Report says that people with mental illness represented 22% of those subjected to force, which was an increase of 10%. Because the DOJ's findings that led to the Agreement focused primarily on people in crisis, the COCL faults the City for not examining why this increase occurred [pp. 4 & 48]. As we have noted in the past, the COCL fails to note that until Q3 2021, 25-30% of people against whom police use force were African American in a city that's 6% Black. In Q4 and Q1 that number fell to 22% and 21%, a potential positive trend.*-4
The Bureau also apparently has inconsistent training on what constituted de-escalation, with a new recurring claim that "numerical superiority" is a form of de-escalation. The COCL says that can be true in some instances (without giving an example), but that officers can't just put that in a police report without showing how having more officers decreased the likelihood that force would be used [p. 33].
With regard to Conductive Energy Weapons (CEWS, brand used by PPB are Tasers), the COCL calls out a case where a Sergeant ordered two officers to fire Tasers at the same time and keep shocking the suspect. Because the person had an axe, the COCL suggests changing the policy to allow multiple Tasings by multiple officers, despite realizing this can only happen if deadly force would be justified (68) [p. 35].
An officer who used profanity had a Supervisory Investigation (not a full Internal Affairs or "Independent" Police Review one that could result in discipline) substantiated against them, but that information wasn't put into the Employee Information System [p. 40].
The COCL found the Bureau's promise to update the "checklist' form for After Action Reports used to review force incidents good enough (72) [p. 42] , while the DOJ felt that they are not being utilized to do critical analysis of officers' actions [DOJ p. 16].
The Bureau's Force Inspector continues to send lists of data to commanders without identifying specific officers, supervisors or units where force is being used disproportionately (76) [p. 49].
back to table of contents • back to top
TRAINING: Crowd Control Training Despite Lack of Specialized Unit, Policy or Analysis
The COCL reports that some training went on around Crowd Control even though the mistakes of 2020 haven't been fully analyzed yet. One such training was for "grenadiers," officers who shoot less lethal weapons at demonstrators [p. 56]. PCW criticized the Training Advisory Council for repeating the Bureau's militaristic term for these officers and we encourage COCL to use "less lethal operators" or another less inflammatory term as well, to influence the PPB to do so.
The DOJ disagrees with the COCL about whether the Bureau is properly tracking training (81) because supervisors are supposed to review data every six months, but are only doing so annually [DOJ p. 28]. The Department of Justice also feels paragraph 85 about auditing training is out of compliance [DOJ p. 33], though the COCL is giving them until the end of Q3 this year to conduct a new audit [p. 93]. And, DOJ thinks the quarterly Use of Force Data is not compliant because of the failure to identify trends, among other things (86) [DOJ p. 33].
The City initiated its newest iteration of the Gang Enforcement Team, known as the Focused Intervention Team (FIT), in January. They cobbled together training for the Team without running it by the DOJ or COCL, as required by the Agreement. There was a lot of emphasis on stop and search policies, but not about how to investigate gun crimes... the basic premise for creating the FIT in the first place [p. 79]. Notably, shortly after the COCL's Report was published the FIT was involved in its second and third officer involved shootings in its short seven month existence.
The COCL encourages the Bureau to track how their training leads to new outcomes on the street, saying you can't change something if you don't measure it [p. 83]. However, the PPB has been measuring traffic stop data for 20 years and the numbers have not changed significantly. Tracking has to come with a commitment to change.
Also, in the Training section:
--The COCL reveals that officers were unhappy that a community panel expressed criticism of the police [p. 59].
--On the other hand, officers wanted to hear more community voices, not just Bureau management, in videos about interaction with the Queer community [p. 61].
--The Report lists some of the new laws the City Attorney briefed officers about, but is vague about others [pp. 50- 51]. One court decision requires any questions at a traffic stop to be related to the stop or justified on other grounds; another says officers can't just claim "officer safety exceptions" to civil rights just because a person owns a gun, and the third had something to do with search and seizure, but is not explained.
--A review of videos during training, all of which involved shots being fired, did not include a discussion of de- escalation until the end [p. 71].
back to table of contents • back to top

----------
MENTAL HEALTH: Cops Still Won't Lock Up Guns in Hospitals
Without belaboring how the COCL continues to give a pass to the Unity Center, which is not the drop-off/walk-in center promised in the Agreement, PCW will highlight that this section reveals the PPB continues to refuse to lock up their guns when they enter psychiatric facilities. Also, when an issue came up at a meeting about facilities getting access to police reports, no Portland officer attended (89) [p. 100].
back to table of contents • back to top
CRISIS INTERVENTION: Advisory Group Still Not Looking at Real Force Incidents Although the COCL wrote advice to the Behavioral Health Unit Advisory Committee (BHUAC) in late 2021 on how to review actual incidents of force against people in mental health crisis, the Committee has not done so-- not just as of Q1, but not as recently as August 11 when the Committee held a public engagement meeting. The COCL criticizes BHUAC for not fulfilling its obligations in Paragraph 95 (newly rated at "Partial Compliance") and for spending more time debating whether to open its business meeting to the public than, say, reviewing proposed refresher training on mental health [p. 109]. In addition, they took Paragraph 96 out of compliance because it is not clear whether/how the Bureau is using recommendations the BHUAC _does_ make [p. 111]. Similarly they find Paragraph 98 out of compliance because the BHUAC failed to review the 40 hour Crisis Intervention Training. The DOJ did not call out the Bureau on Paragraphs 96 or 98.
PCW continues to be frustrated that the COCL compares Enhanced Crisis Intervention Team (ECIT) officers with their peers for arrests and whether people are taken to the hospital, but not for Use of Force. The paid analysts continue to assert there isn't enough data on Use of Force to make the comparison, because there are "only" about 30 incidents per quarter. However, for the length of time they present in their table [p. 115], there are a total of 309 uses of force, certainly a large enough sample to analyze.
The Bureau's Service Coordination Team continues to get high scores from the COCL (and, apparently, analysts at Portland State University), though Portland Copwatch continues to be concerned people have to be repeat criminal offenders to seek substance abuse treatment and other services. People continue to not qualify for help because, for instance, they had not committed crimes recently (27% of rejected applicants) or had no criminal history at all (24%) [p. 131].
back to table of contents • back to top
OVERSIGHT: DOJ Much More Critical of Accountability System than COCL
The DOJ disagrees with the COCL's claim that the City returned to compliance with meeting a 180-day deadline for investigating cases (121) [DOJ p. 61]. They base this in part due to the case of a woman who was arrested when twerking in proximity to a police vehicle during a 2018 protest. Her case was not heard by the Citizen Review Committee until 439 days after the complaint was filed. Although DOJ and the COCL agree that the City is not always coming up with an actionable plan to fix missed deadlines (per paragraph 123), the DOJ gave them a Partial Compliance rating vs. the COCL's Substantial rating.
COCL also gives a positive rating for the separation of witnesses based on the presentation of paperwork saying that had to be done (125) [p. 152], while DOJ points to how it violated this principle when the Bureau sent out a video of the December 2020 officer involved shooting to _every employee_ during the investigation [DOJ p. 64].
It appears that many of the officer involved shootings are taking a long time to investigate because the officers are on paid administrative leave after the incidents [p. 150]. If this is the case, the City should carve out an exception to the paid leave and require the officers to give testimony when called. Civilians don't get paid for their interview time, and we won't argue that point here-- what's important is to get officer testimony as soon as possible.
Both entities call out the "Independent" Police Review (IPR) for dismissing use of force cases because the complainant could not be reached. While the COCL says it's "understandable," they repeat that Paragraph 129 requires all force cases to be investigated [p. 137]. The Report suggests modifying the Settlement Agreement to allow for closing more force complaints; we worry this is a slippery slope and any carve out would have to be very narrow and specific. The lack of complainant alone doesn't sit well if there is also evidence in officer reports, video, media or other sources that could allow an investigation to go forward.
The Police Review Board (PRB), the internal system made up of a majority of police that hears deadly force and other cases, did not achieve Substantial Compliance again despite two hearings the COCL attended and called reasonable. One had to do with officers boxing in a suspect's car, and led to a training video on the topic. Another, while it clearly generated a complaint that led to a high-level review, was described by the Board as a "positive interaction" [p. 161]. The COCL would do well to include more details when a confusing contradiction like that is reported.
PCW is a regular presence at Citizen Review Committee (CRC) meetings, and is constantly bewildered by official reports that incorrectly reflect the work of that group. In discussing CRC's ability to send cases back for more information, the COCL notes that a case that was going to be appealed to them in Q1 was held back and re- investigated (136) [p. 165]. What's missing is that the IPR staff sent the case back without allowing CRC to hold a Case File Review to determine for themselves whether to use their authority.
In discussing Discipline, the COCL reports that in one case there were findings that were inconsistent with the facts, and no discipline was imposed [p. 167]. Again, more information would be helpful, particularly because unlike COCL, the DOJ found Paragraph 137 on Discipline out of compliance [DOJ p. 73]. Moreover, COCL does not review Paragraph 169 about holding officers accountable (the DOJ does, and found the City out of compliance on p. 57 of their report).
Side note: Although it's not clear when the transition was made, when the IPR moved its website from the old portlandoregon.gov URL to the new portland.gov one, the link to find access to complaint progress did not make the new site. While one can still find the tracking system (which is required by Paragraph 138) on the old site, it is not easy to do so.*-5
The COCL reports on general outcomes of the system as well, but unfortunately combines Bureau-initiated cases with Civilian complaints. Officers' complaints about force cannot be treated as Bureau cases because they involve community members. Moreover, many Bureau complaints are officer-on-officer issues that don't involve the community, so it would be best to keep the two kinds of complaints separated. Their Report shows conduct and procedure complaints outstripping Force by 48 and 5 allegations total respectively; the top categories would likely be different if the focus were only on community complaints [p. 171].
On the bright side, because the IPR's Annual Reports are less than 20 pages long and barely contain any useful information, this Report fills in at least one gap. The COCL includes the relatively new category of Supervisory Investigations, with a chart on p. 173. It shows that only 33 out of 138 of these minor allegations were "Substantiated." While 24% is a higher rate than "Sustained" findings in regular cases (18% per p. 174), it still seems low given the low stakes involved.
Finally, the COCL reports that of 439 officers named in complaints, 22 had between five and nine complaints against them, and two had ten [p. 172]. It seems in the interest of community safety, those officers' names should be released.
back to table of contents • back to top

----------
COMMUNITY ENGAGEMENT: Community Committee Nearly Disbanded
The COCL does a fairly good job of letting the City know that most of the dysfunction in the Portland Committee on Community Engaged Policing (PCCEP) during Q1 was not the volunteer community members' fault. Rather, the City lost two staff people, failed to fill six empty seats on the 13-member Committee, and rather than come up with a plan to fix the problems, proposed putting the group on hiatus for 60 days. Interestingly, although the PCCEP's predecessor, the COAB, was under the administration of the COCL, they point out that the old Board died because the City failed to replace members who resigned [p. 178].
Also, while the DOJ thinks the PCCEP is still able to fulfill its mission (142), the COCL found them out of compliance because they were not able to make recommendations due to the staff shortage and inattention. Moreover, there are three recommendations from late 2021 that the City never responded to despite a pledge to do so within 60 days [pp. 176-177].
PCW appreciates the COCL's urging the City to post PCCEP meetings in a timely manner. Between March and August, notices went out with between one and seven days' notice, rather than the two weeks the City agreed to in a "Collaborative Agreement" with amicus curae the Albina Ministerial Alliance Coalition for Justice and Police Reform. And this is despite a new staff person coming on board in mid-July.
It is also worth giving support to the COCL for more enlightened analysis than was coming out from 2015-2020. In talking about the need to improve communication with people who don't speak English as a first language and the still unimplemented policy to use printed cards to inform people of their right to refuse a search, the COCL talks about community members who complain about not being able to get translators [p. 184] and how stops and searches are "serious matters" which can be dangerous for people of color [p. 189]. Although the Agreement doesn't require action to end disparate police encounters (only to collect data-- Paragraph 148), the COCL threatens to find the City out of compliance if the now 15-month-long wait to introduce the cards (which have been translated into five languages) does not come to fruition soon.
While PCW and other community members have continued to express concern about how the PPB presents its Annual Report, COCL gives them another passing grade on Paragraph 150, while also admirably suggesting they wait until the three Precinct presentations are done before going to City Council [p. 194]. In Q3, Portland Copwatch experienced the police facilitator truncating one of our questions before it went to Chief Lovell, so we hope that the Bureau will be found out of compliance this year for only checking boxes and not meeting the spirit of the Agreement.
For the record, our question was whether the PPB would correlate the addresses of people who are stopped to prove the point that Chief Lovell keeps stressing, that commuters coming in from Gresham and Vancouver change the demographics of Portland enough to create the disparate 18% of stops in a city with a 6% Black population.*-6
back to table of contents • back to top
NEW REMEDIES: Focusing on "The Big Three"
The COCL did not go into detail on five of the eight new paragraphs adopted in April. However, they opined that:
--The City should have involved the community more in the selection of the "civilian dean of Training" (191) [p. 198]. Ironically, the report came out pretty much on the same day the City withdrew their offer to the winning candidate, a person who resigned from the LAPD (and thus was not a "civilian" per se) to come to Portland, and the City has started the process over again.
--Though Body Worn Cameras are being introduced as a means to aid accountability efforts, the COCL keeps pushing for the data from the cameras to be used for other purposes. They highlight the disputes being hashed out by the Portland Police Association and the City behind closed doors: can officers decide when to activate the cameras? Can they review footage before writing reports? Who stores and who has access to the footage? (194) [p. 200].
--The COCL notes that the new oversight board being designed by the Police Accountability Commission is required by the new remedies to replace the Chief for imposition of discipline (195) [p. 201].
back to table of contents • back to top

----------
As noted in our analysis of the Q4 2021 Report, PCW hopes the COCL can find a way to be clear about the contents of the Agreement and the status of each Paragraph without making reports that are 200 pages long. As noted throughout our comments above, the insight into what is going on in the name of community safety is not revealed to the public without the existence of these contractors. We urge the City to ensure that similar Reports will be generated even when the DOJ eventually leaves town.
With the City now complaining that the goalposts are being moved, it is pretty clear that they never really intended to improve their systems when they avoided a Consent Decree by signing the Settlement Agreement in 2012. They seem to prefer that they do the minimum needed to get out from under outside scrutiny so the system can continue as it always has been. It's far past time to embrace change, stop blaming others for the City's shortcomings and overhaul the police.
back to table of contents • back to top

----------
Footnotes:
*1- Find the Report at https://tinyurl.com/COCLq12022
*2- Find DOJ's report at https://albinaministerialcoalition.org/DOJComplianceReport0722.pdf .
*3- Notably the investigation began in September 2021 and thus itself is in violation of Paragraph 121, which calls for all such investigations to be completed in 180 days.
*4- link to Use of Force data;: https://www.portland.gov/police/force-data-summary-reports
*5- IPR tracking is at https://www.portlandoregon.gov/ipr/64452
*6- The video of the Central Precinct meeting is at https://www.portland.gov/police/events/2022/7/21/central-precinct-annual-report-meeting but one needs to read the chat to see how Portland Copwatch's question was improperly relayed.
back to table of contents • back to top
---
Portland Copwatch home page
Peace and Justice Works home page
Posted August 22, 2022