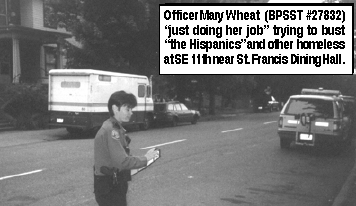 POLICE HARASS HOMELESS AT COMMUNITY DINING HALL
In late June, Copwatch received several calls from the homeless clients as well as workers at St. Francis Dining Hall, located near SE 11th and Stark streets. St. Francis serves dinner for the homeless nearly every day.
Callers complained that police were asking Latino-looking folks for their papers, giving out tickets for "offensive littering" over cigarette butts, and in general asking people if they had ever been arrested in Portland.
On July 1, the Workers Organizing Committee held a bi-lingual meeting, letting people know that the police are not allowed to ask "are you legally in this country?"
Testimony was taken at that time from numerous people who had been harassed by police, mostly by the provocative Officer Mary Wheat.
Apparently, neighbors are unhappy with St. Francis. Lieutenant Donna Henderson said the police are just responding to complaints. The only specific incident cited by police was a female neighbor taking a picture of a homeless man (not a great idea) who was upset that he put his hand up to her camera. The woman says he touched her.
On July 2, Officer Wheat was back, walking around with "Walt," the head of the security company hired by St. Francis to patrol the grounds. Wheat and her partner-of-the-day, Officer Gauger, asked several men to leave the park. They asked almost every person they encountered whether they'd ever been arrested in Portland before. They told members of Copwatch & Legal Aid to step back or we'd be interfering.
Later while a copwatcher was talking to a Euro-American homeless man, Wheat interrupted the conversation. She said she'd seen the man dealing drugs before. When asked why she didn't arrest him, she said "I was after the Hispanics, I was undercover." When we showed surprise at her comment, she added "I can say whatever I want, it's my constitutional right."
The harassment continued for a few days until a meeting was arranged between the police and the management at St. Francis. They are negotiating a solution which will address the concerns of the neighbors and will respect the dignity of the clients at St. Francis. At PPR deadline, we heard that Officer Wheat could still be seen hanging out by the dining hall every evening around meal time.
St Francis serves dinner at 3:30 Sunday and 5:00 Monday through Friday afternoons.
For more information call 234-2028.