PIIAC CITIZEN ADVISORS RUNNING ON "BARE BONES"
On February 10, exactly one year had passed since City Council promised to create a citizen's panel to look at reforming the City Code which guides the Police Internal Investigations Auditing Committee (PIIAC). Copwatch secured time before Council on the 10th, and member David Lowe testified to request that they take action. Unfortunately, Mayor Vera Katz, whose office houses both PIIAC and the Police Bureau, was absent from Council that day. Nonetheless, the four Commissioners who heard the testimony seemed to get at least part of the message. We reminded them that Chief Moose has chosen to ignore their votes in two cases involving police misconduct, and recommended changes to PIIAC, outlined below.
Meanwhile, the Citizen Advisors are now depleted of any members actually schooled in law. After defense attorney Emily Simon resigned last spring, Judge Randall Weisberg was advised to resign by a board reviewing his pro-tem status as a judge. They felt his sitting on PIIAC was an apparent conflict of interest. It's a shame they didn't call on City Hall to learn that Weisberg was fair and judicial in hearing PIIAC cases, and certainly did not overwhelmingly side with civilians against police.
Nonetheless, the occasional case comes through PIIAC which gets its fair shake. When an African-American resident of Northeast Portland whose attorney had previously filed a complaint to PIIAC came to testify on the first of numerous appeals, the advisors and Sgt. Jeff Barker of Internal Affairs recommended looking at all the cases together, because the civilian was alleging a pattern of harassment. While other complainants have made similar claims, PIIAC has never taken them seriously. Sgt. Barker has since been promoted and transferred, perhaps leaving the case in limbo.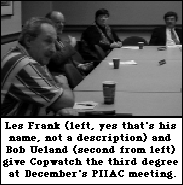 On the other hand, some of PIIAC's Citizen Advisors have become defensive of themselves, the police, and clearly offended at the idea of monitoring police misconduct. In December, Monitoring Subcommittee Chair Bob Ueland criticized Copwatch for our comments in PPR #16 stating that the review body had met only two times in six months. "I really resent the way you use this group in your publication," Ueland complained. "Using us to hammer your thoughts home, I don't think is quite right."
Les Frank, one of the two members of PIIAC who have a background in law enforcement, jumped on the bandwagon and demanded to know why there were no bylines on the articles in the People's Police Report. (The Copwatch member at the meeting replied, "Maybe we don't have our egos attached to our work.")
Frank also cross-examined a complainant at the January meeting who had refused to speak to police when they questioned him. The man felt that they would have taken anything he said and used it against him. He explained that he had been observing the police interact with another civilian, and he had seen so much misconduct that he had learned to keep quiet from past experience. Although the officer allegedly used insults to try to get the complainant to speak to him, it wasn't good enough for Frank or the other 5 members of PIIAC attending the February meeting. Despite the fact that they did not have a quorum (and didn't even take a vote), they decided to uphold the Police Bureau's finding of no misconduct. There was an exception: Internal Affairs had to send the man a new letter advising him that the officers involved had been spoken to. Though IAD Captain Bill Bennington claims he sent that letter out soon after the February meeting, neither the complainant nor PIIAC members had seen a copy of it.
One other element in PIIAC's ongoing struggle to do good work is that staff person Lisa Botsko has taken a one month leave of absence for personal reasons, but should be back in her office by the time you read this. Despite the Mayor's good intentions in creating a full-time staff person, it is clear that without an assistant staff person for such situations that the burden falls squarely on the volunteer Citizen Advisors. At least they could have another member of the Mayors' staff who knows what's going on to help pick up slack. When the City finally gets a real police review board, we know that there will be adequate staff provisions and stipends provided to board members for time spent serving on the committee.
In March, even Chair Charles Ford noted that the Committee was not functioning up to full capacity. Several seats remain open. If you are interested in sitting on the "review board," call PIIAC at 823-4126 to find out which neighborhood coalitions and commissioners have openings to fill with an appointed civilian.
People's Police Report #17 Table of Contents
People's Police Report Index Page
Return to Copwatch home page