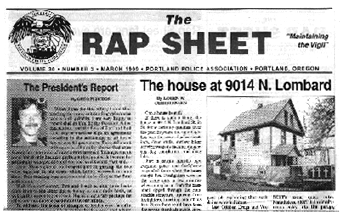 RAPPING BACK #17
Analysis of the Portland Police 'Union' Newsletter, the Rap Sheet
Sharing Seemingly Shocking Stories of Seasoned Safety Supervisors
POLICE ASSOCIATION: COP OFFENDERS PUNISHED DIFFERENTLY--IS IT RACIAL?
In the January issue of the Portland Police Association (PPA)'s newsletter, the Rap Sheet, Secretary-Treasurer Tom Mack expresses his opinion that the Chief's office is inconsistent at doling out punishment.
For instance, Officer Rodriguez (who is not named by Mack) was almost terminated for being untruthful, but he was reinstated after the PPA stepped in. (Our under-standing is that Officer Rodriguez radioed in as unavailable while he was visiting a strip club.) However, Mack says two other such incidents have occurred and there's been no action from the police. A reporter tells us he may be referring in one instance to the case of an officer Ellison, who we understand claimed to have been hit by a civilian car in a hit-and-run when he acutally backed his car into a light pole. The fact that Ellison is African-American makes us think Mack is implying Moose is lenient on black officers.
Mack goes on to complain about: "use-of-force complaints generated by the bureau, not a citizen, with one member being criminally investigated while another is not; horseplay among grown men resulting in [job schedule changes] for one and comments from the chief challenging the truthfulness of the witness statements given; allegations from career criminals against officers resulting in criminal investigations; allegations from intoxicated suspects which are clearly lies, resulting in lengthy investigations which cleared the members of any wrongdoing and also invaded our members family's privacy [sic]." We're still trying to figure out what these cases are all about, especially the criminal investigations. (We are also told that one of the officers not punished for the "horseplay" incident, whatever that was, was also black.)
While we won't comment on the racial disparity subtext, we will commend Mack for his analysis: "This current regime has several lawsuits pending against it, has settled others, and seems to have more on the way. Doesn't this concern city commissioners or the taxpayers?" Of course it does, Tom. That's why we hope officers will stop acting in such a way as to bring these lawsuits upon the city.
PPB USES MOVIE TRICKS, PUBLIC RELATIONS AT BURNED-OUT HOME
In the March Rap Sheet, editor Loren Christensen devoted the front page to Larry Anderson's house on North Lombard. [Anderson's house was the site where an officer was shot in 1979 and police killed four dogs in a drug raid last October.] Christensen also lauds the Drug and Vice Team for tricking Anderson out of his house to serve a search warrant, using "a ruse straight out of a movie (I won't say what it was in case they want to use it again)."
Christensen asserts that although the press "loved" Anderson's accusation that police may have started the fire that badly burned his house, "PPB spokesman Henry Groepper did a good job explaining that such claims were ludicrous." It's his JOB to cover for the cops--he's a public relations guy. What would he say, "We'll look into that as our first priority"??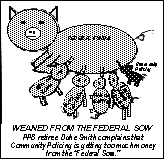 COMMUNITY POLICING: WAR AND PEACE
In the December Rap Sheet, retired officer Duke Smith writes on "Flower Power in the Crime War." Duke's thrust is that Community Oriented Policing (COP) focuses too much on getting out of the car and doing something. He goes on to defend how much of police work has to be done from behind the wheel of a police car, from traffic stops to preventing accidents.
He thinks that Community meetings focus on petty crimes and that crimes like murder, rape, robbery and arson are ignored. Duke's proposed solution:
"Community policing advocates need somehow to incorporate the warlike atmosphere of police work into their mantra so the public can more easily grasp the horrific changes in context that police endure...As (community policing) is weaned off the last federal sow, and as the tongue wagging sycophants fade off into the sunset, its ascendancy as a law enforcement tool will be replaced by new strategies on how to rid ourselves of what matters the most, [the more serious crimes]."
On the other hand, a keynote speaker at Portland's near-annual National Community Policing Conference has a different view of the role of police. Jane Braaten, a police staffer who organizes the conferences, wrote a letter to the January Rap Sheet defending comments made by "Former Superintendent Chris Braiden" which were reported in the Oregonian.
Apparently, Braiden said, "Peace is a destination, the law is one of my tools." He then quoted a Los Angeles sergeant who said "I am in law enforcement, and the key word is force." Braiden took issue with the sergeant, stating, "I was a peace officer and the key word was peace. I have used force many times to gain peace, but force is a function and peace is a destination."
The words seem right‹an emphasis on peace, but to use force to gain peace? We're sure the people who have been beaten, sprayed, and shot by police will appreciate that they attained peace through state-sanctioned violence.
FURTHER EVIDENCE ALLEGED COP-KILLER STEPHEN DONS MAY NOT HAVE COMMITTED SUICIDE WHILE IN POLICE CUSTODY
Rap Sheet editor Loren Christensen used his editor's column in the January issue to talk about Eufronio Hernandez, the convicted killer of Officer Thomas Jeffries. He complains that Jeffries' mother and the Oregonian implied that Hernandez' life sentence "closed a chapter" in their lives. Christensen wrote, "There are some people who would prefer to see the man breathe in a little cyanide."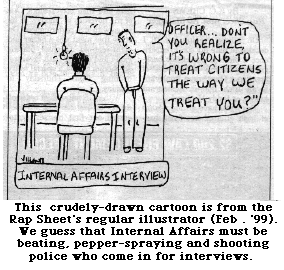 RETIRED COP RAP SHEET EDITOR NEEDS COPWATCH TRAINING
In the February editor's column, Christensen, who retired from the force in late 1997, tells a long story about how he watched a security guard chasing someone through the streets near a Fred Meyer store. Christensen pulled his car over, joined the chase, and helped put the suspect in a martial-arts armlock. Then, when it turned out that the several security guards involved had no idea why the civilian was being chased, Christensen relaxed his hold, and swore he would never get out of his car again to help. Too bad he didn't ever take Copwatch training, in which we instruct copwatchers that when they come upon a scene, they should never assume right away whether the officer or the civilian is at fault, and not to make any judgment until you get a grasp of the entire situation.
People's Police Report #17 Table of Contents
People's Police Report Index Page
Return to Copwatch home page