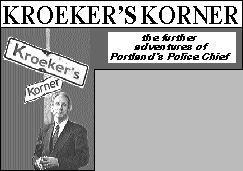 KROEKER'S KORNER 23: The Further Adventures of Portland's Police Chief
One Faith-Based Hand Giveth...
Conservative Christian media magnate Robert Pamplin, Jr., a reported former Oregon Citizens Alliance supporter and owner of Christian Supply Center stores and environmental ravagers Ross Island Sand & Gravel, is the chair of a new private fund-raising foundation whose mission will be to pay for police programs that the Portland Police Bureau's budget cannot support.

In September 1999, then acting Police Chief Lynnae Berg voiced her misgivings about "financing a public agency with private money" (Oregonian, January 31). The committee of PPB officers and local citizens who were considering the idea of such a foundation stated in their report that "linking a public police agency with a mechanism for accepting private donations is a 'slippery slope,'" and that such an alliance "should be avoided."

According to the January 31 Oregonian, Chief Kroeker, also a conservative Christian, would like to use the money to send officers to Guadalajara, Mexico to learn Spanish, to buy police equipment that the city cannot afford, and to reward officers for maintaining physical fitness.

Said Kroeker, in anticipation of the March 6th Medal of Valor awards dinner where the fundraising drive kicked off, "We're looking for corporate Portland to come out that evening. We'll have filet mignon for everybody."
...And the Other Taketh Away
While trying to use private money for public use, evidence has surfaced that Kroeker also may have used city funds to support a private charity he chairs, the World Children's Transplant Fund. At the end of January, Kroeker's personal fundraising efforts made it possible for a Bosnian girl, her mother, brother, and a translator to be flown to Portland on her way to Argentina for a liver transplant at WCTF's pediatric organ transplant center there (Oregonian, February 1). Confirming the suspicion that Kroeker has a history of "blurring of the line between his official duties and charitable pursuits," former LAPD Assistant Chief David Dotson told Willamette Week (February 14) that Kroeker "never seemed to be able to separate [his] official duties from [his] private beliefs."
The Hand of Peace
After months of efforts to heal wounds with the gay community for previously recorded homophobic comments (see PPR #22), Kroeker wrote a guest editorial for Just Out's February 2 issue. In it, Kroeker offered his hand in peace.
Ten days later, the Oregonian reported that the Portland Police Explorers would now be called the Police Cadets Program. The Explorers program is tied to the Boy Scouts of America, which bars gays from participating. Said Kroeker, "We didn't want to keep a name that is still connected with the Boy Scouts," a move consistent with the city's civil rights ordinance which prohibits discrimination based on sexual orientation.
Ever the image-maker, Kroeker scored a few more public relations points by celebrating the birthday of local drag queen Darcelle in November.
A Shortage of Hired Hands
The PPB is understaffed, and the number of law enforcement officers continues to dwindle.
What to do? In 1996, former Chief Moose made an application requirement of a four-year college degree. Chief Kroeker has reduced it to a two-year college degree with at least two years related experience. But doing so has not improved recruitment. Hence, the most recent entry-level police officer educational requirement is a two-year associate degree, or approximately two years of post- secondary education with no degree from a college or university. In a January 31 news release, Portland Police Association President Robert King reaffirmed the union's "long-standing support for well educated officers," and offered only qualified support to "Chief Kroeker's reduction of educational requirements as a temporary solution to a manpower shortage."
In addition, community leaders are upset that their participation in the initial applicant interview process has been replaced in the hiring process by a video test (Oregonian, February 6). Even advocates of community policing are questioning the wisdom of Chief Kroeker's top-down militaristic leadership.
Peopl e's Police Report #23 Table of Contents
People's Police Report Index Page
Return to Copwatch home page