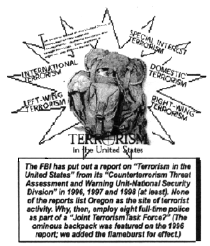 FBI "DOMESTIC TERRORISM" SQUAD
DEPUTIZES PORTLAND POLICE OFFICERS
On November 22, 2000, City Council gave a resounding thumbs-up to an ordinance formalizing an agreement between the Portland Police Bureau (PPB) and the Portland FBI to combine forces in the Portland Joint Terrorism Task Force (PJTTF). In short, the infamous PPB Red Squad--er, Criminal Intelligence Unit (CIU)--has been expanded from two to eight full-time officers, deputized as Federal agents, and their office has been moved from the Justice Center to the Federal Building.
The supporting ordinance for the PJTTF originally stated that the mission of the task force was to "identify and target for prosecution those individuals or groups who are responsible for acts of criminal terrorism within the traditional criteria of the Right Wing and/or Left Wing movements, as well as ...the anti-abortion movement, and the Animal Liberation Front/Earth Liberation Front." However, City Commissioner Charlie Hales strongly protested that language, noting that it sounded like something from the Nixon era. The ordinance was amended, removing the Left/Right Wing language, and was passed unanimously (5-0). The amended ordinance stated simply that the mission of the PJTTF is to "identify and target for prosecution those individuals or groups who are responsible for acts of criminal terrorism."
An escalation of federal counterterrorism measures (to the tune of approximately nine billion bucks per year) has allowed the FBI to create over 30 terrorism task forces in cities throughout the nation, and funding has been approved for at least seven more this year. This is certainly an important budget item since five U.S. citizens died in terrorist incidents in 1999, whereas a mere 43,000 people die in automobile accidents annually. Locally speaking, it's far more likely that someone will be hit by a MAX light rail train than be the victim of a terrorist attack.
The task forces combine local, state, and federal law enforcement. The newly formalized PJTTF was apparently created in 1997 to prevent threats to the Nike World Master Games. It is made up of 10 FBI agents, 8 Portland cops, 2 IRS agents, 1 state police officer, 1 Beaverton officer, 1 Eugene officer, and a partridge in a pear tree. In other cities, task forces can include members of the BATF, US Secret Service, INS, and various federal agencies. The agencies share information, while local police officers are given FBI security clearances and access to FBI resources, including FBI computer databases such as those which match names to DNA and fingerprints.
The PJTTF investigations are supposed to follow federal Attorney General Guidelines. These guidelines allow investigations to open on mere allegations of possible criminal activity, as opposed to Oregon's law, which requires reasonable suspicion. Portland activists are concerned about the fact that the FBI and the Portland police have not always followed investigatory restrictions. In apparent violation of Oregon law, they have kept files on non-criminals such as Dan Handelman and Douglas Squirrel, co-founders of Copwatch (see PPR #19). Several activists have protested the formation of PJTTF by speaking before City Council, holding informational pickets, and organizing among groups who may well be targets of the Task Force.
It is likely, given the FBI's history, that they will define "domestic terrorism" broadly in order to infiltrate, investigate, neutralize and perhaps even physically harm those working for non-violent social change. The mere existence of the Task Force puts a chill on First Amendment activities and political organizing. What's more, Special Agent Kevin Favreau specifically mentioned violations of the "Hobbs Act" as an example of criminal activity when he was testifying before City Council in November. This act prohibits the use of intimidation or violence that could affect interstate commerce, but has been stretched in the past to target union organizing.
Perhaps most alarming is that Mayor Vera Katz tried to slide the agreement under the radar by putting it on the "consent agenda." This means it could have passed unknown to the public with no discussion whatsoever. Fortunately, a member of Copwatch was at City Council on another matter when he asked that it be pulled from the consent agenda for discussion. Two City Commissioners have admitted that they shouldn't have ok'd the PJTTF so quickly without at least a public hearing.
Some city officials actually figure that out before they officially adopt a task force. For instance, in 1997 the San Francisco Police Department salivated over the chance to join forces with the FBI, but that didn't happen since the community, including Mayor Willie Brown, did not support the idea. As a result, the SFPD attends SF JTTF meetings but does not participate directly in its activities.
The agreement between the FBI and the PPB expires on September 30th. It remains to be seen if the City can be convinced to follow San Francisco's lead.
Incidentally, another item pulled from the consent agenda (and passed unanimously by Council) along with the PJTTF contract was an ordinance allowing the FBI direct access to identification databases created and maintained by the Portland Police and Multnomah County Sheriff's Office. So even if state law prevents the CIU from keeping files on certain people, the FBI can now start a file immediately upon an arrest (let's say at a demonstration) and do not have to destroy such a file since they are not subject to state law. Happy trails!
For more information on organizing against the PJTTF, contact Portland Copwatch at 503- 236-3065. We have a list of eight questions answered by the City Attorney and Mayor Katz about the Task Force.
People's Police Report #23 Table of Contents
People's Police Report Index Page
Return to Copwatch home page