Critical Mass Bike Rides Feel Heavy Police Presence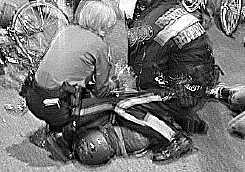 On the last Friday of each month, a large crowd of pro-bicycle activists take to the streets for "Critical Mass" bike rides in Portland, as well as in many other cities around the world. These are relatively spontaneous events, with no formal organizing body, made up of people ranging from families riding together to bike messengers to hard-core enthusiasts on magnificent home-built bicycles. The reason people participate in the event varies as much as the types of bikes, but is generally viewed as a statement supporting bicycles as a valid, clean alternative transportation choice which deserves more consideration in the minds of both city planners and automobile drivers.
This two-wheeled parade has not gone unnoticed by the Portland Police. For much of its history, there has been police intervention (see PPR #19 for the most recent report). Since late 2000, police involvement has been on the rise, as have reports of police harassment.
At the February ride, approximately 50-75 riders were at the starting point beneath the west side of the Burnside bridge. A police van was parked nearby, and two officers circulated amongst the riders, asking questions and inspecting bikes. When the bicycles took off at about 6 pm, there was only one other police car visible, but many others soon intercepted the ride. Police took the opportunity to split up the riders at traffic lights and stop signs by driving their cars in the gaps between the stopped cyclists. Within a few blocks from the start, several people were receiving tickets for things such as running red lights and "improper" lighting.
This process continued throughout the ride, and was typical for police action during Critical Mass. Oregon law requires a bicycle to have a white light on the front and a red light or reflector on the back. People were ticketed for having a front light that was not white enough. Others were cited for standing a few feet off the sidewalk behind a parked car. It is unknown how many tickets were issued. When asked why they were giving so many tickets, police responded with comments such as they were "just concerned about the bikers' safety" and that they had received "numerous calls complaining about traffic problems."
November's ride was similar, and included police arresting the owner of a local cafe after she simply asked why they were giving out tickets to cyclists in front of her establishment. December's ride featured police kneeling on a rider to restrain him while arresting him, as well as a cop who showed up with a so-called "bean-bag" shotgun.
These heavy-handed tactics will probably continue at the monthly rides, but bicycle enthusiasts don't show much sign of giving up. The February ride was aided by legal observers from the National Lawyers Guild. In late March, Copwatch is planning a special training, "Your Rights, Bicycles, and the Police."
For more information visit the web site: http://www.subluna.com/CriticalMass/ . Pictures from the December ride are at www.arborrhythms.com/~ben/cmass .
Also see the "Bicycle Rider's Bill of Rights and Responsibilities" in PPR #16 and on our website, www.portlandcopwatch.org/bikeridersbillorights.pdf .
Peopl e's Police Report #23 Table of Contents
People's Police Report Index Page
Return to Copwatch home page