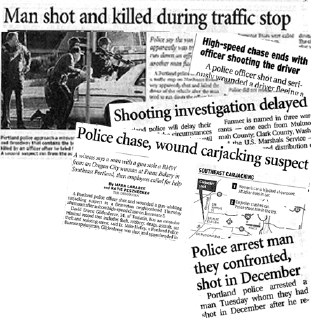 PORTLAND POLICE SHOOT FIVE IN THREE MONTHS;
Train with Assault Rifles
From December to February, Portland Police have been involved in at least five shootings of civilians; three were at traffic stops, only one was fatal. There may have been more--the reports come in so frequently now we're losing track.
On December 18, Officer James Lawrence shot and killed Michael Jaquith, age 34, in the driver's seat of a van in northeast Portland. The story has changed a number of times about the circumstances leading to Jaquith's death. What is clear is that the officer shot Jaquith from the side and was not in danger of being run over by the van. The December 20 Oregonian reports that the single .45-caliber bullet that killed Jaquith "entered [his] left arm, traveled through his chest and into his right arm."
Police flack Lt. Mike Hefley simply stated that "There was some kind of physical confrontation," although he later said that the officer was afraid of being crushed between the van and another vehicle (Oregonian, December 23). Also, the original story (12/19) was that Jaquith was pulled over in traffic for "suspicious activity," but that version changed to his being on foot and running to the van when the officer appeared on the scene.
Predictably, the information provided about Jaquith by the newspaper focused on his criminal history. Also predictably, the grand jury did not indict Officer Lawrence.
On December 28, Sean Joseph Cook, 26, was pulled over on a traffic stop and allegedly drove away when police said he was going to be arrested for "furnishing false information to a police officer and driving without a license" (Oregonian, December 30). Officer Scott Robertson fired one shot into the windshield. Cook was arrested on February 20, and the Oregonian reported the next day that he "bears a mark from a minor gunshot wound to his upper torso, apparently from that incident."
On Thursday, January 11, one of two suspects fleeing a robbery scene at a SE Portland pub was shot in the leg. The January 12 Oregonian reports that Dwayne Tyrone McClinton, age 23, surrendered "without incident" six hours after fleeing the scene, wounded. The officers were identified as Phillip Maynard and Randy Tieg. (Tieg and officer Rich Braskett shot 11 times at a "crack cocaine" suspect in May 1998, hitting him once­see PPR #17. Tieg is also the proud inventor of a hybrid flashlight--see Rapping Back".)
On February 15, Officer Joseph Mitcham shot and wounded James Farmer, age 34, during a traffic stop. The February 20 Portland Tribune reports that Farmer is a "transient" who "suffered no major injuries" despite being shot in the torso. Officer Mitcham apparently shot when Farmer reached back into his pickup "for what Mitcham thought was a weapon." No weapon was found.
One week later, Portland Officer Robert Pippen shot carjacking suspect David Gildersleeve, age 34, after a chase from downtown Portland to Beaverton. Lt. Hefley says that Gildersleeve was armed when he came out of his car, which had crashed (Oregonian, February 23&24). The officer shot him in the leg and took him into custody.
Meanwhile, we at Copwatch know that when the cops get new toys, they want to use them. So it came as no surprise when the February 6 Oregonian announced that officers were being trained for "active-shooting" situations (like at Columbine High School ) using the AR-15 semiautomatic rifles the police bought a few years ago (see PPR #14). Contrary to what was said when they were first bought, these "civilian" versions of the military M-16 are going to be carried in the front seats of patrol cars, as opposed to the trunk where an officer might actually have to think before grabbing one. Since the bullets can travel at least 100 yards, we still question the use of such a weapon in an urban setting. (In PPR #22 we ran a photo from street roots showing officers pointing an AR-15 at a youth with a knife.)
Even though the Special Emergency Reaction Team (SERT) was created to deal with such high- risk situations, the police want to give more training to beat cops. Capt. Greg Clark of the PPB stated "We don't want our officers to do anything that's rash." We can't agree more.
Peopl e's Police Report #23 Table of Contents
People's Police Report Index Page
Return to Copwatch home page