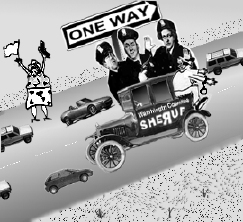 Washington County Sheriff's Department Celebrates Year of Shame
and other deputy do-wrongs
OK, maybe police work isn't exactly rocket science but...
The Washington County Sheriff Department's Year of Shame started in February 2000 when a confessed serial rapist expanded the concept of revolving door justice by opening a door and walking away from deputy Donald C. Clayton (see PPR #22). The suspect was recaptured the following day by three ordinary citizens.
In September, a suspect in a high-profile homicide case was turned away when she attempted to surrender‹with the gun that was possibly the murder weapon‹to deputy Kevin Berry (also reported in PPR #22).
In December, suspected armed robber Brandon Lester Clayton (no relation to the deputy, we assume) apparently learned that freedom's just another word for Washington County police custody. Three deputies whose names have not been released, but let's just call them Moe, Larry, and Curly, arrested Clayton on multiple charges outside of a home he was suspected of having just broken into. After handcuffing and placing him in the back seat of a patrol car, the deputies left him alone while they went off to investigate and take pictures. Clayton then promptly escaped by lowering a car window and climbing out (Oregonian, December 27). According to the Sheriff's office, Clayton is still at large.
This series of almost laughably inept procedural blunders by Washington County Sheriff's deputies suddenly stopped being funny on January 27 when their bungling of a wrong-way high- speed pursuit on Highway 26 ended in a crash that killed an innocent motorist, Nancy Morgan, and the suspect, Colby Lee Diller. According to a January 31 Oregonian report, Washington County Sheriff's spokesperson, Sgt. Marlene Gaskins, denied that the department was responsibile for the death. She claimed that deputies did not violate departmental policies when they chased Diller for five miles in the wrong direction on the Sunset Highway at speeds up to 80 mph because (a) the chase did not technically qualify as a pursuit, and (b) because the "deputies did not disobey traffic control devices since there are no posted one-way signs on the Sunset Highway." Which then would seem to beg the question: if it is not illegal to travel against the flow of traffic in the absence of one-way signs, why were the police pursuing Diller in the first place­since by Gaskins' own reasoning he was not committing any violation?
MULTNOMAH SHERIFF FIRES FOUR DEPUTIES IN BEATING;
GRAND JURIES CLEAR COPS IN JAIL DEATHS
The Multnomah County Sheriff's Office announced that it was firing four deputies after the beating of Portland cab driver Dennis Poe last year (see PPR #22). Sgt. Jeremy Ristvet and deputies Rodger Cross, James Borja and John Mantoya were fired on March 15th. The official news statement focused mostly on the fact that the deputies had lied to investigators and/or failed to document their use of force as the reason for their termination. The fact that they beat the crap out of a citizen in custody was also mentioned.
On the bright side, the Sheriff's office apologized to the community, installed video and audiotaping equipment in the intake area of the Justice Center, added eight hours of use-of-force training for deputies, and, perhaps most importantly, is training non-sworn personnel such as nurses how to recognize and report excessive force if they witness it.
Meanwhile, separate Multnomah County Grand Juries found no wrongdoing in the deaths of two Portland men who died last summer after being in police custody (Oregonian, December 8). As reported in PPR #22, Portland restaurateur John Beckel died after he was forcibly restrained in the booking area of the Justice Center just days before James Luoto died of a ruptured spleen following his arrest for drunk driving.
CLACKAMAS COUNTY ORDERED TO PAY FOR RACISM;
CLEARS DEPUTY WHO SHOT COLLEAGUE IN HEAD
Carl Bell, a former Clackamas County Sheriff's Deputy, has won his racial bias suit against the County, to the tune of a $1.4 million dollar settlement. A federal jury found that Bell was unlawfully terminated for reporting the Department's illegal practice of racial profiling: targeting Asian-Americans, Latinos, and Russians without probable cause. The jury also ordered $52,446 from each of seven deputies who subjected Bell to sustained racial harassment. Bell doesn't believe that his settlement will change the Department's racist practices, predicting that the Sheriff will introduce cosmetic changes in training rather than rooting out systemic departmental racism (Oregonian, February 3&7).
Earlier, the Sheriff's Department blamed Deputy Bill Bowman's accidental death by "friendly fire"(see PPR #22) on violations of safety policy, but decided not to discipline Deputy Kevin Vail, who shot Bowman in the head. The Sheriff also instituted a new policy barring the use of live rounds from training exercises (Oregonian, January 17).
Peopl e's Police Report #23 Table of Contents
People's Police Report Index Page
Return to Copwatch home page