QUICK FLASHES #32
Local Fox TV Affiliate Catches Predator Cop
True to its anything-for-ratings-about-crime ways, local Fox Network affiliate KPTV-12 set up an undercover sting to catch sexual predators in February. A surprising catch was Clackamas County Reserve Deputy Michael Benthin. Benthin, 29, fell for the trap set by Fox and "Perverted- Justice.com," corresponding with whom he thought was a young person who agreed to meet him. Benthin resigned, but Sheriff Pat Detloff is promising both criminal and administrative reviews of the behavior (KPTV, February 18).
Portland Cop "Buds" Up At Marijuana Convention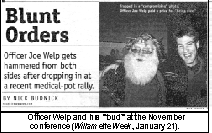 Portland police officer Joe Welp (#25064) was photographed with his arm around an elderly man resembling Santa Claus wearing a crown of marijuana leaves during a conference for the Oregon Medical Cannabis Awards in November. The Portland Police Bureau (PPB) came under scrutiny from the ACLU of Oregon for apparently helping the Justice Department try to discourage the DoubleTree Hotel from allowing the conference to happen. Regardless, the PPB sent Welp, in uniform, as security. (The ACLU also questions whether Welp's presence created a chilling effect on the conference.)
Although he was instructed not to be involved in any actions or photographs that "might compromise the Bureau," Welp posed for Willamette Week reporter Nick Budnick with the elderly man. The photo was only published on January 21 after the ACLU discovered its existence through a public information request.
Eugene Officer to Serve Five-Plus Years for On-Duty Sex Offenses
Former Eugene police officer Juan Francisco Lara was convicted of official misconduct, public indecency, coercion and harassment. He was sentenced to 68 months (of a maximum 136 months) along with other concurrent sentences. Some of the women he coerced into sexual contact, and others he had harassed when they refused his advances, expressed disappointment that Lara did not receive the maximum sentence. The Judge himself noted that sex addict workshops Lara had already attended "did not address the true crimes of corruption, abuse of power, intimidation, greed and revenge" associated with Lara's crimes (Eugene Register-Guard, February 27).
Domestic Abuse by Police Examined
The January/February issue of the on-line 'zine "Police Interview" (www.policeinterview.com) featured an article about domestic abuse/violence by police. Based on a chapter in a book by Ellen Kirschman, Ph.D, the article summarizes information about what puts law enforcement families at high risk for domestic abuse. For instance, "officers are accustomed to using verbal and physical force or the threat of it to get citizens to do what they want."
Particular persons at risk include uniform patrol officers, narcotics officers (four times more likely to be physically violent at home than the general public), those who work long hours, and those engaging in "rugged individualism."
Kirschman suggests ways that police departments (or Bureaus, Portland!) can help, such as: investigating all allegations of domestic abuse/violence, mandating counseling, removing the weapons of the offending officer (duh!!), and providing protective custody to the victims.
The book's title is "I Love a Cop: What Police Families Need To Know."