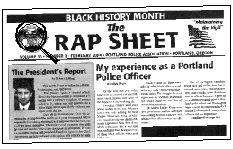 RAPPING BACK 32
Portland Copwatch member
Dan Handelman analyzes
the Police "Union" Newsletter, the Rap Sheet More Meandering Missives Memorializing "The Man" Making a Mystefying Mess of Meaningful Material

MEDIA MATTERS #1--Don't the Citizens of Portland Matter? Detective Peter Simpson, editor of the Portland Police Association's newsletter, the Rap Sheet, was upset at Oregonian columnist S. Renee Mitchell for taking swipes at the police in an article on the Bureau's video encouraging polite traffic stops. "Then I came to a realization: S. Renee Mitchell doesn't matter... Police officers matter. Firefighters matter. Soldiers and sailors matter. Writers who have their nose in the air while using a tired portrayal of police officers don't matter" (January Rap Sheet).
Sergeant Says: Police not "Monsters" or "Racists"
Sgt. Karl McDade, now a regular contributor to the Rap Sheet, is also the main point person on the Crisis Intervention Team, the group of officers trained to de-escalate situations with people who are in emotional distress or who may be mentally ill. McDade's January column is spent berating Mayor Katz for shrugging off her responsibility as Police Commissioner in times of crisis. He says that when praising successes she refers to the Bureau as "our police," but after incidents like the shooting death of Kendra James she uses the term "the police" to distance herself. He thinks that her lack of support gives incentive to criminals to act out against the police. McDade expects Katz to "explain the nature of the job and the nature of violence to the public. She would not be so quick to align herself with the police haters and other anti-order segments of society. She would realize that good people doing a tough job are not monsters to be punished, racists to be pilloried or employees to be unfairly disciplined or fired."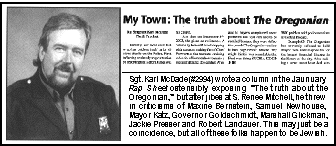 But maybe he's speaking too fast about the police in general, and himself specifically. In his March column, McDade went on a tirade against the media. He attacked the Oregonian column by S. Renee Mitchell about the Bureau's video instructing police to be polite at traffic stops. Mitchell, who is African-American, used phrases such as "Don't try to outloud me, mister" to illustrate what citizens might say back to cops. McDade commented: "I'm not sure exactly what her point was other than to insult police officers. Maybe she was trying to teach us Ebonics."
His column also took a swipe at the African-American ministers who released a report on the Kendra James shooting, focusing not on the substance of their report (that Officer McCollister lied about being in danger) but rather the accusations in the press about two of the ministers. He politely described them as "One having been convicted of domestic violence and the other having been accused by his parishioners of whore-mongering with women he was supposed to be stewarding out of the drug/prostitution life and misappropriating funds from his church."
But the majority of his criticism was not for African Americans. The column in its individual parts may seem like the rantings of a disgruntled Oregonian-reading officer, but nearly every person McDade names in the rest of the article as part of the "anti-police" problem is Jewish. He referred to the Oregonian's crime beat reporter as "Maxine 'I've never met a cop I couldn't slander' Bernstein." Why, he asks, does the Oregonian treat police with such "disrespect"? He points the finger at Samuel Newhouse, who in the 1960s drove the Oregonian's competition out of business after buying it up, busted the unions, and then started printing articles to favor the paper's "friends." While this seems like the beginning of an anti-corporate analysis, it seems the more salient fact, which McDade doesn't mention, is that Newhouse was Jewish.
McDade's other examples of the Oregonian's bias:
1. "Oregon Senator Packwood was... known as 'the Senator from Israel' because of his support of that country's interests."
2. "During [Former Oregon Governor Neil Goldschmidt's] reign as Mayor of Portland the city's finance dept 'lost' $2,000,000+ during a 'computer change over.' The Oregonian did no investigation into this possible huge theft of money from the public coffers.... Compare this to the Oregonian making weekly front-page news out of what the Feds determined was an $800 problem with police overtime at Central Precinct." Goldschmidt is Jewish. (Incidentally, the overtime scandal amounted to $23,000--see PPR #23.)
3. "The Oregonian has cravenly refused to hold Mayor Vera Katz responsible for the largest financial disaster in the history of the city. After making a secret sweet heart deal with Marshall Glickman...to run a professional baseball franchise at the Civic (Now PGE) Stadium.... there was no market for baseball and the corporation owes the city $2,000,000... No editorials, no cries for reform, no demands for outside consultants to investigate and audit this smelly deal." Katz and Glickman: both Jews.
As a side note here, McDade brings up a Cleveland Newhouse-owned paper deciding under pressure in the 1980s not to run a negative story about [Jewish] Teamster leader Jackie Presser.
Finally, he cites a conversation between the late police Lieutenant Myron Warren and former Oregonian editor (and current op-ed columnist) Robert Landauer. Warren, he says, asked Landauer why he was so "anti-police." Landauer "replied to the effect that the Nazis in Germany had killed many of his relatives and as a result he distrusted all authority including the police. Combine this unique misapprehension that the police are in some way analogous to Nazi war criminals with the natural bias of liberal reporters and editors and The Oregonian's institutional disregard for facts and we have an environment in which the police bureau and police officers are misrepresented to the public on a continuing basis."
Perhaps I'm being over-sensitive. My family is Jewish. However, this is the man that not only trains our Crisis Intervention Team to de-escalate situations, but travels around the country demonstrating these skills to others. If Karl McDade harbors bigoted beliefs, that should be of great concern to all of Portland.
MEDIA MATTERS #2--If the Media is a Pimp and the Police are Prostitutes, Who's the John?
Rap Sheet Editor Simpson complained about local media coverage of police, including Taser use and the December shooting of Shane Clements, noting that "if it bleeds, it leads...The media is no different than a pimp. They will use you and abuse you (the police) for the sole purpose of making money" (March issue).
Imported Conservative Values
Jack Dunphy, pseudonym for an LA cop, writes a column for the online version of the conservative "National Review." The Rap Sheet (Jan '04) reprinted his December 2 column on the beating death of an African-American man in Cincinnati last year. Referring to the infamous video in which the 350-pound Nathaniel Jones appears to be grabbing at a police nightstick to prevent further infliction of pain, Dunphy justifies the officers' actions. "If we have a legal reason for wanting someone to behave in a certain fashion we first ask him, then we tell him, then we make him, through the judicious application of violence if necessary." Not only is the word "violence" deliberately used instead of "force," but the word "judicious" suggests that all police use of force is reasonable and "necessary" reflects a mindset that ignores the choices involved when officers hit citizens.
Much of the rest of the article belittles the NAACP and Jesse Jackson's concerns that five of the six officers who beat Mr. Jones are white, carrying forth an undertone of racism similar to Sgt. McDade's comments.
ON THE BRIGHT SIDE #1--Acknowledging Racism, A Step Toward Ending It?
Rap Sheet editor Peter Simpson made an effort to tie the February issue to African American History month. He had former Portland Police officer (and City Commissioner) Dick Bogle write a story about what it was like to be a black officer in 1959. Bogle said other officers referred to African-American citizens as "apes," used the "n" word, and racist diatribes would appear on the bulletin board from time to time. He says that hearing another cop call a citizen a "n--" made him want to "let loose on the suspect and deck the partner." Bogle eventually was invited to teach classes on racial tolerance to the Bureau.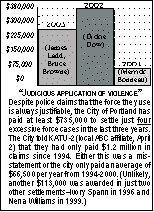 How to Deal with Traffic Stops
...by an ex-Captain and a cop's wife
Capt. Jim Harvey, retired, describes in his January column an overzealous traffic cop stopping him for going 70 mph on the freeway. Harvey says he immediately asked the officer "What are you doing out here?" After the officer ran his license he asked "why did you let those other cars pass you and then stop me, was it because of my California plates?" The officer mumbled a reply. Harvey suggests he should have asked for the officer's DPSST number to "let him know he wasn't dealing with a California tourist." He also felt like telling the cop to "go back to Monmouth [where the Oregon State Police Training Facility is located] and take a refresher course in Civil/Legal Liabilities."
Harvey sums up by warning cops that "the temptation to pin on the badge and attempt to prove power over the civilian population needs to be resisted... Don't play authority games with the public. They resent it. It makes police officers look foolish." Was this guy's advice this clear-headed while he was on the force?
Echoing Harvey's perception of traffic stops, Jessica Hull, a PPB wife, wrote a short piece explaining that although you may feel that a traffic cop was a "jerk" to you, her husband and others are out there saving lives. She describes herself receiving a ticket and "it certainly did not occur to me that the 'jerk' that gave me the ticket had an ounce of decency or compassion" (Rap Sheet, March 2004).
ON THE BRIGHT SIDE #2--Peace Begins With...Cops?
Alexis Artwohl, who has done a lot of psychological counseling for the PPB, wrote that her husband, retired PPB cop Dave Butzer, was conducting a four-week community policing training in Kosovo (Rap Sheet Feb '04). Butzer communicated that he was very moved by an anti-war play in which friends gathered, began to argue, and started fighting. "Finally, all the friends have been killed." Then a young person came on stage with a flag that said "peace" (and was then followed by a U.S., a U.N., and then other NATO flags). "The kids were holding hands and swaying back and forth, waving. That is the reason why I am here!" We hope that the antiwar part of this message (and not the imperialist one) reaches the rank and file cops reading the Rap Sheet.
---
While the Portland Police Association does not set policy, since some PPA leadership and officers express such negative attitudes toward citizens and civilian oversight in their newspaper, these ideas may spread throughout Portland's rank-and-file.
The Rap Sheet is available from the Portland Police Association, 1313 NW 19th, Portland, OR 97209.
The PPA's website is at www.portlandpoliceassociation.com