Other "Terrorism" Updates: "Portland Seven" Sentenced; Tre Arrow Apprehended
The last of the so-called "Portland Seven," who never completed their attempt to help the Taliban fight against the U.S. in 2001, were sentenced in February (see PPRs #28-31). Former Intel engineer Mike Hawash, who allegedly aided in the plot, agreed to cooperate with authorities, and was sentenced to seven years in federal prison. Muhammed Bilal was sentenced to 8 years and Ahmed Bilal was sentenced to ten. Leon Battle and Patrice Lumumba Ford, who did not cut deals with prosecutors, were given 18-year sentences last year, while October Lewis received a three-year sentence (Portland Tribune, February 10). The last member of the "Seven," Habis Abdulla Al Saoub, allegedly was killed in Afghanistan, though some think the reason he was never caught is that he was a U.S. government employee who encouraged the others to hatch their plans.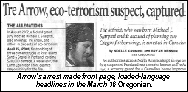 More recently, Tre Arrow, suspected of sabotaging concrete and logging company trucks in 2001, was taken into custody in March in Canada on charges of shoplifting. Typically, the media referred to Arrow as an "ecoterrorist" even though his alleged crimes are better described as "sabotage." Instead of relating them to the bombing of the Oklahoma City federal building or the World Trade Center, they are better compared to the monkey-wrenching tactics of Earth First!. Three former PSU students who were convicted of participating in the logging truck arson were sentenced to over three years in prison (Portland Tribune, March 16). In what was perhaps a failed effort to expand his role from exaggerating law enforcer to stand-up comedian, local FBI chief Charles Jordan joked "We hit the bullseye...Tre Arrow is back in the quiver." Since Jordan was the first FBI employee to offer security clearance to the Mayor and the Chief to oversee the PJTTF (see above), we'll say "don't quit your day job, Charles"čbut maybe you should treat serious issues less lightly.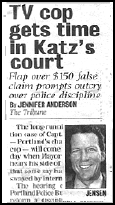 CW Jensen Fired Over $150
Former Portland Police Captain CW Jensen was fired after a long process of review regarding allegations that he asked to be reimbursed about $150 for meals he never purchased back in 1999. Jensen, who became a news reporter for NBC affiliate KGW-TV (8) while on "stress-related" disability leave, applied to return to his job last fall (see PPR #31). However, as the final decision about his fate was being determined, he filed another disability claim on February 24, indicating he may not be fit to return to the Bureau.

Although Mayor Katz herself approved the firing, which was proposed by Assistant Chief Stan Grubbs (since Chief Foxworth is a friend of Jensen's), Jensen is appealing the decision (Portland Tribune March 16).