Judge Reverses Jury in Lowery Verdict, Calls for New Trial
A Stubborn City Appeals Decision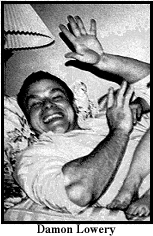 Federal Magistrate Janice Stewart issued a ruling on May 7 reversing the "not guilty" verdict of the jury who heard the federal lawsuit on the wrongful death of Damon Lowery (see PPR #32).
The judge found that the police, using "beanbags" and pepper spray, used excessive force while Damon Lowery was on the ground, basically passed out after he'd jumped out a second-story window. She used the term "provoked" to describe how their actions led to Lowery then running and jumping over a fence.
Stewart further ordered a new trial to (a) assess damages for the first part of the incident and (b) determine whether there was excessive force later on involving baton strikes, hogtying, and ultimately Damon's death after Officer Shane Nicholson stood on him for over 2 minutes.
The City Council voted to appeal this ruling on May 26. A reporter following the case informed Portland Copwatch that the City already spent $370,000 defending the officers' actions and will likely need to spend another $100,000 for a second trial. The ruling means that Portland has to pay the Lowery family's attorney fees as well as damages for excessive force as found by the judge, which may explain what appears to be their denial of the truth.