Oregon Law Enforcers Charged with Sexual Misconduct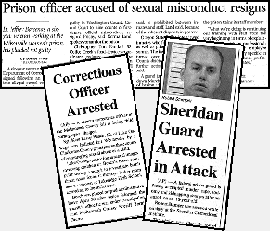 In the last few months, at least four law enforcement officers in Oregon were charged with, and two were convicted of, sexually related crimes.
One convicted officer, Roger Eugene Magaña of Eugene, was sentenced to 94 years in prison on 42 charges including rape, kidnapping, sodomy and sexual assault while on duty. While he maintained his innocence to the end, Lane County Circuit Judge Karsten Rasmussen called him a "pathological liar" and a "petty tyrant preying on vulnerable women" (Eugene Register-Guard, July 14).
Several of the victims came to court for the trial and the sentencing hearing. According to the Register- Guard, "Magaña warned one woman that by testifying against him she had burned every Eugene police officer and that no one would help her now if she ever needed police assistance."
In March, Lt. Jeffrey Barcenas of the Oregon Department of Corrections and Christopher Don Randall, the food services coordinator at Coffee Creek Corrections Facility in Wilsonville, both resigned after being indicted for improper sexual contact with the same inmate (Oregonian, April 20). Barcenas was sentenced to six months in jail, while Randall was sentenced to 45 days in custody, after they pleaded guilty to four and two counts of official misconduct, respectively (Oregonian, May 27).
Sgt. Kent Leroy Beach, a Multnomah County Sheriff's employee, was indicted on June 16 for encouraging sexual abuse of a child. According to the Associated Press (June 23 Portland Observer), "Lake Oswego police found sexual images involving children on Beach's home computer during a search to investigate bomb threat notes found in the boys locker room and a restroom at Lakeridge High School."
The cream of the crop: federal prison guard Robert Stamper, who was arrested for a July 12 incident in which he allegedly forced an 18-year-old woman into his truck at gunpoint, raping her, choking her, and leaving her for dead. The victim survived and this led to Stamper's arrest at Sheridan Correctional Institute on charges of attempted murder, rape, sodomy and kidnapping.
A July 15 Associated Press story says that in May, Stamper tried to strangle a woman he lived with. For some reason he is being allowed to plea bargain those charges of assault and "domestic strangulation" down to harassment. Stamper's bail was set at $5 million.
Pot Sting Nabs Thieving Portland Cop
According to the May 12 Willamette Week, Officer Miguel Olmos (#36271) was caught in a sting operation stealing drugs and cash. In August, 2003, he apparently responded to an "abandoned car" call staged by investigators. Olmos took the cash and drugs out of the car, but failed to report it. He similarly "failed to account for a small quantity of marijuana discovered...in an abandoned purse" earlier last year.

An article in the May 5 WW reported that Olmos had left the abandoned money and cash from the car in his locker, along with property forms, thus making it difficult to prosecute him since he could claim he was going to do the paperwork later. Apparently, there are only administrative charges pending, but Deputy District Attorney Mark McDonnell wonders whether Olmos should be indicted and removed from the Bureau.