Lawyer Falsely Accused of Terrorism Sues FBI
Task Force Renewal on the Line as Citizen Corps, Crisis Center Reinforce Fear of Crime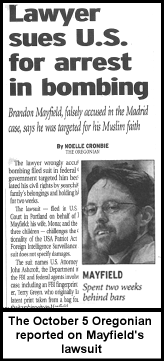 Brandon Mayfield, the Portland-area attorney arrested by the Portland Joint Terrorism Task Force (PJTTF) because they mistook his fingerprint for one connected to the train bombing in Madrid (see PPR #33), filed suit on October 4. The lawsuit alleges violation of civil rights, religious profiling (Mayfield is a practicing Muslim), improper search and seizure, and false arrest (Oregonian, October 5).
The suit questions the constitutionality of the USA PATRIOT Act and the Foreign Intelligence Surveillance Act and challenges the FBI analysts who wrongly identified Mayfield.
A few weeks earlier, a federal judge ruled that the FBI could keep all the material they seized from Mayfield to defend themselves in the lawsuit. The FBI released details of items found, most of which could have any number of explanations, such as research for a trip to Spain on his computer and "apparently.... classified national defense documents about U.S. weapons systems" (Oregonian, September 21). Mayfield's lawyers say that the only such document was his manual from when he was in the U.S. Army.
About a month after the suit was filed, a report in the Journal of Forensic Identification found that human error was to blame for the fingerprint mix-up, and that once an FBI supervisor identified Mayfield, others were too intimidated to contradict his findings (Oregonian, November 16).
It is still not clear whether Portland Police were involved in the investigation. In a September 29 letter to the ACLU of Oregon, Mayor Katz revealed that her security clearance is on the level of "secret"čbut that she is not able to discuss which types of files or investigations she can review, nor the Portland Police Bureau's involvement in any investigation.
Meanwhile, the City of Portland faced a setback in its efforts to renew its agreement with the PJTTF. As reported in PPR #33, the number of officers involved in the Task Force has been reduced from eight to two. Because of continued questions regarding local authority to supervise Portland Police working with the FBI, Commissioners Randy Leonard and Erik Sten are considering opposing the official renewal. The contract technically expired on September 30, and the most recent hearing was postponed indefinitely on Decmber 20.
Those who oppose the Portland Police participating in the Task Force can claim a minor victory, in that the renewal is usually required to have a unanimous vote and was postponed in order to allow for a first and second reading. However, the Council with new Mayor Tom Potter and Commissioner Sam Adams will take up the issue in early 2005.
In other local developments in the so called "war on terrorism," the Critical Decision Institute, a local non-profit founded in 2002, ran its first disaster-based scenario in September, including mock news reports of a train explosion on the Steel Bridge and a chlorine gas leak. While it is an excellent idea to have "first responders" ready to handle any possible human or natural disaster, it is important to monitor this new center as it may be used as a means to squash dissent. In fact, the September 10 Portland Tribune says former Chief Kroeker "came up with the idea after grappling with everything from natural disasters to urban riots." It's always good to be prepared, but those of us in the social justice movement are not prepared to be taken to prison camps.
The "Portland Citizen Corps Council," a similarly benign-sounding program, was adopted by Portland City Council on October 13. Under the auspices of the new "Office of Emergency Management (OEM)," the Corps will focus on "making their communities safer, stronger, and better prepared for preventing and handling threats of terrorism, crime, and disasters of all kinds." Terrorism, of course, is a criminal act, whose definition is politically charged. The fact that terrorism is listed separately from crime is an indication that this is not merely an effort for mutual aid among citizens, but a possible expansion of "spy on your neighbor" type programs that divided Americans during the Cold War.
---
The ACLU of Oregon and several other states filed Freedom of Information Act (FOIA) requests to determine the extent of post-9/11 FBI/JTTF spying on peaceful organizations in late November. Portland Copwatch's parent organization, Peace and Justice Works, was one group requesting the FOIA.
---
Contact the ACLU of Oregon at 503-227-3186 or www.aclu-or.org. Information on the Critical Decision Institute is at www.critical-decision.org; details on the Citizen Corps Council are at www.citizencorps.gov; Portland's OEM: 503-823-4375.