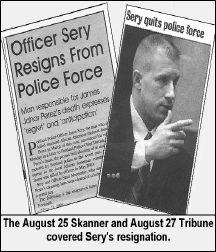 WAVE OF CHANGES CONTINUES IN WAKE OF PEREZ SHOOTING
Officer's resignation does little to satisfy calls for justice
The big news in the case of the Portland Police shooting of James Jahar Perez came late in August: Officer Jason Sery, who shot Perez within 24 seconds of a traffic stop, resigned from the Bureau. Meanwhile, the Police Bureau has been slowly instituting changes which somewhat reflect demands by the Albina Ministerial Alliance (AMA) Ad Hoc Coalition for Community Justice and echoed weakly in a resolution passed by City Council. A new emphasis on Community Policing now includes the word "accountability" across the boards, perhaps a step toward embracing the concept.

Officer Sery said his decision to resign was not based on the incident, but was rather to allow him to follow his calling in church to teach young people.

In his October Rap Sheet column, Portland Police Association President Robert King noted that officers are disappointed at the City, the Bureau, the District Attorney, the media and community response to the shooting. It made the police feel "angry, sad and hurt." On Sery, King says he "demonstrated a peace and confidence throughout this ordeal," calling him a "role model to us all." Emphasizing that there is no room to admit mistakes or have regrets, King stands firm: "there is power in resolve and choice."

Meanwhile, various proposals for change in the Police Assessment Resource Center (PARC) report, the AMA's Kendra James report, and in the resolution passed by Council in August (see PPR #33) began to bear fruit. On November 24, Chief Foxworth presented a report to Council on the status of the recommendations. The following list includes information from that presentation and gathered elsewhere, including a meeting between Chief Foxworth's command staff and the AMA Ad Hoc Coalition in mid-October:

• Chief Foxworth agreed to broaden the definition of Racial Profiling to be in line with the Federal Department of Justice. The previous definition was limited to stops made solely on the basis of race; this definition will cover any action taken by police that relies on race rather than the behavior of the suspect (also see Foxworth's Foxhole).

• The Use of Force Review Board (UFRB), which will empanel nine people on a case-by-case basis to examine every shooting, death in custody, and incident requiring hospitalization, began training its pool of 25 citizen members in late October. Though the Bureau has not been forthcoming with the names of these community members, four Citizen Review Committee [CRC] participants will be in the poolčLlewellyn Robison, Bob Ueland, Gwenn Baldwin and Loren Ericksson. Each UFRB is designed to have seven Bureau members and only two community members, leaving the community's voice muted. (In Phoenix, half of each board's six members are civilians.) The UFRB decides if an officer's actions were "in policy" or "out of policy."

• A Performance Review Board (PRB) will recommend discipline to the Chief on any case found out of policy, whether or not it involves use of force. IPR Director Richard Rosenthal insists that the PRB will not be able to overturn a finding if the CRC votes to "sustain" an allegation of misconduct.

• A "citizens focus group" had input on improving cultural competency in the Bureau; however, no members of the AMA Ad Hoc were invited to be part of that group, despite their call for community input into selecting trainers.

• The Chief will be including citizen participation in hiring new recruits beginning in March, 2005, and adding an advisory "Citizen Training Council" in January, 2005.

• The state Department of Public Safety Standards and Training (DPSST) has agreed to expand basic academy training from 10 to 16 weeks in January, 2007. It is unclear whether the extra time will focus on areas important to the community and mentioned in the Council resolution (such as Crisis Intervention, de-escalation, communication, and cultural competency).

At the same hearing in November, the Chief presented the 2004-2006 Community Policing plan. This plan added "Accountability" back in as a pillar of Community Policing, and added it as one of the values. The section outlining plans to improve accountability now includes information about the various review boards, not just the fiscal concerns which were the bulk of previous versions.

Meanwhile, the Perez family's lawsuit and the internal investigation into the shooting continue to move forward as many questions still remain unanswered. Although Jason Sery will not be able to be reprimanded for any wrongdoing, the Bureau can still find his actions were out of policy. Officer Sean Macomber, who zapped a Taser on Perez for over three minutes after he had been shot, is still on active duty and could face discipline.

For more information on the AMA Ad Hoc Coalition contact Dr. LeRoy Haynes at Allen Temple, 503-287-0261.