UPDATES--People's Police Report #34, January 2005
City Pays Demonstrators $300,000 for Pepper Spray, Abuses at Protests
with Lawyers' Fees, Police Misconduct Settlement Could Double
On December 1, Portland's City Council voted to approve a settlement of $300,000 for 24 people who had been pepper sprayed and suffered other abuses at protest actions in 2002 and 2003. Alan Graf of the National Lawyers Guild headed the team of attorneys who litigated the lawsuit and says that with attorney's fees, the cost of police misconduct could go well over half a million dollars.
One set of plaintiffs was a group of people, including an infant, who were pepper-sprayed while protesting a visit of President George W. Bush in August, 2002 (see PPR # 28). Others were attacked by police while protesting the US invasion of Iraq in March, 2003, including Miranda May, who grabbed at a newspaper stand to shield herself, and Bill Ellis, whose complaint about being held by the hair and sprayed was reviewed by the Citizen Review Committee (see CRC article and PPRs #29 & 32).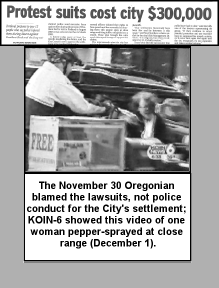 In his news conference regarding the settlement, Graf noted that none of the officers was disciplined for their behavior. He singled out Lt. Mark Kruger, who was promoted despite his affinity for Nazi memorabilia and his laughing while spraying protestors (also see PPRs #31-33).
Graf says that the lawyers bought their own canister of pepper spray (after being told that their specifications were "top secret" by the Police Bureau) and invited testimony from Dr. Woodhall Stopford of Duke University, the top chemical weapons advisor to the U.S. Army. Stopford said in a letter that it is dangerous to public health to use pepper spray for crowd control because pepper spray can cause fatalities-- especially amongst children, people with asthma, and the elderly.
Unfortunately, the twelve-page agreement hammered out by the attorneys for both sides that would have restricted the Portland Police from using less lethal weapons for crowd control was tossed aside at the last minute for a settlement that only involved a payout from the City's self-insurance fund.
For more information contact the NW Constitutional Rights Center at (503) 452-2375
or the Belmont Law Center at (503) 234-2694.
•
Eugene sex cop link to death, gas tank fuse?
Two of the twelve women who accused now-convicted Eugene police officer Roger Magaña of sexual assault (see PPR #33) were involved in incidents in which one ended up dead and the other felt threatened. The first woman, Tomme Lea Allen, 49, died of an alleged heroin overdose at her apartment on September 28. Her lawsuit against the city included testimony that Magaña "threatened to have her children taken away if she failed to meet him at locations around the city" for sexual encounters (Eugene Register-Guard, September 29).
Another woman, whose name was not released, found an apparent fuse hanging from her gas tank on September 27. She is also suing the city and says she escaped from Magaña's patrol car after he "tried to force her to perform oral sex under threat of arrest." Police are not connecting the incidents but we hope the other ten women are watching their backs--after all, Magaña told one woman that no police officer would ever help those who testified against him.