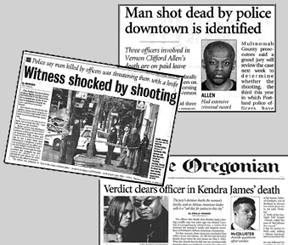 Portland Police Shoot Homeless Black Man, Shooting Rate Lowers
Lowery Family Settles for $600,000;
Kendra James Trial Ends in "Not Guilty" for Officer
In the four months since we published our last newsletter announcing five shootings by the Portland Police in early 2005, they have shot and killed just one suspect, a homeless African American man named Vernon Allen. The slowdown in shootings may in part be attributed to the high-profile civil lawsuit against Officer Scott McCollister, who on June 28 was found not guilty of violating Kendra James' civil rights when he shot and killed her in May, 2003. Meanwhile, other agencies in Oregon continue to rack up police shootings, while the state's laws on deadly force remain unchanged (see sidebar).

Allen, 48, was killed in the early morning of May 19 on West 5th and Burnside. He allegedly wrestled with Officer Kai Ho (#39661), who broke free as backup arrived. Although witness descriptions differ, the police claim Allen lunged with a knife at the four officers on the scene and three of them, Darrell Shaw (#28923), Mark Friedman (#36237) and Ho, opened fire and killed Allen with 6 bullets. The initial 911 call that attracted police concerned Allen kicking trashcans in the area.

Interestingly, Friedman was the officer who, fully trained in Crisis Intervention Training, fired a "beanbag" round at John Vitale in February while an officer he was with fired her gun (see PPR #35).

Witnesses whose accounts were carried in the newspapers (Oregonian and Portland Tribune, May 20) stated, conflictingly, that Allen was three feet away from officers when they shot and that he was far enough away that police were not justified in killing him. Two witnesses who talked to Portland Copwatch said that they didn't even see a knife in Allen's hand. Other anecdotal reports say that he had dropped the knife when the police shot him or that the object was not a knife. Police handily noted that Allen's last known address was the Washington State Penitentiary. Chief Foxworth, playing the "they had to shoot" card, stated "The suspect's actions forced the officers into making a decision which no officer wants to make."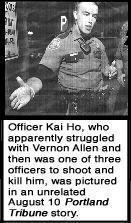 Later, after a grand jury (as always) cleared the officers of wrongdoing, Deputy District Attorney Norm Frink told the Oregonian (May 28) that Allen had told a Tri-Met bus driver to "watch the evening news because something was going to happen" at the corner where the shooting occurred. This was likely Frink's way to excuse the officers' interpreting Oregon law to assist Allen in a "suicide-by-cop."
On May 25, Portland's City Council voted 3-0 to approve a $600,000 settlement in the police- custody death of Damon Lowery in 1999. Police shot Lowery, who had jumped out a second-story window and lay bleeding, numerous times with "beanbags"; they also sprayed him with six full cans of pepper spray. He got up to run and officers beat him more, with one standing on him for over two minutes; Lowery died, likely of positional asphyxia. Last year, a federal judge ordered a new trial because she had given the jury the wrong instructions regarding the use of excessive force (PPR #33).
When considering the settlement on May 18, Commissioner Randy Leonard, who spoke out last year about the force used when a legally blind woman was Tasered and hit so hard her glass eye popped out (also PPR #33), voted "no," forcing a second reading the next week. Leonard said he was worried that "the message this might send to other defense attorneys is if a perpetrator who is confronted by the police in their attempt to protect the public and themselves is injured, ... that we agree somehow our officers may have done something [wrong]."
A few weeks later, the lawsuit of the Estate of Kendra James vs. Officer Scott McCollister was heard in federal court. Robert Wagner, the lawyer who defended McCollister, was paid by the City of Portland even though they were dropped as defendants in the case. The jury was made up of five women and three men, seven of whom appeared to be Euro-Americans and one Asian American.
Officer Rick Bean, who did the initial traffic stop on the car Kendra James was in, had stopped her three times before. He told the other officers that night that James would fight and run away, even though he admitted on the stand that she never fought with him, and ran only a few yards in one case, yet he always apprehended her. Bean drew his gun the night James was killed, but put it away immediately as he saw no danger to himself or others.
McCollister said he pointed his gun at James intending to shoot her to stop her from dragging him under the car, but he didn't remember anything between having that thought until he was in his patrol car and driving past the runaway vehicle to box it in moments later. He stuck to the story that he was 80 percent in the car at the time the gun went off.
Officer Ken Reynolds, who went out with McCollister for a weekly dinner "date" of their families the day after the shooting (PPR #30), admitted they are close friends. So, if McCollister was truly in danger of death or serious injury, why didn't Reynolds do something to help him?
Reynolds testified that when he shot his Taser at James's upper left shoulder from inside the driver's doorway, McCollister was no longer blocking his shot. That doorway is not very big, and if McCollister had still been in the car, Reynolds would have hit him. As the AMA report noted in Sept. 2003 (PPR #31), McCollister was at the very least confused about where he was when he fired the gun. Or maybe, he was lying.
To find that McCollister violated Kendra James' civil rights by using excessive force in shooting her, the jury had to believe by a preponderance of evidence that he did not reasonably believe his life was in danger.
The city's expert witnesses were paid $17,000 or more apiece for one or two hours on the stand-- your tax dollars at work. They defended McCollister's actions, expressing contempt at Chief Kroeker for imposing discipline back in 2003. However, they also seemed to agree with the family's experts that the gun was at least 30 inches from Kendra James when it went off. Chris Bottoms, one of the James family attorneys, taped a yardstick to a toy gun and showed that if McCollister had been inside the car, he could not have fired from 30 inches without tweaking his arm all the way back. The forensics experts stated that no gunshot residue was found inside the car. Several eye- witnesses, including the officers, said they never saw McCollister tripping, falling, or appearing to be in danger of being dragged under the car.
Another of James' family attorneys, Milton Grimes of L.A., reminded the jury that though James had a drug problem, the constitution applies to everyone equally--"you don't have to like her."
However, the jury's instructions were to decide whether McCollister reasonably believed he was in danger at the time he fired. One juror told the Portland Tribune (anonymously, July 1) that she believed McCollister, partly based on seeing the actual car in a field demonstration. The jury form asked whether McCollister used excessive force by shooting and killing James and whether his pointing a gun at her head provoked her to flee. The jury instructions reminded them that it is not lawful to shoot at a person who is only wanted on a misdemeanor warrant, as James was.
The Jury's unanimous verdict, which came in about three hours, was "not guilty." The family has filed an appeal because the jury's verdict did not match the facts in the case, an argument similar to the one that led the Judge to order the Lowery case reheard.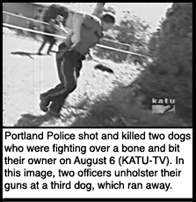 The City paid about $300,000 to Wagner to defend McCollister and thousands more to experts; all this in addition to $1.6 million they shelled out in four recent large settlements (the Lowery case, $845,000 in protest cases [p. 6], $140,000 for assaulting a teen [p. 2] and $50,000 to Heather Bissel [p. 5]).
As tragic as James's death was, some positive things came out of it. It helped bring the community together--black, white, Latino and others--against police misconduct, and led to both the departure of Chief Kroeker and the acceptance of many elements of the "PARC Report" on police shootings in 2003 (PPR #31). In addition, Chief Foxworth has proposed a policy which states that officers who put themselves in dangerous situations cannot justify the use of deadly force if the justification is based on those reckless actions.
For other information on the Kendra James case, contact the Alliance for Police and Community Accountability (503-222-5694 x34, ). Our reports from the trial are posted on the Portland Communiqué blog at
http://communique.portland.or.us/documents/050628/copwatch_james_trial.pdf.
---
SHOOTINGS RACK UP AROUND OREGON, BILL FALTERS
Several shootings around the state continued to challenge the Attorney General's report that concluded statewide guidelines do not need to be set up to restrict officers' use of deadly force. A bill (SB 301) which included many of the AG's recommendations, such as making grand jury testimony in police shootings open to the public, was derailed when former Portland Police officer and current Oregon Representative Jeff Barker (D-Aloha) gutted the more progressive portions of the bill in late July. Here are some of the shootings in the Oregon/SW Washington area since May:
--On May 11, three Medford police shot and killed Nicholas Vega, 35, who had allegedly been pointing a knife at family members. His widow told the Associated Press she wished the police had negotiated with Vega, who had somehow acquired a rifle by the time officers arrived (May 15).
--On May 19 (the same day Vernon Allen was killed in Portland), Roseburg police shot and killed Anthony Duarte, 30, who allegedly threatened his mother with a gun. Police say Duarte shot and wounded an officer as they tried to deliver a hostage phone to him (Oregonian, May 20).
--On May 21, officers from various agencies were involved in a car chase that ended with the shooting of Tyler Jones, 26, by Oregon State Police and Tualatin Police in Wankers Corner. Officers said Jones had a gun and fired at them, but dropped the gun after being hit by two bullets (Oregon State Police news releases May 21 & May 25). Jones died two weeks later of his wounds (Associated Press, June 7).
--On June 26, a Springfield officer shot and killed Jason Porter, a 15-year-old boy who was driving a stolen truck in a Weyerhauser parking lot. The officer said he thought Porter had a gun, but no gun was found on the scene (Oregonian, June 28).
--On June 28, a Milwaukie officer shot Eric Cederholm, 39, who refused to drop his gun. A friend said he had wanted to commit "suicide-by-cop"; apparently police in the outlying areas of Portland are not trained to administer "assisted suicide" like our officers are--Cederholm lived (Oregonian June 29).
--On July 27, a park ranger at Crater Lake shot and killed Ronn Merl Ward, 38, of Sunnyvale, CA, who was screaming and "causing a disturbance" at a campground (Oregonian, July 29; News-Review, July 30).
--On August 10, five Lane County deputies shot and killed 49-year-old James David Moore, Jr., who allegedly pointed a gun at them (KMTR-TV, August 10).
--In nearby Vancouver, Washington, another teenager, 17-year-old Jason Wilkinson, was shot and killed by Vancouver police on May 8 when one officer believed his colleague had been knocked down by Wilkinson's van. Chief Brian Martinek, formerly of the Multnomah County Sheriff's Office, said he plans to change officer training regarding shooting at moving vehicles (Oregonian, May 21).