Quick Flashes--People's Police Report 37
Portland Police Can't Be Tested for Drug Use
A Portland Police officer recently busted for possession of marijuana was not tested to see if he was using the drug on the job--because the Portland Police do not have a policy on drug testing. The Oregonian reported that the reason Chief Foxworth did not order the suspect cop to be tested is that under Oregon law the police "union" must negotiate the terms of any drug testing (November 15).

In an editorial, the paper emphasized that "If Portland officers want credibility, they must police their own ranks" and called for either random testing or testing based on reasonable suspicion. Citizens of Portland have urged us for years to take this on as an issue, and frankly we were under the impression that the Portland Police Association (PPA) had negotiated that officers would not be tested. Now PPA President Robert King is saying that he's surprised there is no policy and sees no problem testing with "reasonable suspicion."

An outraged truck driver wrote to us and said Oregon's Department of Transportation, for example, requires "a physical and drug screen for truckers needing to renew and maintain their commercial driver's licenses, and random drug tests at work and on-the-road when stopped and asked to. If I want to continue driving a truck on the public highways, my rights are limited by the public's right to ensure trucking companies are providing safe clean drivers."

He goes on to say "If I am involved in an accident (or I am injured on the job) I have absolutely NO choice, but to submit to a drug test." So here's the thing: We at Portland Copwatch believe strongly in civil liberties. However, we also believe that if an officer is involved in an unusual incident, such as a shooting, it is important for Portland's policy to require the officer to submit to a test that screens for drugs, alcohol, and steroids.

The PPA begins negotiating its new contract with the City in January. The public has a chance to weigh in on this crucial policy issue. Yes, it is a labor/workers' rights issue--but how many workers carry guns and are never found guilty of misconduct for using them?

Racial Profiling:
Portland Trains Against the Practice as White House Reassigns Report Writer

The Portland Police are now being trained on issues around racial profiling in a course designed by the Simon Wiesenthal Center's Museum of Tolerance. A three-hour class called "Perspectives on Profiling" teaches officers how to differentiate between racial bias and perceiving actual criminal behavior (Portland Observer, November 9).

Meanwhile, the federal Bureau of Justice Statistics released a study showing that African Americans and Latino drivers are more likely to be arrested (2.5 times more likely), threatened with or subjected to use of force (3 times more likely), and to have their vehicles searched (over 3 times more likely) than whites (Associated Press, August 25). Lawrence Greenfield, the man in charge of the study was told by the Bush administration not to release these statistics, and was demoted after arguing in favor of their publication (New York Times, August 24).

Perez Shooting Report: No Wrongdoing
On November 28, Chief Foxworth released a 27-page report ostensibly about the shooting of James Jahar Perez (see PPR #32). The majority of the report consisted of rehashing the PARC recommendations adopted by the Bureau (see p. 6) and the Grand Jury's letter to the Chief, with his reply. The new information was: Officers Jason Sery and Sean Macomber did not violate Bureau procedures by shooting the unarmed man and tasering his dying body for three minutes; the FBI's civil rights investigation into the case is completed and pending possible action; and the Bureau now integrates "disengagement" into its trainings (as in, it's ok to step back instead of escalating).

Special OPS Division: The Foxworth Guarding the Henhouse?
Two days after releasing the Perez report, Chief Foxworth gave a surprise news conference* announcing plans to create an Office of Professional Standards (OPS) inside the Bureau. The OPS would absorb the Internal Affairs Division, take on the role once played by the civilian "Director of Services," manage the Early Intervention System, and conduct internal audits on the Bureau's policies and procedures. While we're all for the Bureau holding itself to high standards, we wonder whether this project is intended to undermine the function of the Independent Police Review Division (IPR) or any non-police review body that might replace it. The police can set up all the infrastructure they want to review their own actions, but if they don't have external oversight, the public will never trust them.

*Rumor has it that the police "union," the IPR and a police budget advisory group were not aware Foxworth was planning to announce the $700,000 project.

Police Out of Joint Task Force Six Months: Hell Stays Put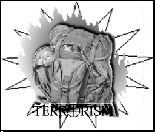 Despite the Oregonian and business leaders' full-court press to oppose the withdrawal of Portland's two officers from the Joint Terrorism Task Force, no terrorist attacks have taken place in the Pacific Northwest since they left FBI headquarters in May. We are still waiting for the City's 6- month report promised in the resolution.

Note: The Oregonian temporarily stopped using the inaccurate term "Eco-terrorist" to report on arson suspects. Their December 9 headline referred to "Eco-saboteurs" caught by the FBI after a four-year investigation (including a few in Oregon). For some reason, on December 16 they reverted back to their earlier, propagandistic language.