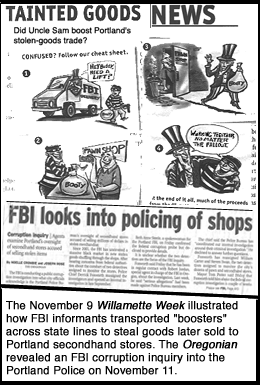 Portland Police Hands Off as Second Hand Shops Sell Stolen Goods
FBI Investigation Includes Sting, Possible Officer Corruption The FBI recently disclosed that Portland secondhand stores were accepting new merchandise which had been stolen, some of which was then sold for cents on the dollar. The stores, in turn, sold the goods in various places including on eBay. While members of the press and the community have concerns about methods used by the FBI in this sting, such as using infor-mants to drive "boosters" to various states to steal goods (Willamette Week, November 9), the greater concern is that at least two police detectives may have been involved either directly or by turning the proverbial blind eye. The two detectives charged with oversight of secondhand and pawn shops, William Carter (#8766) and Steven Swan (#14388), have been reassigned by Chief Derrick Foxworth.
According to an October 2 article in the Oregonian, top police officials were told at least two years ago that there were serious problems with Portland area secondhand shops receiving stolen merchandise. The stores were taking advantage of a loophole in the law which exempts them from recording the receipt of new merchandise.
In October, 2003, East Precinct Officer Heather Rippe sent memos revealing the extent of the problem and suggesting various ways the problem might be resolved. Officer Rippe sent the memos to Commander Cliff Jensen, now retired, but no action was taken regarding her suggestions. It is unclear whether Chief Foxworth was apprised of the memos. Commander Jensen did discuss the issue with Assistant Chief Stan Grubbs, but, again, nothing was done. Grubbs indicated he was waiting for Jensen to present a plan of action.
In September, 2005, subsequent to a raid by the FBI on ten secondhand shops, Detective Sergeant David Anderson sent Chief Foxworth a memo expressing serious concern regarding "a culture of acceptance within the Police Bureau in which our officers know that these shops are engaging in illicit business." Sergeant Anderson referred to these shops as "little more than legalized fencing operations" (Oregonian, October 2).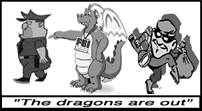 The FBI has opened a public corruption investigation into the matter and Chief Foxworth is also proceeding with an internal affairs investigation. The allegations against the two detectives concerning their involvement are very serious. One of the secondhand shop owners stated they had been "warned" by one of the detectives who referred to the FBI operation with the coded language, "the dragons are out" (Oregonian, November 5). Perhaps even more serious is the fact that those in top positions in the Portland Police Bureau chose to do nothing after being apprised of the problem.