Site Navigation
Home
About us
People's Police Report
Shootings & deaths
Cool links
Other Information
Contact info
Donate
<!IMG SRC="xxx.gif" ALIGN=left VSPACE=0 HSPACE=6 alt="[alt title]">

Rapping Back #54 Cops Can't Cope with Community Criticism
Deflecting Scrutiny: Police Association Welcomes Feedback That Ignores Misconduct
Recent editions of the Portland Police Association (PPA)'s online newsletter, the Rap Sheet, continue their usual dismissal of complaints against the cops.

For instance, in reporting about the US Department of Justice's investigation into patterns and practices of excessive force by Portland Police (see DOJ article), PPA President Daryl Turner's June article begins: "The mental health systems in the state of Oregon and the city of Portland have been crippled by lack of funding... as a result, Portland Police Officers often have become the front line in dealing with the mentally ill." So we can see already where this is going. Taking its cue from the DOJ, which is diverting attention from the pattern of unarmed African Americans being shot to an accurately identified but different pattern of force against people with mental illness, the PPA chooses to portray this investigation as being about lack of funding for health care, rather than police brutality.

Turner says the PPA welcomes the investigation and is willing to cooperate, because he thinks it will reveal their reality: "We handle those situations, often explosive situations fraught with risk, with professionalism and compassion." Except for James Chasse. Oh, and Aaron Campbell. And Jack Collins. And Thomas Higginbotham. And ... you get the idea.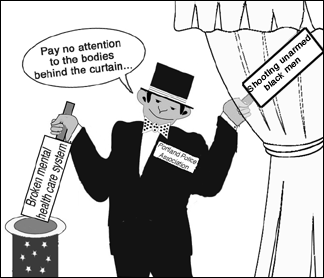 Also in June, Turner thanked the members of the PPA for their hard work, urging them to ignore the "usual pot shots" from the media, which he ascribes to the "last ten months." (We're not sure what started in August of 2010...) According to Turner, most of the public has grown tired of the negative media attention. He tells the PPA members the only criticism comes from the "usual suspects who the media will quote in their articles, but by and large the majority of Portlanders appreciate the hard work of the rank and file... [we are] doing things right!"
Interestingly, Turner says the police do the right thing 99.9% of the time, though he probably didn't mean it literally. While we think that's a high estimate, based on the police statistics that they respond to 400,000 calls a year, that means Turner himself admits the cops mess up at least 400 times a year.
Noting that negative stories get more attention, Turner lambastes critical reporters who sit in a "cozy cubical [sic] trying to figure out how to slant the truth and bash hard working cops." As an antidote, he offers to fill the Rap Sheet with good stories, but believes cops would say "I'm just doing my job." Turner calls on supervisors and command staff to recognize officers' good work using letters of commendation. This will take some of the burden off the cops' stress. "Every day we see how inhumane the predators of society treat the citizens they prey on."
Also in the June "issue," Turner shares a letter from a civilian identified as "Brian S," who saw a homicide take place outside his living room window. Despite his stress, he said the officers who talked to him were professional, objective and compassionate. Brian said there is a "high level of criticism in our community; I can refute this criticism based on my experiences."
It's important here to note that Portland Copwatch has never denied that there are good officers who do the job in a humane way; actually, we have always presented as examples those officers who are willing to stand up for what is right and refuse to follow bad orders, policies, or laws and who oppose and expose misconduct in their ranks. And that's not even considering the inherent problem with the way the institution of police in our society is given power of life and death over the public that translates into repression by the wealthy against the not-so-well-off; in other words, there are some parts of police culture that require broad societal changes, but that doesn't mean officers should continue to mistreat civilians with impunity.
---
Police Scenarios Turned Back On Them by Bureaucracy #1: Fighting for Health Benefits
In the May Rap Sheet, Officer Erin Anderson described how the Fire / Police Disability and Retirement board had denied her health care, forcing her to seek legal representation through the PPA to the tune of $2500. The City Attorney and FPD&R, she said, told her they were "Just doing our jobs." That's interesting-- that's what the police always say when civilians complain about their abusive behavior.
---
More Racist Rhetoric: PPA Guest Article on Racial Profiling
We've chronicled the PPA's support of biased worldviews over the years, sometimes from their membership and sometimes from articles they choose to reprint. In their May Rap Sheet, they chose to run a questionable article from Policeone.com by DEA special agent Rob Von Kaenel called "Racial Profiling: A Pragmatic Approach." Von Kaenel's assumption seems to be that people who complain about racial profiling don't believe police can list a person's race as one of the characteristics of a criminal suspect. According to him, using race along with age, time of day, location, and clothing is a broader form of racial profiling that should be supported.
While he admits that targeting a person solely based on race has been found unconstitutional, he claims "Case law supports racial profiling as long as it is not the only reason for police contact or action." He feels that if you ignore race, you "may needlessly enlarge the suspect pool." Von Kaenel complains that critics of profiling say it encourages fishing expeditions and leads to higher arrests even if the "minority group" has a smaller representation in the population. He says this "weak argument is based on the false assumption that all minorities will commit crime at a rate equal to their presence in the population."
An example he uses from the Journal of Political Economy states that if you have 100 people with 50 of race X and 50 of race Y, and 10 people commit crimes but 9 are of race X, if race is not used you only have a 10% probability of apprehending the person. But, he says, if only people of race X are questioned, that goes up to 18%. The problem with this logic, aside from the obvious racist implication that "some races" (probably not white in his scenario) commit crime at a nine times higher rate than others, is that it assumes you stop and question every person of race X. Which is the entire problem with racial profiling. Saying you have, for instance, a suspect described as a black male doesn't mean it's effective policing to then stop every black male for questioning.
Von Kaenel says the opposition is driven by "anecdotal evidence or internal bias... if the desire not to offend those opposed to racial profiling forces law enforcement agencies to ignore clearly observable traits of a suspect that are germane in furthering an investigation, then we run the risk of sacrificing justice at the altar of political correctness."
---
Police Scenarios Turned Back On Them by Bureaucracy #2: Resist Talking to Investigators
An article by Cathy Keaney, a nurse consultant to the PPA's on-call attorney for FPD&R claims, advises officers what to do when submitting to an investigation about their health care concerns. She advises the cops to know the investigators will be "'chummy and friendly'... but they are not your friends." Huh, that's funny, that's what lawyers advise community members about talking to the police, but the cops resent that attitude.
---
Police Block Release of Internal Affairs Recordings
After the death of Kendra James in 2003 (PPR #30), a video released of Officer Scott McCollister explaining to police investigators why he thought his life was in danger showed his unlikely scenario to a skeptical public, albeit with his face blocked out digitally. Thanks to a law passed by the Oregon legislature, HB 3251, we may never see such a video again. According to PPA Attorney Anil Karia, the bill prohibits audio and video recordings of investigations by Internal Affairs (IA) being released, though transcripts are still public record (July Rap Sheet). Karia cites a 2005 lawsuit by City of Portland against the Oregonian in which the Court said such recordings are subject to disclosure by state law. Now the "media, police watchdog groups or others" can no longer access such recordings, only these agencies for the purpose of investigation: the Portland Police Bureau; the Department of Public Safety, Standards and Training; federal law enforcement agencies, and the Attorney General. Other access is granted the PPA member and his/her attorney, as well as an oversight body like the Independent Police Review Division. That's a mild relief, as the IPR's Citizen Review Committee currently listens to IA recordings of interviews in preparing to hear appealed complaints, as well as auditing IA and IPR. The final exception is for a defendant's criminal attorney; it's not clear whether this means a civilian accused by the cops in the incident under investigation or an officer accused of a crime. Equally as important, there seems to be no exception for civil lawsuits brought against the officer. We will keep you informed.
---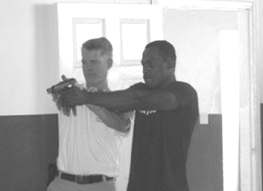 PRIORITIES STRAIGHT?
Several Portland Police officers including Officer Lisa Clayton, Lt. Tom McGranahan, Lt. John Brooks, Officer Ryan Porath, Officer Gary Anderson and former FBI agent (now Captain at Oregon Police Academy!) Roger Eaton went to Haiti earlier this year to train police forces on firearms and defensive tactics. What's odd is that these "Heroes" (as identified by the Rap Sheet's May article) were supported by the Solid Rock Church on a humanitarian mission to help Haiti in the wake of the January 2010 earthquake. The article notes Haitian police lacked radios, gun holsters, 9-1-1, and sufficient ammunition. They are in "desperate need of any support that will help Haiti restore order and rebuild itself." So... people are starving, homeless, and facing horrible health crises and a Church (by the way, the same Church whose midwestern branch's statue of Jesus was hit by lightning last year) responds by sending Americans to teach Haitians how to use guns?
---
The Portland Police Association does not set policy. However, some PPA leadership and officers express negative attitudes toward citizens and civilian oversight in their newspaper, so we worry these ideas may spread throughout Portland's rank-and- file.
The Rap Sheet is created by the Portland Police Association, 1313 NW 19th, Portland, OR 97209. The PPA's website is <www.ppavigil.org>


September, 2011
Also in PPR #54
• Live Rounds Wound Man;
New Death in Custody
• OIR Group Visits Portland
• Other area shootings
• DOJ Investigates PPB
• CPRC on Race & Force;
Stats Reveal Profiling
• Whistle Blower Loses Lawsuit
• CRC: Whistle Blower Case,
Retreat and Forum
• IPR Annual Report Lacking
• Review Board Report Reveals
Cops Out of Policy
• Top 25 settlements near $7M
• Portland Rejoins Terror Task Force
• Chief Targets "Gangs," Closes Bar
• Gun Free Zone Report to Council
• Tired Mom Testifies Against Sit/Lie
• Drug Impact Areas Controversial
• Police "Union" Contract In Secret
• Quick Flashes:
Drunk, Angry&Pervo cops
• Drunk cops get light punishment
• Traffic cop pulls gun in road rage
• Pervocop expunges record
• Young Black Man Catatonic After Arrest
• Rapping Back 54