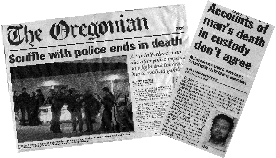 MENTALLY ILL MAN DIES AFTER POLICE SPRAY, BEAT, AND PILE ON HIM
Richard "Dickie" Dow became the 10th person to die in Portland as a result of police action in the past year on October 20. Portland Police say they received a 911 call alerting them to a fight at a doughnut shop in North Portland that night. Portland School Officer Dennis McClain was the first to respond to the call. McClain spotted Dow and attempted to question him. Dow, who was a paranoid schizophrenic and reportedly afraid of the police, began walking quickly up the street to his parents' home. McClain pursued him, and seconds later Barbara and Ted Vickers heard their son Dickie yelling for help.
Barbara Vickers saw the officer "holding [her] son's arm and swinging him around in circles" (Oregonian, 10/22/98). Police officials claim that Dow was manhandling McClain, a claim that Vickers and other witnesses vehemently deny. Police spin-doctor Cheryl Kanzler stated that Dow had the officer's arms pinned to his sides and was "moving him down the street." Police also say that the officer then called for backup because he couldn't control Dow. How McClain managed to both have his arms pinned down and radio for backup has not been explained.
Within minutes, additional officers arrived on the scene. The Vickerses approached them and pleaded with them to stop hurting their son. They explained that he had a mental illness and that if there was a problem they could calm him down. They were both handcuffed and taken to police cars. Ted Vickers was dragged across a driveway at one point and sustained injuries to his hand and arm. At some point, Dow was pepper-sprayed, but it apparently did little to "subdue" him.
By this time a sizable crowd of witnesses had assembled around the scene. Eight or more police officers formed a tight circle around Dickie Dow and pummeled him with clubs as he lay on the pavement. He was handcuffed and had his ankles tied together. Witnesses say that the police appeared to be purposefully blocking their view of what was happening to Dow. Seconds later, witnesses heard officers muttering things like "He's not breathing," and "I think he's dead." Witness Deborah Howes demanded that the officers administer CPR to Dow, and she was told "It's not my job." Howes replied that she was CPR certified and she would resuscitate Dickie. Police refused this as well and told her that an ambulance had been called.
When Dickie Dow's parents were released from custody over five hours later (having never been arrested), their son was already in a coma from which he would never awake. He was dead at 7:00 the next morning. The Vickerses, their neighbors and the larger Portland community demanded an independent investigation into the beating, as well as an independent autopsy of Dickie's body. The nine officers involved (McClain, Steven Andrusko, James Darby, Anthony Christianson, John Rebman, Kathleen Pahlke, Tom Lawton, Randal Yoshimura and Sergeant Chris Uehara) were placed on paid leave pending investigations by the Portland Police, East County Major Crimes Team, and the FBI (brought in at the Vickerses request).
The autopsy report released by the State Medical Examiner (M.E.) closely resembled similar reports after the police-related deaths of Reginald Gafford and Steven Dons (see PPR #14). The M.E. ruled that the injuries sustained by Dow, including numerous bruises, lacerations and two broken ribs, were not sufficient to cause death. The report concluded that Dow died from "positional asphyxia," meaning that he suffocated due to his windpipe being blocked. The American Civil Liberties Union and others have documented over 26 cases in California alone where suspects died from positional asphyxia in police custody after having been pepper sprayed, handcuffed or hog-tied, and placed on their stomachs (like Dow was). Brian Penton died such a death in Portland Police custody in May 1998 (see PPR # 15). The M.E. made his bias patently obvious when he went out of his way in press statements to clear the police of wrongdoing. Overstepping his bounds as a medical authority, he stated "I've heard rampant speculation about him being beaten to death. You can put those rumors to rest" (Associated Press, 10/24/98). He went on to blame Dow's demise on failure to take his medication, citing "Sudden Death Syndrome" (!) as the cause of death. This is the same Examiner's office who in October of 1997 ruled that Gafford, a suspect in Sheriff's custody who was tied down and sedated, died from "a rare combination of forcible restraint, physical combat, and mental illness" (see PPR #13).
"I think that maybe closure will come if a police officer goes behind bars. But I don't really believe that any police officers will be found guilty of murder in this case," witness Deborah Howes told the PPR, "I think they were involved in standard operating procedures. I think that I will find some closure if the policies that lead to this and the other senseless deaths at the hands of the police in this decade are changed and these tragic accidents are prevented from happening in the future."
On November 13, the grand jury decided not to indict any of the officers for criminal wrongdoing. However, this case has produced an incredible public uproar and more of the same may force other authorities to come to a just conclusion. The Vickerses, through the FBI, are trying to determine if the police infringed Dow's civil rights.
To get involved, contact the Justice for Dickie Dow Memorial Committee:
PO Box 17473, Portland OR 97217-7473, or justiceinc@uswest.net.
Media Response to Dow Killing
People's Police Report #16 Table of Contents
People's Police Report Index Page
Return to Copwatch home page