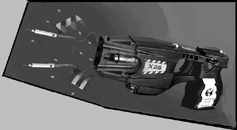 Tasers Hit a New Nerve
The Portland Police Bureau has decided to buy 100 new Tasers at a cost of roughly $80,000, with the eventual goal of arming every street cop with such weapons. The upgraded model of the electro- shock device, the X26, will add to the fifty-two M26 Tasers the Bureau has bought since introducing them in June 2002 (see PPR #27).

The X26 model is smaller than the M26 and has a rechargeable battery pack, rather than AA batteries. The Tasers still send out 50,000 volts of electricity that disrupt not only the victim's central nervous system, but also the sensory nervous system and the motor nervous system, for up to 5 seconds at a time, disabling muscle control and temporarily incapacitating the person. We learned this year that the Taser pulse can be interrupted before the whole five-second cycle ends, which can now be tracked with the weapon's on-board computer. The computer, however, still does not differentiate when the Taser sends out its 21-foot wires with #8 fishhooks on the ends versus when it is used as a stun gun (when the empty unit is pushed directly up against a person and the officer pulls the trigger, known as "drive stun" mode).

In Washington state, Olympia Copwatch reports an increase in police Taser use, with over 34 incidents in 6 months on a force of 50 officers. By comparison, Portland, with about 950 officers, had 447 uses in 18 months, or four times fewer Taser uses per officer. (Then again, Olympia has about 20 Tasers, or seven times more Tasers available per officer than Portland.) Olympia activists recently marked the one-year anniversary of the death of Stephen Edwards, a 59-year-old who died of a heart attack on November 7, 2002 after being stunned four times by a Taser within a minute (PPR #28).

In Florida, Pembroke Pines police shot Kerry O'Brien with a Taser after he pounded on cars; O'Brien died at the hospital. The November 12 South Florida Sun-Sentinel reports that "Several other people in Florida have died in the past two years after being hit with Tasers."

In Colorado, Glendale police officers used a Taser three times on Glenn Leyba, who was reportedly thrashing on the ground when police arrived. The local coroner proclaimed that Leyba died of a drug-induced heart attack and that the Taser shocks did not contribute to his death (Denver Copwatch, November 14). These cases of Taser-related deaths in just the last two years raise questions about the assertion by Portland Police that only 11 deaths have ever occurred in incidents involving Tasers.

In Baytown, Texas a grand jury cleared an officer of criminal wrongdoing in October for using a Taser on a person suffering from epilepsy who was in an ambulance. In September, a grand jury did indict another Baytown officer for Tasering a 59-year-old disabled woman two times (Houston Chronicle, October 27). The manufacturer recommends not using Tasers on people with epilepsy, although Portland adopted them as an alternative to lethal force after the shooting of José Mejía in a psychiatric hospital...a man who suffered from epilepsy.

Closer to home, an assistant police chief who was voluntarily hit with a Taser during a training exercise in Salem, Oregon fell over and hit his head, requiring multiple stitches (Salem Statesman- Journal, November 15). Deputy Police Chief Ed Boyd toppled backwards and missed a protective mat. While Taser International claims that no deaths have occurred as a direct result of Taser use, they do admit that secondary injuries like this are an issue. Obviously, suspects have no "protective mats" out in the field, and since we have received reports of Portland officers using these weapons to punish suspects by issuing multiple pulses, we hope the Bureau will continue to look for other less lethal alternatives, especially de-escalation techniques.

For instance, one reason the City claims more officers are not trained in Crisis Intervention training (which emphasizes verbal skills for dealing with those who are or may be mentally ill) is a lack of funds. Taking 30 officers off the street for 40 hours, they say, is not worth it. But since the cost of training 50 new officers would be roughly the equivalent of buying the 100 new Tasers, it probably would benefit the community-police relationship to invest in a police force which can engage in incidents without using violence or causing injuries.

--On December 17, CPORT recommended communication be a part of Taser training.--

In a detailed article, the November 16 Oregonian recounted the events of the January, 2002 beating of James Ladd by two off-duty Portland Officers after an argument in a restaurant (PPRs #27-29).

Officers Grant Bailey and Craig Hampton ran after Ladd, who had pushed one of the cops for making a negative comment about Ladd's suspenders. They pummeled him, warding off witnesses by flashing their badges, telling them they were police and had the situation under control. Both officers resigned and are serving eight months in jail.

Two of the Lieutenants involved in the incident, Steve Hollingsworth and Gabe Kalmanek (who ordered the on-duty cops responding to the scene not to write reports) were demoted to Sergeant. Sergeant Ken Whattam was given a 30-day suspension and Sgt. Lawrence Baird was given 10 days' suspension. For her failure to order an investigation, Commander Rosie Sizer was given a written reprimand. Officer Matt Stimmel, who destroyed the sweater Hampton had been wearing (which had Ladd's blood on it) also got a written reprimand.

Meanwhile, the City of Portland settled Ladd's lawsuit out of court rather than risk being held liable for Hampton and Bailey's actions. On December 3, the Council unanimously approved a payment of $75,000. Mayor Katz noted that the former officers could still face personal liability if other lawsuits are filed in civil court.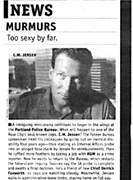 CW Jensen, former Public Information Officer and Captain of Internal Affairs, resigned from his posh spot as a reporter for KGW-TV (Portland's NBC affiliate) just two weeks after his friend Derrick Foxworth was promoted to Chief. Five months before his now four-year-long disability benefits would have been slashed, Jensen sought to return, saying his post-traumatic stress from a 1985 shooting had worn off (and that his alcoholism problem was kicked--see PPR #19).

Nonetheless, the Bureau put him on administrative leave immediately while they completed an internal investigation into the possibility that he billed the city for $150 in reimbursement for meals he never paid for at a conference. The Mayor and Assistant Chief Stan Grubbs are talking about firing Jensen. While his alleged untruthfulness is cause for concern, let's put this in perspective: Foxworth himself incurred $2000 in personal cell phone use on the city's tab, and received no punishment (though he was forced to pay it back­Oregonian, November 15), and the officers who covered up in the off-duty beating case got slaps on the wrist.

Some information in this article came from the September 23 Portland Tribune and the November 5 Willamette Week.

Several protestors at the August 22, 2002 anti-Bush protest who were pepper-sprayed and shot at with rubber bullets filed a lawsuit in federal court against the Cities of Portland and Beaverton, former Chief Kroeker, Commander Rosie Sizer, and several named and unnamed officers (Marbet v. City of Portland #02-01448 HA, see PPR #28). Lloyd Marbet and eight other plaintiffs, including three children, are represented by Alan Graf and are seeking damages, the creation of a civilian police review board, and a ban on the use of pepper spray and rubber bullets against peaceful protesters. The Plaintiffs assert claims for violations of their First, Fourth, and Fourteenth Amendment rights based on the excessive use of force by the police.

On September 8, in response to a defense motion to have the lawsuit dismissed, Federal District Court Judge Ancer Haggerty ruled that many of the claims could go forward. Of significance is the Court's ruling that officers' use of pepper spray and force to direct and restrain the movement of the protesters could constitute an unreasonable seizure under the Fourth Amendment. On the other hand, the Court dismissed Graf's request to have the City of Portland set up a citizen review board, reasoning that it was too tenuous that such a board would, if created, prevent the police from using excessive force, or would provide sufficient redress if such excessive force was used.

The lawsuit is still in "discovery," where both sides are allowed to request documents and information from the other side, until April 30, 2004, and any final motions by the parties to try to dismiss the other side's claims are due by May 28. No trial date has been set.

In a strange twist, Robert Williams, a former acquaintance of one of the defendants, Sgt. Mark Kruger (#28044), contacted Graf, describing how Williams, Kruger, and a "Robert Seaburg" had previously collected Nazi memorabilia and driven around yelling racist and homophobic slurs (Willamette Week, October 1). Williams contacted Graf after he saw news of Kruger pepper- spraying a TV camerawoman in the face at one of the protests. Shortly after Graf had deposed Kruger, someone in a car driving past Graf as he walked on Belmont Street threatened to "blow his brains out." A District Attorney looked into this particular incident and discovered Robert Seaburg working as a records clerk in the D.A.'s Office, using a different last name. He has since been "let go." However, the D.A. determined that a driver suffering from bipolar disorder had threatened Graf and that it was unrelated to the lawsuit.

After one of the "Portland 7" who plotted to go to Afghanistan to fight with the Taliban against the U.S. pleaded guilty (Mike Hawash­PPR #30), the five other members in custody also copped pleas and are serving as much as 18 years in jail. Attorney General John Ashcroft held another news conference highlighting Portland's Joint Terrorism Task Force, with the FBI pointing out that the 84 Task Forces nation-wide expand the 11,500 FBI agents' reach by tapping into 670,000 state and local law enforcement officers (FBI, October 16).

While 6400 people have been investigated for "terrorism-related cases," only 879 were convicted, with an average prison sentence of 14 days (Oregonian, December 8). The FBI fended off critics by saying these statistics "do not reflect the reality that would-be terrorists seek to blend into society until they are ready to strike." The "Portland 7" are all Muslims and people of color, and thousands of immigrants are being rounded up for deportation; many people seem to have forgotten that prior to 9/11 one of the worst "terrorist" crimes (at Oklahoma City) was committed by a white Christian American Army veteran­Timothy McVeigh.

The October 3 Portland Tribune featured a story about the Police Bureau looking to work with state prison officials to enlarge the PPB list of designated "gang members." A lawsuit filed nearly 10 years ago forced the City of Portland to scrap their old list and begin again, allowing individuals to file appeals before being put on the "gang" list (see PPR #9). Commander Lynnae Berg, demoted by Foxworth from Assistant Chief to head of the Tactical Operations Division, is trying to make it so when people ask the jailers to be housed separately in jail for fear of gang retaliation, Portland Police can consider that a confession of gang affiliation. That way, the Bureau can expand their list, which currently has 338 names on it (43 percent black, 36 percent Latino, 20 percent Asian, and less than 1 percent white, the Tribune cites Sgt. Ed Hamman as saying).

According to the Tribune, criteria to get on the list include "admitting gang affiliation to police, participating in a gang initiation ritual or conspiring to commit a gang-related crime... wearing a gang tattoo or clothing or jewelry unique to a gang." A person can be dropped off the list after four years if the police have not contacted them in relation to gang activity.