Site Navigation
Home
About us
People's Police Report
Shootings & deaths
Cool links
Other Information
Contact info
Donate
Portland Copwatch's Joint Terrorism Task Force page
---
NEW! February 2019:

The City Council agenda for Wednesday, February 13 lists Commissioner Jo Ann Hardesty's proposal to withdraw Portland Police from the Joint Terrorism Task Force (JTTF), set for a vote at 2 PM.

134 TIME CERTAIN: 2:00 PM Authorize withdrawal of Portland
Police Bureau Officers from the Federal Joint Terrorism Task Force and
establish protocols for cooperating with the FBI on terrorism
investigations on a case-by-case basis. 3 hours requested

Link to the resolution language is here:
https://www.portlandoregon.gov/auditor/article/712064

We still really need people to write in to say how YOU feel about Portland Police participating in a Task Force in which the FBI and ICE are able to team up to deport people who have not been charged or convicted of any terrorism crimes. See below for information on contacting City Council.
---
January 2019:
Read about the FBI's bizarre December 4 news conference where they admitted they deport people on immigration issues if they can't find criminal evidence.

Also, on January 9, the Oregonian posted an uncritical piece stating how the PJTTF helped Mayor Wheeler investigate a death threat coupled with extortion (which isn't terrorism), in what seems to be part of a public relations blitz after Commissioner Jo Ann Hardesty's election and her promise to pull out of the JTTF.

In November, the FBI posted a long list of Portland JTTF incidents trying to prove their value to the community, but most are about individuals committing crimes, not organized "terrorism."
---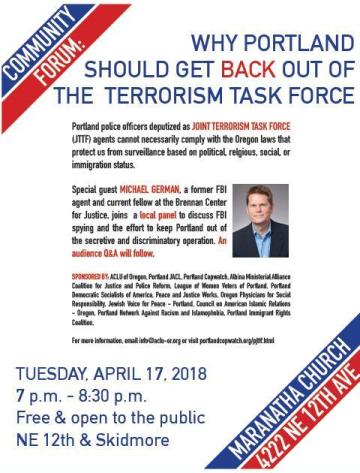 Watch video of the April 17, 2018 Community Forum:
"Why Portland Should Get Back Out of the Terrorism Task Force"
at Maranatha Church

More information • Watch video on YouTube

Also watch this clip from 2001 about the JTTF including testimony at City Council and community voices such as Jo Ann Bowman (now Hardesty).
---
November 8, 2017
(updated October 13, 2018 and February 13, 2019)
JOIN THE CAMPAIGN TO END PORTLAND'S COOPERATION
WITH THE FBI'S TERRORISM TASK FORCE! (AGAIN)
On November 8, 2017, a letter then signed by 23 organizations (now 49) and a prominent Portland area survivor of unwarranted spying was presented to Portland City Council asking to get the Portland Police out of the Joint Terrorism Task Force (JTTF).

Note: full list of signatures in right hand navigation bar

Since the late 1990s, Portland Police have been working with the JTTF, an FBI-led coalition of law enforcement which includes Immigration and Customs Enforcement, the IRS, Homeland Security and local police agencies.

The FBI and partner agencies have been targeting Muslims, immigrants, the Black Lives Matter movement and other activists .

--Between 2000-2004, Portlanders organized to get the PPB to remove its two full-time officers from of the Joint Terrorism Task Force, succeeding in 2005. Between 2011 and 2015, the PPB semi-rejoined the JTTF, only assigning officers to work with the FBI part time, and requiring annual reports which were extremely vague about the JTTF's activities. In 2015, the PPB re-assigned two members full time after a 3-2 Council vote led by then-Mayor Charlie Hales. As of 2017, the PPB officers are only assigned part time.

--Times have changed and there is reason to believe the targeting of people for their First Amendment activities will only ramp up.

--We need you to contact City Council today and tell them to get the Portland Police out of the Joint Terrorism Task Force.

Contact information is below, or you can use the ACLU's action alert site to fill in a pre-written email:
<http://www.aclu-or.org/JTTF &gt.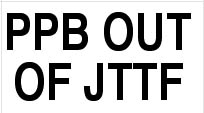 Mayor Ted Wheeler <mayorwheeler@portlandoregon.gov> 503-823-4120
Commissioner Chloe Eudaly <chloe@portlandoregon.gov> 503-823-4682
Commissioner Nick Fish <nick@portlandoregon.gov> 503-823-3589
Commissioner Amanda Fritz <amanda@portlandoregon.gov> 503-823-3008
Commissioner Jo Ann Hardesty <joann@portlandoregon.gov> 503-823-4151

1221 SW 4th Av Portland OR 97204

• Check out this history timeline of the Portland JTTF (written 2/17)
• Follow the list of links to more information.
• MEMBERS OF THE PORTLAND JTTF (according to a 12/10/15 news release):
Oregon State Police
Port of Portland Police Department
Washington County Sheriff's Office
Clackamas County Sheriff's Office
Federal Bureau of Investigation
Internal Revenue Service
U.S. Department of Justice
U.S. Attorney's Office
U.S. Department of State
Diplomatic Security Service
U.S. Department of Homeland Security
Immigration/Customs Enforcement
Federal Air Marshal Service
Customs and Border Protection
U.S. Coast Guard Investigative Service
Defense Criminal Investigative Service

Note: In 2005, the Multnomah County Sheriff joined the JTTF, it's not clear why they are not mentioned in this list.

---
If you email Council directly, please feel free to bcc: a copy to so we can get a sense of how many people are contacting Council.
---
Read PCW's testimony to City Council on Sanctuary Cities and the JTTF (2/28/18)
---
HISTORIC BACKGROUND INFORMATION
---
City Council Hearing on the Portland Joint Terrorism Task Force 2011!
Thursday, February 24 March 10 March 17, 2011, 2:00 PM
Thursday, April 28, 2 PM City Council Chambers (SW 4th and Madison)
We worked on the effort for Portland to withdraw from the JTTF in 2005;
now Council is considering joining again. Download proposal from
the ACLU of Oregon on improving the 2005 agreement: (.doc file) (.pdf file)
And the Mayor's proposed Resolution
---
May 4, 2005:
Portland Votes to Remove Officers from Joint Terrorism Task Force

On April 28, 2005, Portland City Council voted 4-1 to withdraw its two police officers from the Portland Joint Terrorism Task Force (PJTTF).

The resolution requiring the withdrawal allows 90 days for the officers to stop going to work every day at the FBI building, but rather to come back to work for the Portland Police Bureau's Criminal Intelligence Unit (CIU).

Despite criticism from the mainstream media, the Portland Police Association, the Citizens Crime Commission, Commissioner Dan Saltzman, Senator Gordon Smith, and others, the resolution explicitly calls for the Portland Police to work cooperatively with the FBI. As has been encouraged for many years by many of the organizations testifying to City Council about the PJTTF, it is possible for Portland to help the FBI with legitimate criminal investigations of those who are using violence to blow up and otherwise harm people for political (or any other!) reason without giving up oversight of what those officers are doing.

Details of the resolution, which stemmed from an agreement reached by Mayor Tom Potter after FBI Special Agent in Charge Robert Jordan refused to grant him, Chief Foxworth, and the City Attorney "Top Secret" clearance to oversee the officers on the task force, include:

--The two officers will retain their "Top Secret" clearance for use during a "critical incident or imminent terrorist threat."

--The FBI can request the officers assist in any "Secret" level investigation subject to review and withdrawal by the Chief and the Mayor.

--Mayor Potter (the Police Commissioner) will not be allowed to sit in on the PJTTF Executive Group, but Chief Foxworth will be able to, and after Potter has "Secret" clearance Foxworth can brief the Mayor on those meetings.

So for all the fearmongering that the sky is falling and the City snubbed the feds, those who have expressed concerns about the FBI's past and current record of spying on people for their political, religious or social affiliations have more to worry about than those who think Al Qaeda is sleeping under every child's bed.

For instance:

--The resolution doesn't explicitly call for the City Attorney to be involved in the oversight of officers involved in "Secret" investigations;


--The resolution doesn't address oversight in cases of "Top Secret" emergencies;

--The FBI was reluctant to give "Top Secret" clearance or allow Mayor Potter on the PJTTF Executive Group because he is an elected official, not a member of Law Enforcement; however, the Multnomah County Sheriff's office is considering joining (and the Clackamas County Sheriff's office is currently on) the PJTTF. It has not been made clear whether those Sheriffs, who are both elected officials _and_ law enforcement, will be allowed into the meetings;

--The FBI continues to assert that Senator Wyden has the ability to oversee the Task Forces nationally, but Wyden was quoted in the paper saying he would "trust and verify," which is not the same thing as having an ongoing monitoring of the JTTFs to prevent abuses;

--JTTFs in Denver, Fresno and elsewhere have already been found to have infiltrated non-criminal peace organizations;

--Oversight of the Portland Police Criminal Intelligence Unit (CIU) is practiced and permitted by the "Independent" Police Review Division (IPR). However, the actions of the officers once activated by the FBI may not be due to the security clearance issues;

and

--The FBI and the US Attorney admitted it is not their job to ensure Portland officers are following Oregon law.

But this is all the more reason for us to continue to demand transparency and public reporting on the activities of the CIU and the PJTTF.

We recommended that the Mayor add an annual review to report how often the officers are asked to join the FBI and whether the new agreement is working. He said he would consider doing that, if the FBI agrees to participate.

At the April 28 hearing, Mayor Potter emphasized the point that, in fact, is why Portland Copwatch is a project of a peace group: That in this country, we have the President, a civilian, to oversee the military, and so we must have civilian oversight of law enforcement on a local level. He admitted that prior to becoming a police officer, he shared the fear expressed by one Arab-American man whenever he saw a police car in his rear view mirror. He said that the community should be assured that officers are there to protect them, not to harm them.

He expressed confidence that the resolution was the correct decision to make, shrugging off a suggestion from a reporter who told him that if anyone were to attack Portland, he would be "toast." He joked, "I suppose that depends how close to it I am."

Again, he emphasized that he had built a working relationship with the FBI and the US Attorney, perhaps a better relationship than existed when the officers were left to work for the FBI unsupervised.

Six months after the officers actually withdraw from the Task Force, the Mayor, Chief and FBI will re-examine the agreement. (Perhaps the ACLU, who sat in on the negotiations with Potter and the FBI, will be involved in that discussion, too.)

By taking this proactive step now, Portland is perhaps stemming the tide of post-9/11 hysteria and avoiding what will likely be the subject of reparations and apologies some 40 years down the line.

Background information from prior to this new resolution is included elsewhere on this site.
---

Read information on a case of Portland Police spying on our parent group, Peace and Justice Works, which was rejected by the US 9th Circuit Court on March 2, 2005.
---
To 2003 PJTTF documents page
---
Read the City Council Candidate Questionnaire for the May 15, 2018 election including answers from 7 of 10 candidates running for two seats.

(Note: The full Portland Copwatch questionnaire with five other questions can be found here.)
---
On This Page

Recent info 2017->
Historic info
List of signers to Nov 2017 letter:
(as of 2/13/19)
Click here for
an alphabetical list
ACLU of Oregon
Unite Oregon
Portland Japanese American
Citizens League
Albina Ministerial Alliance
Coalition
for Justice and Police Reform
Peace and Justice Works/
Portland Copwatch
Brandon Mayfield
League of Women Voters of Portland
Oregon Physicians for
Social Responsibility
Asian Pacific American Network
of Oregon (APANO)
Iraq Veterans Against the War
Veterans For Peace Chapter 72
Council on American-Islamic
Relations of Oregon
Islamic Society of Greater Portland
Jewish Voice for Peace-Portland
Portland Immigrant Rights Coalition
Freedom to Thrive (formerly Enlace) Portland
Portland National Lawyers Guild
Portland Jobs with Justice
Sisters Of The Road
Oregon Progressive Party
International Socialist Organization
(Portland)
Individuals for Justice
Network Against Racism and
Islamophobia
350 PDX
Basic Rights Oregon
Portland Committee for
Human Rights in the Philippines
Empower Portland
Ad Hoc Committee
Portland Democratic Socialists
of America
NAACP Portland Branch
Peace Action Group of the
First Unitarian Church
Chinese American Citizens Alliance
Portland Chapter
Portland's Resistance
Ainsworth United Church of Christ
Americans United for Palestinian
Human Rights (AUPHR)
Northwest Abortion Access Fund
Pacific Green Party
Portland Interfaith Clergy Resistance
Occupy ICE PDX
Oregon Justice Resource Center
Queer Liberation Front
Portland Peaceful Response
Coalition
Eastside Democratic Club
Code Pink Portland
Portland Association of Teachers
Portland-Metro People's
Coalition (PMPC)
First Unitarian Portland
People Organizing for
Philippine Solidarity (pops)
Endorsers include:
Defending Rights & Dissent
Washington DC (on behalf of
their members in Portland)
Duell Wealth Preservation
Kafoury and McDougal