Shootings, Deaths in Custody Updates
Kendra James Case: Family Files Suit;
Officer Back on the Streets--Questions of What He Looks Like Stir Controversy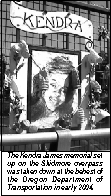 The family of Kendra James has filed a $10 million lawsuit against the City of Portland for her death at the hands of Officer Scott McCollister last May.
Meanwhile, McCollister, who was suspended for five and a half months for his poor judgment in the actions leading up to the shooting, returned to duty at East Precinct on February 5. The City and the Police expressed outrage when the one-year-old organization Rose City Copwatch put up posters offering a $40 bag of groceries as a reward for a picture of McCollister. (see sidebar)
Oregonian columnist Steve Duin, however, picked up on the important message in the unusually designed flyers: that Portlanders should know what their officers look like. "Portland's 23 'senior neighborhood officers' refused to sign the form that allowed the bureau to release their mug shots, complaining that the publicity might compromise undercover work or place them in unnecessary danger," he noted in his February 19 column ("Cops: Desperate for witness protection").
We agree that Officer McCollister's image should be public knowledge, given how many times criminal "suspects" who haven't even been formally charged with any crime have their faces splashed on TV and in print (especially when they are people of color). We raised the issue of the public's right to know when we reprinted a picture of Officer Rick Bean, who pulled James over the night she was killed, in People's Police Report #30.
Duin's article also revealed that Judge Michael Zusman has ordered the City of Portland to release the Internal Affairs files on Kendra James' death to the Oregonian but the City has refused.
The City Council refused to give the Citizen Review Committee the power to review these files, which is unfortunate since the community needs immediate answers. The outside agency reviewing shootings and deaths won't get to see them until at least 2005.
Byron Hammick's Family Files Suit
The family of Byron Hammick, a man who was shot by police in a motel in February, 2002 (PPR #26), has filed a lawsuit accusing the officers in the incident of using unnecessary force. The suit claims that police exaggerated the injuries Hammick caused to a 3-year-old boy he was holding at the time of the shooting and conspired to cover the truth to justify their actions (Oregonian, March 3).
Lowery Case Could Be Headed Back to Court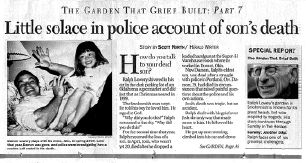 On January 27, Federal Judge Janice Stewart agreed with lawyers for the family of Damon Lowery that she may have given improper instructions to the jury (see PPR #31). Lowery died in police custody in December 1999. The case will likely be back in court this spring.

News of the judge's decision was revealed at the end of a very moving eight-part story on the troubled life of Ralph Lowery, Damon Lowery's father, who built a garden at his home in Snohomish, WA as a memorial to Damon and another of Ralph's sons who also died in 1999. The series ran from Feb. 15 to Feb. 22 in the Everett, WA Herald Tribune and can be found at http://www.heraldnet.com/stories/04/2/15/18130598.cfm.
Mejía Family Settles With City
Attorney Linda Ramirez, negotiating on behalf of the family of José Santos Victor Mejía Poot, who was shot and killed by police in 2001 (see article on hearing), reached a settlement with the City of Portland. Under the agreement, all Portland Officers will be required, beginning no later than fall 2005, to attend a minimum of one hour of training in resolving situations with people who are or may be mentally ill or suffering from epilepsy. The settlement also includes the purchase of and training for the use of 50 Tasers.