PORTLAND POLICE SHOOT, KILL TWO IN TEN DAYS
Near-Record-Breaking Stretch Shattered; One Suspect Shot 13 Times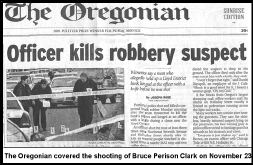 The shooting of Bruce Perison Clark on November 22 broke a nearly eight-month-long stretch of time in which there were no reported incidents of Portland Police using deadly force (at least against a human; they shot and killed a dog on October 19). Portland Police Officer Mike Smith (#17975) shot and killed Clark, 39, who was suspected of robbing the Bank of the West in NE Portland. Ten days later, police shot and killed another man, Willie Thomas Grigsby, 24, an African American man suspected of stealing a car. Clark's incident marked the 2nd longest period of time since 1993 without a police shooting, and provided evidence of what community members have said for years: Police can do their job, without losing their own members, without using deadly force.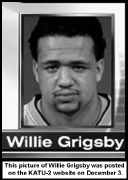 Grigsby's death followed a 30-plus-block car chase at 1:00 AM. After crashing the stolen pickup, Grigsby got out of the truck and ran up 84th Avenue. Officer Richard Steinbronn (#32940) used a Taser, knocking Grigsby down; Grigsby then allegedly shot a gun at the officers six times. Steinbronn and Officers Ney Phothivongsa (#32938), and Christopher Gjovik (#38946) shot at Grigsby. Steinbronn was hit in the leg, and another bullet grazed Gjovik. Detectives say they recovered 27 spent police shell casings but officers may have fired as many as 32 shots. The Bureau's December 7 news release reports that the medical examiner found 13 shots hit Grigsby but didn't kill him immediately. After firing multiple bullets at Grigsby, the officers shot him 22 times with "bean bag" rounds, then waited an hour for the Special Emergency Response Team (SERT) to arrive, during which time Grigsby died. (This is similar to the 1996 case of Deontae Keller, where police left that young African American man bleeding to death after shooting him [ PPR #9].)
While Clark was Caucasian, Grigsby was the fourth person of color shot of the six shootings since Chief Foxworth took office last year. All four have died. In a city that is 77 percent white, the percentage of people of color shot by police continues to rise, alarming members of the community.
In the other case, Smith and three other officers chased Clark on foot shortly after the robbery was reported. According to the Oregonian (November 23), witness Daniel Danapoli heard the officer say " something like, 'I'm warning you, I will shoot you. Stop and get down on the ground,' Then the guy started marching. Then he ran at the officer."
Public Information Officer Brian Schmautz says one of the four officers on the scene had a Taser-- but not Smith. He claims that once the suspect came closer than 20 feet, the officer was justified in shooting. Never mind that it would have been Taser and gun against knife; four men against one; that Tasers have exactly 21 feet of wire precisely because of that "safety zone;" and that Tasers were promised to the public as an alternative to deadly force (also see Taser article).
Smith fired four shots, and while some reports say officers tried to administer first aid, others say they radioed for medical help and waited. This recalls the deaths of Kendra James in 2003 and Richard "Dickie" Dow in 1998. Officers left James bleeding in the street because they thought she was "faking" being shot. In Dow's case, officers supposedly tried giving first aid to the mentally ill man as he turned blue after they piled on him; he died the next day. At that time, the Police Bureau said they had let CPR training elapse for budgetary reasons but were planning to reinstate it.
As for the lengthy time period without a shooting, some say the community outrage at the shooting of James Jahar Perez and Kendra James helped keep the officers' guns holstered. The fact that Clark and Grigsby were both apparently armed means their deaths may receive less public outcry than Perez's or James', but the inquiries into the police use of force should be as thorough.
---
Longest stretches between September, 1993 and December, 2004 (11 years, 4 months)
without a Portland Police shooting
December 20, 1994 to December 6, 1995: 351 days
March 28 to November 22, 2004: 239 days (after the shooting of James Jahar Perez)
September 14, 1993 to April 10, 1994: 208 days (after the shooting of Duane Shaw--see PPR #1)
May 31 to December 6, 1998: 189 days
May 5 to October 21, 2003: 169 days (after the shooting of Kendra James)
---