Portland Police Use Taser on 11-Year-Old
As National Buzz Over Shock Weapons Grows More Negative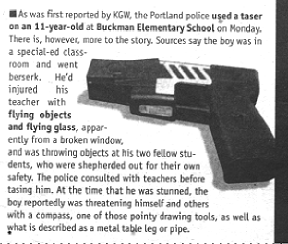 On October 4, Portland Police officer Jonathan Hunt (#39646) used a Taser to temporarily paralyze an 11-year old student at Buckman elementary school in Portland. Considering that the weapons have been involved in over 70 cases where suspects have died and more information is coming out questioning their safety, Portlanders should be very concerned.

According to the October 8 Portland Tribune, the boy was "tearing up" a classroom, breaking windows and "lashing out" at teachers with a metal compass (presumably the pointy tool used for drawing circles and not a directional magnetic device). The good news, if it can be called that, is that the first officer on the scene, School Police officer Gene Gillock, backed away when the boy "threatened to stab him," whereas in other circumstances police might have shot at him (see shootings article).

Explaining her decision to authorize the use of the 50,000 volt electroshock device, Capt. Dorothy Elmore told the Tribune, "We couldn't get close enough to use pepper spray, and with the sharp object...we couldn't feel safe tackling him." It is still not clear why the staff of psychiatric hospitals are able to restrain unruly patients without the use of guns, batons and Tasers but the Police are so dependent on these weapons that they will use one on a child.

The Bureau's tentative new policy on Tasers does encourage officers to "give consideration" to other options before using the weapon on the elderly or young people. However, Tasers are considered "less lethal," not "nonlethal," as evidenced by Multnomah County Sheriff's Deputy Paul McRedmond and Portland Police Sgt. Brian Schmautz, both of whom say that civilians brandishing the new "Citizen Taser X26" could be shot by police (KATU-TV, September 16 and Oregonian, September 28).

Along those lines, the New York Times revealed that a study touted by Taser International as proving Tasers safe may actually say the opposite. The November 26 article cites Air Force scientist Dr. James Jauchem's research showing that repeated Taser shocks cause acidosis, a dangerous condition in which the pH of the blood drops, and which could lead to death. The Arizona Republic outlined 71 cases in which suspects died after being hit by Tasers between Sept. 28, 1999 and the article's publication on September 15th of this year (the total was 77 as of December 17). While a few of the deaths were linked to the Tasers by medical examiners, manufacturer Taser International continues to insist they are not responsible and "the deaths resulted from drug overdoses or other factors and would have occurred anyway" (NY Times).
---
--Miami Police fired Tasers at a six-year-old boy threatening to hurt himself in October, and a 12-year-old girl who was playing hooky from school in November (Associated Press, November 11 and Democracy Now, November 15).
--An Ohio sheriff¹s deputy was fired for using a Taser on an escaped prisoner after he had been captured and handcuffed (WLWT News 5, September 11).
--The Minneapolis Star Tribune and the Salinas Californian ran lengthy articles questioning the safety of Tasers on October 17 and September 4.
--The ACLU of Rhode Island asked police to ban Tasers in early October (AP, October 4).
---
Pepper Balls Kill in Boston, Harm in Oregon; Pepper Spray Hits Portland Bystander
The biggest national story on "less lethal weapons" in the past few months was the death of a 21- year-old woman who was hit in the eye by a pepper-spray ball in the wake of the Boston Red Sox winning the playoffs. Boston's police commissioner Kathleen O'Toole immediately took responsi- bility, and the police have suspended use of the FN303 pepper ball guns used in the incident (Associated Press, October 26).

In Oakland, police agreed to stop using the wood batons which injured protestors during an anti-war march on the docks there in 2003 (see PPR #30). They also decided not to use "rubber bullets, Taser stun guns, pepper spray and motorcycles to break up crowds" (KTVU-TV, November 7).

Closer to home, protestors in the tiny town of Jacksonville, Oregon were surprised when, during an October 14 visit by President Bush, police fired pepper balls at the crowd to clear the street.

During a protest the day after the November 2nd Presidential elections, a bystander was hit in the face by pepper spray deployed by Portland Police. The man, Andrew Pottmeyer, may have been targeted because of his race­a witness claims he was the only African American present (Portland Tribune, November 5). Police pepper sprayed a few other people that night, but did not indiscriminately spray entire crowds as they have numerous times in the past (see article on pepper spray lawsuit).