New Mayor is Former Top Cop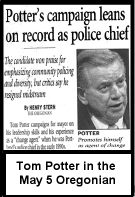 Former Police Chief Tom Potter swept into the office of Mayor of Portland in a recent landslide against City Commissioner Jim Francesconi. Potter's tenure as Chief included the creation of the Chief's Forum (often used to rubber stamp Bureau initiatives), the introduction of pepper spray (first used on crowds in September 1991 and the subject of a recent lawsuit--see article), and the institution of Community Policing (which sounds good but depends how it is defined).

Portland Copwatch formed in June of 1992. Less than a year later, and before we had the chance to scrutinize his activities in our newsletter (first issue: December 1993), Potter resigned.

One thing that stood out in that short time was Potter's willingness to release information. After Nathan Thomas was shot in 1992, Potter held a public forum and released information on all officer- involved firearms discharges over the previous four years. Such a document has never been published again, and the Police Assessment Resource Center's reports do not go into the same detail as Potter's report.

We definitely have reservations about a former police officer running the City. At least three former and current Portland officers have been and/or are now in the state legislature. When police make the laws, that is the definition of a police state. However, Potter's progressive supporters and his public actions as chief, including marching in uniform at the Gay Pride Parade, give us hope that he will use his position as Police Commissioner to make positive changes.

Call Mayor Potter at 503-823-4120 to give your opinions about police issues.