Site Navigation
Home
About us
People's Police Report
Shootings & deaths
Cool links
Other Information
Contact info
Donate
Officer Who Shot Aaron Campbell in the Back Fired
Other Officers Suspended, Family Files Lawsuit, Community Actions Continue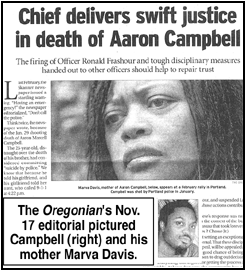 On November 16, the City of Portland and its Police Bureau announced discipline to be doled out for the January police shooting death of Aaron Campbell:
Officer Ronald Frashour, who shot Campbell in the back with an AR-15 assault rifle, was fired. In addition, Officer Ryan Lewton, who used a "beanbag" shotgun with no good explanation, Sgt. Liana Reyna, who left the scene with nobody in charge just before the shooting, and Sgt. John Birkinbine, who asked Campbell to come out of his girlfriend's apartment but didn't tell anyone else on scene, each received 80 hours suspension without pay. Lewton shot Campbell in the back with the lead-pellet gun, leading Campbell to lower his hands, prompting Frashour to shoot him. Thus, Lewton should receive the same punishment as Frashour. Nonetheless, this is a great step forward for police accountability.
The City released an amazing amount of information--the kind of documents that were withheld in the James Chasse case for over three years (see article, right). These included the letters of reprimand, the Internal Affairs files, and the presentation to the Use of Force Review Board.
In a front-page piece of the Portland Police Association (PPA) newsletter the Rap Sheet, PPA Attorney Will Aitchison tries to reassure the rank and file by listing 12 elements of the "Just Cause" standard in the PPA's labor contract which applies to discipline. Apparently, the facts have to be proven by only a preponderance of evidence (50%+1) unless there's a severe punishment, when "clear and convincing" evidence is required; in cases where there may be a crime, some arbitrators require the "beyond a reasonable doubt" standard. This seems arbitrary and is probably one reason firings of cops have not stood up in the past. Officer Douglas Erickson was fired and reinstated for a 1993 shooting (PPR #6), Lt. Jeffrey Kaer was fired and reinstated for his 2006 shooting (PPR #45), and Officer Scott McCollister, suspended for six months but not fired, won back pay for his 2003 shooting (PPR #38). Aitchison explains the PPA's winning streak in the December Rap Sheet by listing credentials of the arbitrators in these cases (and two racially charged incidents in the 1980s where officers were fired and reinstated), concluding that the City loses because it is "wrong" and "makes labor relations decisions on a political basis."
On the bright side, several of the criteria ask whether the officer's work history shows he/she may cause harm to the department if kept on. We already knew about Frashour's 2006 inappropriate use of a Taser against a man with a camcorder, which led to a settlement of $55,000 and a "Sustained" finding of misconduct (PPRs #49-50). The discipline letter reveals that in 2008, Frashour crashed into a car he thought was being driven by a suspect who'd been rammed by another officer for driving recklessly. Problem was, it was the wrong color, wrong license plate, and was damaged in the wrong place--and the driver was injured by Frashour's own recklessness. Because of this pattern of overkill without thinking, this time, the discipline might stick.
PPA President Daryl Turner has already announced plans to file a grievance about the discipline for all four officers, blaming the Bureau's training and command staff for the bullet that killed Campbell (also see "Rapping Back"). Perhaps to shut down this easily anticipated reaction, Chief Reese and Mayor/Police Commissioner Sam Adams announced other disciplinary outcomes along with the proposed and final decisions in the Campbell case. In September, simultaneous to a coy announcement about Frashour, Reese went out of his way to say he found Officer Chris Humphreys in policy for the "beanbag" shooting of a 12-year-old African American girl (PPR #49). Last November, the PPA marched on City Hall in reaction to Humphreys being taken off duty pending investigation. This November, when the final Campbell decision was released, the Chief and Mayor also announced that they were disciplining Captain Mark Kruger for nailing a plaque up in a City park honoring Nazi soldiers (see article). If the message was, "hey, look, we do find command staff out of policy," Turner and his pals missed the signal.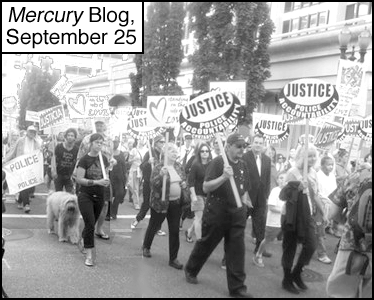 Aaron Campbell's family announced on November 3 that they are suing the City. Their attorney is Tom Steenson, who won the $1.6 million settlement in the James Chasse case earlier this year (see article).
The Albina Ministerial Alliance Coalition for Justice and Police Reform, which re-formed after the "beanbag" incident and the Campbell shooting, staged a mobilization for police accountability on September 25. Roughly 300 people, many white church-goers, heard from a variety of speakers including former State Senator Avel Gordly and her son Tyrone Waters, who survived a 2001 police shooting by a combination of luck and the intervention of then-PPB member Derrick Foxworth. The AMA Coalition also held a prayer vigil the night after the discipline was announced, with a smaller crowd due to flooding weather.
Bureau documents on Campbell: bit.ly/cVptR3 . Lawsuit: images.bimedia.net/docum ents/Campbell +Complaint1.pdf . AMA Coalition info: albinaministerialcoalition.org .

January, 2011
Also in PPR #52
• Cop who shot Aaron Campbell fired
• Two new Portland police shootings
• Lawyers: cover-up killed Chasse
• Rights Commission blasts Sit/Lie
• Pressure to re-join Terror Task Force
• Reese's Pieces: Rogue of the Week
• Taser audit misses dangers
• More changes to oversight system?
• Review board: training, no hearings
• Profiling discussed by Psychologist
• Copwatching crackdown USA
• PPR Updates #52
• Portland responds to "gangs"
• Alcohol impact zones: update
• Nazi Cop discredits Bureau
• PPR Quick Flashes #52
• Rent-a-cop not charged for assault
• Cop-on-cop hook up gets back pay
• Activists raided for "terror ties"
• Rapping Back 52