MORE DETAILS ON HOW JAMES CHASSE DIED:
Lawyers Say Police Cover-Up Killed Him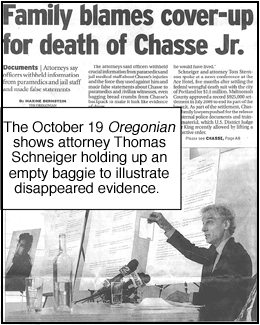 At a public presentation on October 18, two lawyers for the family of James Chasse, Jr, who was beaten to death in 2006 (PPR #40), presented information about the incident which had been under court protective order until after the City agreed to a $1.6 million settlement this summer (PPR #51). Attorneys Tom Steenson and Thomas Schneiger said that what killed Chasse was not the police use of force, but rather the cover-up the officers conducted afterwards to avoid inquiry.
They failed to disclose to paramedics the force they'd used on him, including that he'd been knocked down, kicked, and hit with a Taser and that he had stopped breathing. Steenson said a training sergeant testified that kicking someone in the head, which Officer Chris Humphreys and/or Sgt. Kyle Nice did to Chasse, "would be considered deadly force, so the situation would have to justify the use of deadly force" (Oregonian, October 19).
The officers on scene also claimed Chasse was a criminal to discourage witnesses and the paramedics from expressing concern. Humphreys claimed there was a bag of cocaine present, when it was only a bag of bread crumbs. This led the paramedics to believe Chasse had ingested cocaine, explaining his dazed constitution. Schneiger held up an empty bag to illustrate that bread crumbs held in evidence had disappeared. Perhaps this was because Deputy Burton knew that the particles were from food, not drugs. Humphreys must have suspected Chasse was sick, not high; he checked the box for "mental illness" on his Use of Force report. They also had Chasse's Oregon ID card with his address but listed him as "transient," which probably also led people to care less about the beating.
The officers put a nylon "spit sock" over Chasse's head and hauled him into jail. Portland Police do not have training or policies related to "spit socks." Steenson said they left the "spit sock" on Chasse's head despite him bleeding into it and having injuries to his head, only taking it off after pulling off the freeway on the way to the hospital when they noticed he'd gone quiet and his arm had turned white. The officers told the second set of paramedics only that Chasse had been in an "altercation" in NW Portland.
The Medical Examiner noted 48 bruises on Chasse's body including "extensive head trauma." Detectives tried to blame "excited delirium," which is not an accepted medical term, and generally shows up when police excuse suspect deaths after Taser use (see article, link on right). The saddest message the lawyers conveyed is that Chasse would have lived if he'd received medical treatment right away.
Steenson pointed out Portland has never successfully disciplined officers for use of force (the news conference was held before the Campbell discipline was finalized). He criticized the minor discipline in this case for "non-disclosure" which sends the message to police that they can do what they want.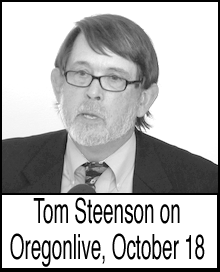 It sounds as if the lawyers identified the officer who falsely told witnesses that Chasse had 14 drug convictions as Officer Michael Bledsoe, who admitted he couldn't have known who Chasse was, but wasn't investigated by Internal Affairs (IAD) for talking to the public anyway. As noted earlier, the only discipline in this case was unpaid leave for Humphreys and Nice for failing to transport Chasse to the hospital after using a Taser on him. Perhaps IAD would have found more wrongdoing if they had looked at the depositions, which normally are part of the public court record, and to which the City had access as party to the lawsuit.
Steenson criticized the review system that allows "cops to investigate cops." He also said "shame on the City and the Portland Police" for keeping information from the public.
Mayor Adams and Chief Reese say they have sent the case on to the Justice Department for civil rights investigation, calling the lawyers' statements "new concerns," even though they were raised in the lawsuit.
The released information is available at the Mental Health Association of Portland website at http://www.mentalhealthportland.org/?p=7036 .