<!IMG SRC="xxx.gif" ALIGN=left VSPACE=0 HSPACE=6 alt="[alt title]">

Citizen Review: No Hearings in Four Months;
Forum, Trainings Held, Police Review Division Publishes Complaint Information, Recruits New Members as Two Women Leave

In what feels like a throwback to the years in which the Citizen Review Committee (CRC) heard only one appeal about a complaint of misconduct, there have been no appeals heard before Portland's so-called civilian review board since July. The "Independent" Police Review Division (IPR), the staff which processes complaints, revealed interesting information about specific cases that were filed and investigated, and recruited for three of the nine CRC seats with terms expiring, plus one member who resigned mid-term. The CRC held a public forum on police accountability, published a draft report about how IPR handles minor complaints, and amended a number of their internal rules. This seeming low-energy time frame may be in part due to a six-week training organized by the IPR and the Police Bureau for members of the CRC and the new Police Review Board.

Case Updates: Bureau Accepts CRC Findings, Complainants Skip Appeal Option, IPR Reveals Misconduct

At the October meeting, CRC was told that the Bureau had agreed to change two findings in the "road rage" case heard in June (#2009-x-0008, PPR #51). CRC had suggested that Officer Sean Christian not be "Exonerated" on the questions of whether he had misused his authority by showing his badge during an accident he was party to, and whether he had pounded on the appellant's window with his car key. The Bureau changed both findings to "Unproven," which means there is not enough evidence to prove or disprove the allegations.

Meanwhile, two high-profile cases could have been appealed to CRC--the "beanbag" case with Officer Humphreys shooting a 12 year old girl (Campbell article, p. 6), and the case of Captain Kruger's neo-Nazi behaviors (p. 2). It appears the family of the young woman is pursuing a lawsuit, so they skipped the option to appeal the findings of "Exonerated." Neither Bob Seaver, the complainant who had two allegations against Kruger found within policy, nor Kruger himself, who could have appealed the "Sustained" finding against him, chose to do so.

When IPR began to streamline its annual reports (PPR #51), anecdotes about individual complaints and their outcomes became harder to track down. However, the IPR's Quarterly Reports, otherwise fairly dull, give great summaries of open and closed cases. For example, the Third Quarter Report shows 9 of 15 misconduct investigations from July to September resulted in at least one "Sustained" finding. One was a PPB member who "engaged in a relationship with a police cadet while on duty." Another was an officer who "was untruthful when answering questions about his continued use of alcohol."

While those allegations were proven to be true, complaints still not investigated included a woman who police made to feel like a "criminal" for videotaping an argument between her neighbors, a woman who complained an officer was rude when answering her call about an attempted child abduction (both to be treated as non-disciplinary complaints), and a community member assaulted by cops (sent for a criminal investigation).

Unprecedented Public Police Trainings Reveal Skewed Perspective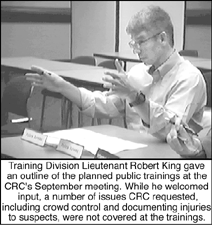 At the request of the CRC, IPR Director Mary-Beth Baptista worked with Training Division Lt. Robert King (former President of the Portland Police Association) to hold a series of presentations about police training and policies. The Police Review Board (PRB) was created by ordinance in March (PPR #50), and members who were selected during the summer also needed training, so Baptista arranged for six weeks of trainings to be open to the CRC, the PRB, and the general public. This was unprecedented, as in the past the Bureau has flinched at showing certain training to the CRC at meetings for fear they would be videotaped. The new sessions were taped both by the Bureau and Indymedia's Joe Anybody for viewing on the web (links to all six days can be found at http://portland.indymedia.org/en/2 010/11/403480.shtml).
In a rare moment, Lt. King agreed with Portland Copwatch that it's good the Bureau is moving from a fear-based training to one that focuses on competence and confidence.
Briefly, here are what the six sessions covered:
1-The law and force policy, focusing on the "totality of the circumstances" in the Graham v Connor decision, with Assistant City Attorney Woboril and Officer Heath Kula.
2-Defensive tactics, which included the firing of a gun in City Council chambers (blanks) and video of a cop who was shot at a traffic stop.
3-Patrol tactics, which again focused a lot on the use of deadly force and adding the Force Science Research Center (FSRC)'s "action/reaction" principles --which we call the "Superman theory" since the FSRC says so many suspects are shot in the back because they turn and run faster than cops can shoot.
4-Less lethals, at which Officer Tom Forsyth shot a Taser at a target, and the audience was allowed to touch "bean bags." They really didn't explain whether a person might get more violent if they think the shotgun/Taser are loaded firearms that could kill, and minimized the dangers of the Taser, including ignoring the people who've died in Oregon after its use (see Taser article, p. 7). CRC member Rochelle Silver did caution Forsyth against talking too definitively about "Excited Delirium," which is not widely accepted as a medical condition.
5-How the PRB and IPR/CRC work, which included a slightly less detailed explanation of the "Just Cause" standard than provided by the Police Association (see Campbell article, p. 1).
6-Crisis Intervention Training, featuring CIT coordinator Liesbeth Gerritsen, who said her only tool is communication. While it was a useful presentation, Gerritsen did not address what happens when an officer feels their de-escalation is not working and they choose to use violence of some kind. She also described the CIT as though the City had woken up one morning and decided to train officers about mental health, ignoring that Nathan Thomas' death in 1992 prompted the program and James Chasse's in 2006 led it to being mandatory (PPR #40). Interestingly, Gerritsen showed a video and talked about how horrible the state once treated those with mental illnesses, including applying shock treatment to change behavior. She didn't realize the irony of decrying this torture after Lt. King had just led a follow up discussion on Taser use.
Overall, it is good that CRC and PRB members received this training, giving the police less of an argument that they "don't understand officers' jobs." We hope they will follow up with a civil rights training by an attorney. As a good start, CRC invited ACLU attorney Kevin Diaz to their December meeting to critique the Bureau's trainings. He focused on the unspoken dangers of Tasers and the question of whether "pretext stops" make good policy just because they are deemed legal.
One advantage of the public trainings: we and others were able to raise counter-assertions to the PPB's presentations--challenging, for instance, their use of the word "tool" rather than "weapon," the term "bad guy" instead of "suspect," and the awful phrase "suicide by cop" which takes the responsibility of a homicide by an officer away with word play.
The Police Review Board looks at cases of shootings and deadly force/hospitalization (formerly heard by the Use of Force Review Board) and cases in which officers are found guilty of misconduct and might receive time off as discipline (formerly heard by the Performance Review Board). At the December CRC meeting, the IPR Director reported the PRB heard its first case December 6. If you're confused why the City doesn't combine the PRB with the Citizen Review Committee so there is just one clear civilian police review board, join the club.
CRC Community Forum Draws Small but Vocal Crowd
On October 28, the CRC held its second public forum on accountability this year. About 15 people from the general public, many African American, came to the Kaiser Town Hall to share their views. The CRC took nearly an hour following up on issues raised at the March forum (PPR #50). Unfortunately, CRC member Hank Miggins, who was assigned the issue of drug testing, ignored information widely available in the news about the City requesting random drug testing (see p. 10), instead declining to talk about the issue while the Chief and the "union" were discussing it. Member Rochelle Silver did a little better explaining the Bureau's psychological exam program, revealing that officers who are tested after deadly force incidents do not have to share the results of their mandatory psychiatric visits. However, Silver also took at face value the sole psychologist's word that he is peer-reviewed and is "well qualified" (see p. 5). Similarly, member Lewellyn Robison proudly stated that IPR and the Internal Affairs Division (IAD) meet 90% of their timeline goals, ignoring that the other 10% are the cases which are fully investigated and of most concern to the public.
Among the comments from civilians attending the event were: the Bureau should hire more women, not "scary ass guys"; the Bureau should hire actors to "freak out" during trainings so officers are prepared for difficult situations in the field; and that life on the street for African Americans in Portland means being scared to see police.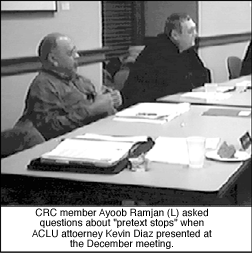 Kendra Rosser, whose case went before the CRC in early 2002 (PPR #26), complained that the IPR had rushed her through the process and a lawyer later dropped her as a client, leaving no recourse. Her daughter, a teenager, spoke about police power and authority, and the CRC having power but not acting on it.
Some of the strongest testimony came from Ayoob Ramjan, a CRC member originally from Egypt, who described the corrupt and brutal police in Africa and then noted he is stopped for extra screening and stripped to his underwear by his new country every time he has flown since 9/11. He urged the members of the public to come forward with complaints because he doesn't want to see his daughter and grandkids stopped for no reason.
"Service Improvement Opportunities" Report Raises Some Issues, Ducks Others
In December, the CRC adopted the Recurring Audit Work Group's report on the use of "Service Improvement Opportunities [SIOs]" (cough cough, you mean the things the Stakeholder Group recommended be called "non-disciplinary complaints"?). These minor complaints used to be called "Service Complaints" and are ones that would not result in discipline even if found to be true.
Our experience is that many people think their complaints need full investigations, but the incidents reviewed by CRC, in their opinion, were handled appropriately. They do recommend that the IPR and the IAD explain why they use SIOs, document how SIOs are used to improve training, and create a means for CRC or some of its members to review incoming complaints to dispel community concerns of incidents being "swept under the rug."
Portland Copwatch's ideas to suggest changing the "SIO" name and add raw data to the report were both voted down 2-4 by CRC.
The report's strongest recommendation is for the Bureau to do something about officer rudeness, which is the most common complaint handled as an SIO. Unfortunately, IPR Director Mary-Beth Baptista referred to training efforts in this area as "customer service training." As we've pointed out repeatedly, people who are approached by police as criminal suspects are not like people shopping for jeans at the Gap--they did not ask to be a "customer."
Also at IPR/CRC:
Membership: IPR recruited for three people whose terms expire at the end of 2010 or early 2011: Michael Bigham, the current chair, Rochelle Silver and Lewellyn Robison, who we suggested in PPR #51 should take a break. Turns out Robison decided not to re-apply (and even quit in late November, two months before the end of her term), and member Lindsey Detweiler, who came on board in early 2010 to replace another member who'd left, quit to deal with a family crisis. In February, two new members, Andre Pruitt and Steve Yarosh, will be appointed to the CRC. The new members are both men. Bigham was reappointed, as was Silver, who is now the only female on the 9-member panel.
Protocols: At the October CRC meeting, the Committee adopted a revised version of their appeals protocol which had been in the works for over four years. Perhaps that justified the 1-1/2 hour discussion on the three-page document. If the revised protocol is followed, it should lead to better, more understandable and thorough hearings. In November and December, they updated four other protocols. To their credit, CRC expressed concerns about Auditor Lavonne Griffin Valade's making changes to their work before posting it to the internet, as she changed a protocol on policy reviews that led to a stalemate in 2009 that has still not been resolved (PPR #49).
Policies: In September, a discussion about issues raised by the Waterhouse Tasering case (PPR #50) took nearly an hour, as member Rochelle Silver pushed to be sure the Bureau added severity of the crime to considerations before Taser use, and to add a policy about ensuring they have the right suspect. Silver rightfully pointed out that these issues were present in both the Waterhouse case and the beating death of James Chasse. However, she did not acknowledge that the Taser policy already addresses severity of the crime, an issue raised at the appeal hearing. The committee voted to ask the Bureau questions about the two policies rather than make recommendations based on two cases that happened four years ago.
More info on IPR & CRC: call 503-823-0926 or see www.portlandonline.com/auditor/ipr.
Complaints about Cops at the Mayor's Office in 2010:
An October 14 Portland Mercury article reported that of hundreds of calls to the Mayor's office, 56 were about police brutality (compared to 126 against bicycles and money spent on bike lanes), with 5 more about the James Chasse Case, 20 complaining about the firing of Chief Sizer, 11 about cuts to the Mounted Patrol, and 11 about homeless people.
About the Members of the New Police Review Board:
There are 19 members on the new PRB, down from the previous 24. Nine (or maybe 10) are former members of the Use of Force/Performance Boards. This includes one current (Ayoob Ramjan) and three former (Lewellyn Robison, Bob Ueland and Eric Terrell) members of the CRC. The nine others include a business advisor to the Hispanic Chamber of Commerce, a former Civil Rights investigator/aide to Republican state representative Wayne Krieger, the communications director for SEIU 503, an attorney who is on the Coffee Creek Facility Advisory Council, an attorney who represents hip hop artists, a retired engineer who has been on the Fire and Police Disability & Retirement Board, and a mediator who works on the Gang Violence Task Force (and who referred to some gang members as "a-holes" at one of the trainings).