City Under Pressure to Re-Join Terrorism Task Force
After FBI Thwarts its Own Bomb Plot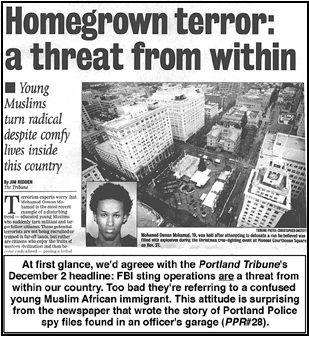 Just hours after the FBI handed a cell phone to 19-year-old Mohamed Osman Mohamud and told him he would be remotely detonating a bomb at Portland's Pioneer Courthouse Square, a signed affidavit describing the FBI's months-long sting operation and the events of that night were released to the press. Not surprisingly, many who do not know the FBI's long history of spying and use of agents provocateurs fell into the chorus of fear that echoed in so many mainstream news outlets. Many saw it as an opportunity to reverse Portland's historic decision in 2005 for Portland Police to stop actively participating in the FBI's Portland Joint Terrorism Task Force (PJTTF). After 4-1/2 years of community activism pushing Council to get out of the PJTTF, then-Mayor Tom Potter refused to let officers under his command (as Police Commissioner) participate with "Top Secret" clearance when he (Potter) would only be granted "Secret" clearance (PPR #36). In addition, there have always been concerns that the Task Force might put the cops in the position of violating an Oregon state law (181.575) that prohibits collecting or maintaining information on a person's social, political or religious affiliations with no suspicion of criminal conduct.
Despite a history of numerous such alleged "terrorist" plots which would never have gotten so far without FBI involvement (good lists were generated by the December 8 Willamette Week and the November 27 Portland Mercury blog), many failed to challenge the official story, even though that story included the declaration that nobody was ever in any danger. And yet, the FBI insists on repeating the phrase, "the threat was real." Both can't be true.
We will continue to monitor this case as it moves forward, and are working with other civil liberties, faith, labor and peace organizations who helped between late 2000 and early 2005 to get Portland to pull its two deputized officers out of the FBI task force.