Racial Profiling Update:
Guest Presentations at Community/Police RelationsWhile Perceptions and Statistics Reflect Badly on Portland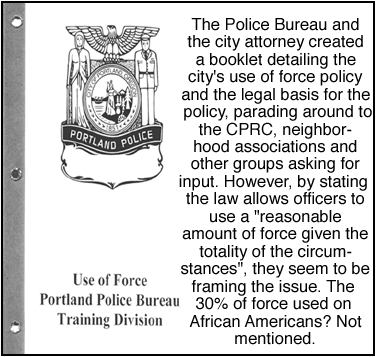 The Community/Police Relations Committee (CPRC), an arm of Portland's Human Rights Commission charged with examining the issue of Racial Profiling, continues to mix sometimes overly-friendly chit-chat with police and discussions of serious matters. Several guest speakers addressed the group at its September, November and December meetings (the October meeting was cancelled). Meanwhile, the City has not been forthcoming with details of the traffic stops and search data from 2009, so Portland Copwatch pulled together some of our own, as other community residents continued to express their concern.
At the CPRC's September meeting, police psychologist David Corey addressed community concerns that the Bureau's psychological screening might lead to low diversity. He tried to assure the crowd that although he does the screenings personally and he is white, he spent his youth in the poor district of San Diego in one of the few white families, where neighbors and his brothers protected him from gunfire by hiding him in the bathtub. His current practice is located in the 90% white suburb of Lake Oswego. Corey presented statistics (his own, since nobody double checks his work) showing African Americans and other people of color passing the psych exams at about the same rate as their white counterparts. The only group that didn't meet the minimum standard were Native Americans. Albeit there was a small sample size, CPRC member Donita Fry expressed interest in following up.
Corey's visit was part of CPRC examining the Bureau's five-point Racial Profiling Plan, part 1-- recruitment. They still have not begun looking at items 2-5, though the plan was adopted by City Council in September, 2009 (PPR #49).
Also at that meeting was Daryl Turner, who had recently become Portland Police Association (PPA) President. Turner pledged to do more outreach to the community and seemed sincere in asking the community to view the PPA in a new light. Whether this is part of a public relations plan is unknown, but Turner's reaction to discipline handed out in the Aaron Campbell case (see "Rapping Back" page) makes us doubt he was being 100% honest.
In November, members of the Bureau's staff, including Training Division Commander Bob Day, explained the new Use of Force policy, and its basis in the Graham v. Connor case (Campbell story, p. 1). In December, Officer Tom Forsyth gave another of his upbeat presentations on Tasers and other weapons, admittedly a bit more measured after the feedback he got at the public police trainings (p. 3).
Even without in-depth statistics about traffic and pedestrian stops which have been published in previous years (PPR #51), Portland Copwatch pulled together information for a presentation by member Dan Handelman at Lewis and Clark College's Ray Warren Multicultural Symposium on November 12. Handelman spoke on a panel with former Black Panther Kent Ford and a L&C student who is publishing her thesis on the 1980 "Possum Incident," where Portland officers threw dead possums on the doorstep of a black-owned business and indirectly led to Portland's first police review board. Here's what we found in our data: African Americans make up 6-7% of the population, represent about 14% of the people pulled over in traffic stops, 24% of pedestrians stopped (2006-'09), are searched 25% of the time, double the rate of white people (2004-'07+), are 26% of those shot or shot at (2000-2010), 29% of those who had force used against them (2004- '08), 52% of those targeted on the "repeat offender" list (April 2008 figures) and 52% of those excluded from Drug Free Zones (Sept. '06-July '07).
Looking at the Bureau itself, it's been argued that if the makeup of the police better reflected the community, there might be less profiling. We're not convinced--most of our experience and those of other cities is that once someone joins the police, their color is blue. That is, they become part of the police culture and leave behind their affinity to their civilian ethnic group. In 2001, of roughly 1000 Portland Police there were only 33 African Americans, 75 other people of color, and 169 women. To make the Bureau look like Portland they'd have had to hire about 100 nonwhite officers and 350 women. In November, the Bureau released statistics showing there are now 35 African Americans and 81 other people of color, up only slightly in 9 years, and 153 women, which is actually lower than in 2001.
Reflecting community concerns, the Oregonian interviewed African American mom Shalonda Menefee (September 15), who's scared for her sons. Menefee said "They don't get that the standards are different for black men," noting Keaton Otis was pulled over and killed by police who thought he "look[ed] like he could be a gang member."
The CPRC meets on the third Wednesday of every month, details at http://www.portlandoregon.gov/humanrelations.