<!IMG SRC="xxx.gif" ALIGN=left VSPACE=0 HSPACE=6 alt="[alt title]">

Sam and the Gang: New Gun Laws
Have a Drink of Madeira, M'Dear: City's Alcohol Zone Reeks of Class Bias
Investigation Finds Kruger the Nazi Cop Discredited the Bureau
Sam and the Gang: New Gun Laws Could Lead to More Racial Profiling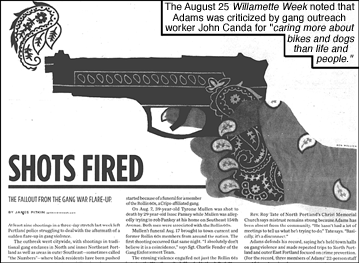 In response to a number of "gang-related" shootings (PPR #51), Portland Mayor Sam Adams unveiled a set of ordinances aimed at reducing future occurrences. The ordinances "require gun owners to store firearms away from minors, create zones where convicted gun criminals can be excluded, require gun owners to report lost or stolen firearms, and add penalties for taking loaded guns into public places" (Oregonian, November 13). The proposals were voted into law on December 1.
One ordinance mandates that any minor convicted of a gun crime will have a 7 PM curfew, with a few exceptions. Another ordinance establishes exclusion zones downtown, in north Portland, and in east Portland. In these zones "anyone convicted of a state or city gun crime would be banned ... for one year or for the duration of any probation, parole, or court supervision" (Portland Mercury, November 8). There are exceptions for living in, working in, or riding public transportation through excluded areas, but police can grant other exceptions. The ACLU of Oregon notes that "in the cases contemplated under this new ordinance, persons subject to civil exclusion will already be under the supervision of the courts"--in other words, why give police the power to administer variances to the exclusions rather than a judge?
These new ordinances raise concerns about misuse of resources better applied to gang-outreach programs than increased police presence, and potential legal challenges from pro-gun organizations. It also seems likely that determining who is subject to the exclusions will mean more citizens of color being stopped and questioned by police.
In the November 13 Oregonian, state legislator Lew Frederick spoke to the lack of a holistic approach, saying: "The issue we are dealing with is people without jobs [and] without hope."
Back to top
Have a Drink of Madeira, M'Dear: City's Alcohol Zone Reeks of Class Bias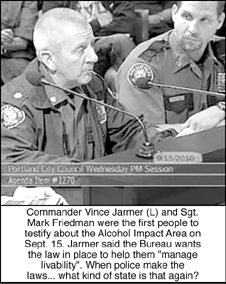 In yet another instance of classism in Portland, the City Council, on September 15, voted 4-0 to recommend that the Oregon Liquor Control Commission enact a ban on the sale of malt liquor and fortified wine in stores in an "alcohol impact area" downtown (see PPR #50).
Sgt. Mark Friedman (#36237) testified that the public perceives there is a great deal of drinking on downtown streets and that therefore people won't come downtown "to spend their money." He further stated that those who are chronically inebriated tend to stay in the downtown area and "there is no motivation for them to go elsewhere and there is no big diversity of stores" in other areas which sell the targeted products. Once again, perception seems to trump reality.
In what Commissioner Amanda Fritz, who proposed the ban, described as "a very good, very open process" various members of the community testified at the Council hearing. People who live in the Park Blocks called alcohol sales "a livability issue" and people worried about "Portland's reputation taking a fast nose dive" and the inability to shop due to "anarchy downtown." A representative of Oregon Wine Growers and an attorney representing the Wine Institute expressed concern about the ban affecting wine sales.
In contrast, an AFSCME member testified against the proposed ban, saying the real problem is alcoholism and since most treatment centers are in the proposed zone, pushing people out will cause more problems. An ex-police officer who lives in Old Town stressed that while he can afford a taxi to other places or buy alcohol at sidewalk cafes, others can't. Therefore, he said, the proposed ban "is clearly class based."
Exempt from the proposed ban are state liquor stores, specialty wine stores, and small breweries. The classism behind the ban was clearly exposed when the Council further exempted Vermouth, Sherry, Madeira and Port from the ban. No doubt a huge sigh of relief from those in the condos and private clubs in this same area. One can just visualize the raised glasses and toasts celebrating the ability to purchase these items and to have a warm place in which to drink them.
Back to top
Investigation Finds Kruger the Nazi Cop Discredited the Bureau; City Attorney Cover-up Not Addressed

In November 16, after declaring the discipline for the officers in the Aaron Campbell shooting (p. 1), Chief Reese announced that he found Captain Mark Kruger out of policy, bringing shame upon the Bureau for nailing plaques up in a City Park in 1999. In part because they were in tribute to Nazi war criminals, and in part because of the crime committed by posting signs on public property, Kruger's misconduct led to discipline of 80 hours off without pay, required diversity training, and mandated time as a mentor ("Hey, Timmy, let's go in the woods and make some signs!").
Kruger has always maintained that his interest in Nazi-era Germany, including his dressing up in Nazi uniforms for re-enactments, is only a "hobby" and historical in nature. He denied that he chose to get married in a town that Hitler used as a headquarters for any reason but the beautiful scenery (PPR #49). When the discipline was announced, Kruger publicly released a letter of apology in which he stated he did not agree with Nazism.
While it is significant that (a) the Bureau found misconduct for an action that happened far longer than a year before the complaint was filed and (b) Kruger accepted the discipline without challenge, there are still lingering issues. First and foremost, Kruger pulled down the plaques during a lawsuit against him for violence against protestors in 2002-2003, giving them to the City Attorney in 2005. The City fought against their being introduced as evidence and won--so they knew about Kruger's conduct five years ago, and did nothing about it until Kruger's former friend (and recovering fellow Nazi enthusiast) Bob Seaver filed a complaint with the Independent Police Review Division (IPR). Second, the IPR/Internal Affairs investigation only covered three of 14 allegations in Seaver's complaint. Two were found "Exonerated" (in policy), the other 11 disappeared into the dustbin of history.
Several community members including Reverend Chuck Currie are trying to push for further investigation into Kruger's past and present beliefs, not taking Kruger's apology at face value.
Back to top