<!IMG SRC="xxx.gif" ALIGN=left VSPACE=0 HSPACE=6 alt="[alt title]">

Community's Success in Crisis Intervention Training for All Police Under Attack
Media Call for "Memphis Model" but Ignore Hybrid Possibilities; Otis Incident Officer Chosen as Mental Health Cop

Much talk in the wake of the recent uptick in shootings of people in mental health crisis (see shootings article) has centered around police being on the "front line" in handling these situations. Most of the focus has been on Crisis Intervention Team (CIT) training and the specialty officer assigned to work with mental health workers for a "mobile crisis unit" project on the streets. Chief Reese made the questionable move of allowing Officer Chris Burley, who was shot during the confrontation with Keaton Otis last May (PPR #51), to take on this role. Perhaps because the Albina Ministerial Alliance Coalition for Justice and Police Reform raised concerns that Burley has not been cleared of misconduct in that case (he hit Otis in the face before Tasers and bullets flew), Reese found someone else for the position. The original top candidate was Officer Randall Brandt, who worked at the state mental hospital before becoming a cop in the 1970s (Oregonian, March 21), though Reese announced his pick as Officer Herbert Miller on April 15.

Meanwhile, articles in both the Portland Tribune (January 13) and the Oregonian (January 29) quoted experts who criticized Portland's giving CIT training to all officers rather than just an elite few. The "Memphis model" being held up as ideal requires dispatchers to request specially trained teams of officers when a call involves someone in crisis, or officers can call that team to a scene if they feel it necessary. That model assumes the dispatchers will always know to recognize a mental health call, that a Crisis Team will always be available, and/or that officers will have the time to wait for a Team to arrive. CIT Training gives officers skills to recognize possible signs of mental illness, and to de-escalate confrontations using body language, words, and tone of voice, not weapons-- whether or not mental illness is involved.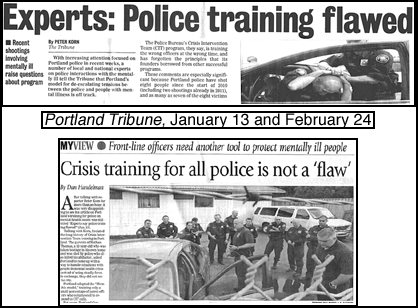 For these reasons, the community pushed for years to have all officers trained in CIT, and having achieved that after the beating death of James Chasse, Jr. in 2006 (PPR #40), it is time to consider a hybrid "Portland Model" rather than turning back the clock.
CIT was instituted in response to the parents of Nathan Thomas, a 12-year-old who was taken hostage in his own home, then police shot both him and the abductor in 1991 (PPR #5). Thomas' parents, in lieu of suing, asked Portland to train for situations with people in mental health crisis without using deadly force. Portland adopted the "Memphis model," training only officers who volunteered for the program.
Dickie Dow, a man diagnosed with schizophrenia, was beaten to death by Portland Police in October, 1998. A settlement with the family cost taxpayers $400,000 (PPR #26). Jos?Mej? Poot, an indigenous Mexican day laborer taken in when his epileptic seizure was mistaken for mental illness, was shot by Portland Police in a mental hospital in April, 2001 (PPR #24). The first officers called to the hospital included CIT members. Those officers went off duty, and when a second call came in, untrained officers shot and killed Mej?. This cost the City more money, as well as a mandate to give officers minimal training about epilepsy and mental illness (PPR #32).
After Portland Police beat Chasse to death, Mayor Tom Potter came up with roughly $500,000 to pay for training all officers in Crisis Intervention. Each of the seven people shot and hit by police bullets between January 2010 and January 2011 were in some sort of mental health crisis. According to the police accounts, only two incidents lasted long enough where a specialized CIT officer could have come to the scene: the shootings of Aaron Campbell and Craig Boehler. The officer who shot Jack Collins did so moments after Collins emerged from a bathroom holding a one-inch Xacto knife. Officers shot Darryel Ferguson as soon as he came to his apartment door with a replica gun. Officers shot Thomas Higginbotham moments after he allegedly emerged from a room with a knife. Officers shot Marcus Lagozzino after making a plan to take him into custody. And, the Gang Enforcement Team officers who shot Keaton Otis 23 times did so without regard to whether he was in mental health crisis, as they'd targeted him for "looking like a gang member." After three officers hit Otis simultaneously with Tasers and Burley was shot (allegedly by a gun Otis pulled out), the police unloaded 32 bullets in his direction.
Aaron Campbell, who was unarmed, was actually in a text and phone conversation with an officer practicing good conversational skills, but then a failure of communication between negotiators and the sniper on scene led to Campbell's death. Clearly one issue the Bureau needs to deal with is integrating CIT training with training on use of force and deadly force.
The Oregonian's article primarily focused on the concerns of Connie Gunn-McConnell, whose son had put a knife to his own throat, that the police would shoot her son when they responded. Gunn- McConnell lives just a few blocks from where Campbell was shot, and feared the worst. Both she and her husband pleaded with 9-1-1 dispatchers not to shoot their son. While officers responded non-violently, one key to defusing the situation was that the young McConnell was with a friend who talked him into giving up at the direction of the dad; frequently, police rebuff efforts by family members trying to resolve these situations, sometimes going so far as to restrain them.
The Oregonian quotes Terri Walker, of the National Alliance on Mental Illness: "A lot of us have talked about being afraid to call. We don't know what we'll get. It could be helpful, but it could be tragic."
To its credit, the Tribune quoted Jason Renaud of the Mental Health Association of Portland, who said the problem is not that Portland trains all its officers, but that all the officers are not taking the training to heart. It may be worthwhile to identify and put on call those officers who excel at CIT techniques, and might be able to de-escalate situations if they are brought in, but not at the expense of giving all officer these skills.

-----------
(Much of this article appeared as an op-ed in the Portland Tribune on February 24.)