Site Navigation
Home
About us
People's Police Report
Shootings & deaths
Cool links
Other Information
Contact info
Donate
<!IMG SRC="xxx.gif" ALIGN=left VSPACE=0 HSPACE=6 alt="[alt title]">

Drug Free Zones Revisited

Old Town/Chinatown neighborhood and business leaders requested the City reinstate the Drug Free Zones (DFZs), alleging that crack cocaine is a huge problem in this area. From 1992 until 2007, there were such Zones in certain areas of the city but these were disbanded when critics alleged that arrests were based on racial profiling and exclusions from the Zones were primarily given to African Americans (PPR #43). After meeting with neighborhood and business leaders on April 5, Mayor Sam Adams announced he would institute "Illegal Drug Impact Areas" from which people could be excluded by a judge's order after a conviction--fixing one of the key concerns about the old Zones. On April 20, Council voted to spend $250,000 on a Deputy District Attorney and "Walking Beat" cops as part of the new plan.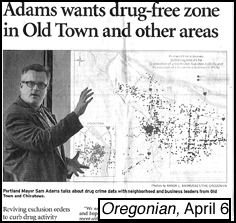 Previous exclusions were based only on arrests and people could not enter the prohibited areas for any reason. On March 1, the Old Town/Chinatown Neighborhood Association passed a resolution supporting reinstatement of the DFZs, but with two new conditions: basing the exclusions on convictions and Making exceptions for people coming to access health care, social services and education. Further, an oversight committee would be created regarding the Zones (Neighborhood Notes, March 2010).
In late March, Mayor Adams released a statement saying he would not reinstate DFZs, but "believes there are more comprehensive and effective ways to address the issue" (Oregonian, March 31). His plan for judges to add exclusions at sentencing also lets Portland Police enforce probation violations, potentially more serious than the trespassing tickets given out under the old system. This is closer to what human rights advocates have been asking for as an alternative, though the added police powers are of concern. The Council claims people involved in this program can get treatment through the "Service Coordination Team" (SCT), the $2 million program associated with previously secret lists of repeat offenders (PPR #49). Remaining questions include: Why does the SCT have empty beds? Will community members who are not part of Neighborhood Associations or Business Alliances have a say? And, will the new enforcement be equally applied to people of all races?

May, 2011
Also in PPR #53
• Chief: 5 shootings "unacceptable"
• Lawsuits rack up against Portland
• Rights commission political shuffle
• Auditor hires shooting review group
• Shootings: DA Forum, Gresham cops kill
• Sit/Lie: More selective enforcing
• Drug Free Zones revisited
• Terrorism task force debate delayed
• Ending crisis training for all police?
• $5 Million bought PPA contract
• Review board hearing lots of cops
• PPR Quick Flashes #53
• Chasse case Sgt guilty of road rage
• More horses to crush you
• Legislature considers deadly force bills
• Rapping Back 53