Lawsuits Continue to Rack Up Against Portland
Three Taser-Related Suits Cost $168,000+;* Man Shot in Head in 2007 Awarded $20,000;
Concerned Citzen Nets $82,000
In three cases recently reported in the media, Portland Police were found to have violated civilians' rights when using Tasers against them, resulting in payouts of over $168,000.* Separately, a woman roughed up after asking for a business card won $82,000. Portland Copwatch also learned that a 2007 police shooting survivor was awarded over $20,000 with no fanfare.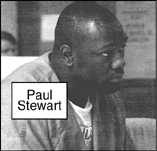 In March 2010, weeks after unarmed Aaron Campbell was shot in the back by a police assault rifle, the City agreed to pay Paul Stewart $20,024.14 for the incident in which he (Stewart) was shot in similar circumstances. Despite also resembling the death of Raymond Gwerder (which cost the city $500,000--PPR #43), Stewart's case got buried in the collective memory, probably because after surviving, he was convicted and sent to prison (PPR #44).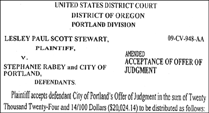 In short, Stewart was on the phone with a negotiator when PPB officer Stephanie Rabey shot him in the back of the head with her AR-15 assault rifle. The bullet grazed Stewart's head and he lived. Stewart filed suit. The City offered the $20,000 in a judgment offer, so it was recorded by the court and did not have to be approved by City Council. The timing of that agreement was likely tied to the Campbell incident being the third sniper-shot-someone-who-was-talking-to-negotiatiors case in 4.5 years. (Gwerder, you may recall, was talking to the negotiator about his rascally dog when Officer Leo Besner shot him in the back and killed him--PPR #37.)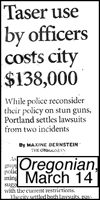 The Oregonian reported on February 27 that Portland paid an $81,766 settlement to a man, Hung Minh Tran, who filed a federal civil rights suit against the City and Officer Jennifer Thompson (#43484). Tran was shot with a Taser outside of The Cheerful Tortoise downtown on November 24, 2007. According to four witnesses, Tran was on his knees and facing away from the officer when she shot him in the back with the electro-shock device. Tran testified in court that he never saw the Taser, nor was he warned before being shot. The arbitrator overseeing the case said, "This was unnecessary, unreasonable and an excessive use of force." No discipline has been given to Officer Thompson.
The same Oregonian article also talks about a $56,306 settlement paid by the City to Christophe Clay, whose suit included Officers John Hughes (#45063) and Michelle Tafoya (#46432). Clay had gotten into an argument at a Game Crazy store in North Portland. When Clay asked for the corporate phone number, store employees called the police. The officers responded and immediately began yelling commands at Clay. Clay was on his knees with his hands on his head when Hughes tasered him twice.
Clay's friend recorded part of the encounter on his cell phone; the video is available online. In it, you can hear one of the officers threaten to tase Clay's friend. Neither officer has been disciplined.
A February 5 Oregonian article reports that the City paid $30,500 after Jason Elgin filed suit for battery against Officer Kevin Tully (#45976). Elgin, an engineering student at PCC, fell asleep with a friend at the Denny's near Mall 205 after their midterms. Denny's staff, unable to wake them by yelling, called the non-emergency police number.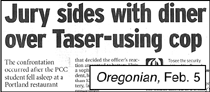 The security camera video, also available online, shows Tully roughly waking up Elgin, dragging Elgin to the floor and using his taser on him twice. All charges against Elgin were dropped.
A waitress expressed concern over the amount of force used. Tully gave his business card and said she could complain, but "if she filed a brutality complaint, the police might not come the next time there was a problem."
On April 14, a jury awarded Shei'Meka Newmann $82,000 after officers committed battery against, falsely arrested and maliciously prosecuted her (Oregonian, April 15). She witnessed the rough arrest of a fellow MAX rider in 2009 and asked Officers Aaron Dauchy (#30873) and James Sandvik (#36242) why he was arrested, then for their business cards and names (PPR #50). Sandvik struck her in the chest and twisted her arm behind her back, cuffing and arresting her, threatening to exclude her from Tri-Met. There is no indication the officers were disciplined.
These cases bring the total paid out for police misconduct in just 13 months to roughly $2 million. Given the City's tough financial situation, we only hope they find ways to prevent future acts of misconduct, including disciplining the officers involved, to reduce violence against the populace and save taxpayer funds.
---
*-Note: This article originally cited the total "over $180,000" which is not accurate, unless you include the City's internal legal costs of $136,315. We regret the error.

---