<!IMG SRC="xxx.gif" ALIGN=left VSPACE=0 HSPACE=6 alt="[alt title]">

Deadly Force Group Calls Tiny Forum Its Last Deed

On April 14, the Multnomah County Use of Deadly Physical Force Planning Committee held a forum in Gresham. Attending were over a dozen law enforcement officials and the District Attorney, but only about 10 members of the general public (including the father of Keaton Otis and Rep. Lew Frederick). The presentations tilted toward the dangers of police work. Resigning citizen member Sam Sachs says the Committee believes its Senate Bill 111 plan requirement for public education was met by this forum and now their work is done.




Gresham police shoot Iraq War veteran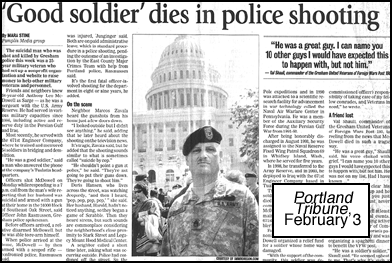 Gresham police were called to the scene when Anthony McDowell, a veteran of the Iraq war, was threatening suicide and his wife called 9-1-1; McDowell had a rifle and the police shot and killled him. The family says McDowell was holding the rifle over his head in a surrender stance; the police say he pointed the weapon at them (Oregonian, February 8). Regardless, along with the shooting of Adam Wehringer in Eagle Point last April (PPR #51) and the Vancouver police shooting of Nikkolas Lookabill last September, this makes at least three Iraq War veterans killed by police in a one year period in Oregon and SW Washington.