Sergeant in Chasse Case Found Guilty of Misconduct in Road Rage Case
In mid-February, lawyers for Neil Ruffin, who was threatened at gunpoint by Sgt. Kyle Nice during a road rage incident in 2010 (PPR #50), released information that the Police Review Board had found Nice in violation of Bureau policy for the incident. They found he "exhibited inappropriate off-duty behavior" including the use of profanity and gestures, and that he inappropriately drew his weapon (but, according to a witness, did not point it at Ruffin), which "exacerbated an already tense situation and did not serve to diffuse the tension."
In addition to appearing to be a mostly appropriate decision in this case, this adds to the trend of more "Sustained" findings by the Bureau lately (see IPR/CRC article).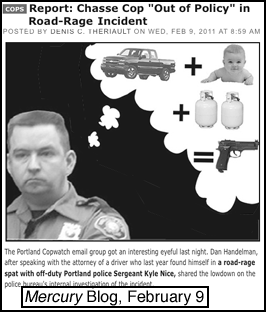 Perhaps because this was an off duty incident, the Bureau combined Nice's off-duty behavior as unbecoming (presumably Directive 310.00, Professional Conduct) with his use of profanity (Directive 310.40, Courtesy). If the idea is to correct the behavior and point out what the officer did wrong so other officers get a better idea of the standards, it would probably be better to list every directive that was violated separately rather than combine them. (To the credit of the Independent Police Review Division and Internal Affairs, those issues were originally separated but combined by the Police Review Board.)
So, the good news is he was found guilty, but the bad news is he wasn't found guilty of everything he was accused to have done (pointing the weapon) or admitted to doing (using profanity). In addition, according to Ruffin's side of the story, Nice identified himself as a police officer, so the Bureau should probably have also found Nice violated the policies on using his position as a police officer in a personal dispute (Directives 311.30 and 313.30).
For those who don't remember, Nice was also one of the officers involved in the beating death of James Chasse, Jr. in 2006, allegedly went into the jail cell of a man who had put up "wanted" posters of the three officers in the Chasse case, and was identified by a fellow officer as being close to blowing a proverbial fuse. (That officer, Thomas Brennan, was ignored and moved to the Records Division, and reportedly received a $40,000 judgment from the City.)
Four More Legs to Crush Your Spirit and Your Feet
In early February, a private citizen donated her horse to the PPB mounted patrol, meaning there will be one more 1000 pound creature ready to intimidate homeless people on the sidewalk and trample on protesters.
Legislature Considering Bills to Strengthen Deadly Force Policies
Two similar bills in the Oregon legislature, SB 895 and HB 2951, would require officers to be tested for drugs and steroids after shooting incidents, to undergo six (not just two) psychiatric appointments after such incidents, and for the state Department of Justice to investigate police shootings and deaths, rather than local jurisdictions. The Senate Bill was introduced into the Senate Committee on General Government, Consumer and Small Business Protection by Senator Chip Shields; the House version is sponsored by Representative Lew Frederick. Frederick has several other bills on police issues, including HB 2953, which would require each county to define the term "reasonable" with regard to use of deadly force. On April 13, Willamette Week pronounced the bills "dead or dying."