<!IMG SRC="xxx.gif" ALIGN=left VSPACE=0 HSPACE=6 alt="[alt title]">

Department of Justice Investigates Portland Police Use of Force

The United States Department of Justice (DOJ) has announced it is investigating the Portland Police Bureau (PPB) for civil rights violations, requesting citizens to help the investigation. Unarmed Aaron Campell was shot in the back and killed by a police sniper in January, 2010 (PPR #50). One community response to this incident (and the "beanbag" shooting of a teen in 2009) was the reconstitution of the Albina Ministerial Alliance (AMA) Coalition for Justice and Police Reform. In February 2010, the AMA Coalition called for a federal investigation of Portland police patterns and practices regarding use of deadly and excessive force against communities of color. The Coalition was later joined in this appeal by then-Commissioner of Police Dan Saltzman, U.S. Senator Ron Wyden, Congressman Earl Blumenauer, and the Urban League of Portland, among others.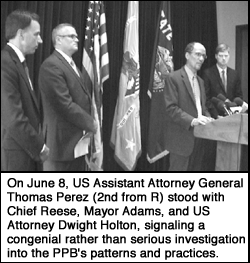 On June 7, the Civil Rights Division of the DOJ, citing the grand jury finding of no criminal police culpability in the killing, announced that it would not pursue, for reasons of "insufficient evidence," a criminal prosecution of the police officers involved for violations of Campbell's civil rights. Instead, at a news conference on the following day, Assistant Attorney General Thomas Perez, head of the Civil Rights Division, announced an investigation of the Portland Police's patterns and practices.
Statistics prove that Portland officers disproportionately target black suspects, both in traffic stops and in accosting pedestrians (see CPRC article). Substantial evidence exists that deadly force is employed against black citizens more readily than against whites. Yet, on the heels of closing the door on another avenue of the search for redress, the DOJ indicated a focus on the treatment of those with mental illness. Former State Representative JoAnn Bowman questioned that focus at the press conference, asking that the treatment of minorities be included; she was assured that the DOJ would "go where the investigation leads us."
Possible outcomes of the investigation include a consent decree, as has happened in Los Angeles and Cincincatti--which could shackle the community's ability to make change by forcing the PPB to do as the feds want; a cooperative effort between the DOJ and Portland to change practices which are inadequate; or an investigation that shows no wrongdoing, leaving us to fend for ourselves. Nonetheless, the presence of the DOJ and the pressure their investigation is putting on the PPB are welcome.
On July 22, the DOJ investigators asked for Portlanders to come forward and contact them with information germane to the review.
Contact the Portland US Attorney at (503) 471-5577 or usaor.civilrights@usdoj.gov; DC's DOJ Civil Rights Division is at community.portland@usdoj.gov or 877-218-5228.