<!IMG SRC="xxx.gif" ALIGN=left VSPACE=0 HSPACE=6 alt="[alt title]">

Police Review Division's 2010 Annual Report Leaves Much to Be Desired

The Independent Police Review Division (IPR) released its 2010 Annual Report in late June, once again removing important information. This year, they left out the survey feedback from civilians who filed complaints with them about the Portland Police. In general, the report continues the more neutral tone adopted in 2009, is organized in a slightly more logical way, and continues to include useful anecdotal examples, but leaves to the reader much of the work comparing the past to the present. In a year that included a huge upswing in police shootings (six last year versus one or two in 2007-2009), changes in the Chief's Office and the police union, and massive settlements going to people abused at the hands of police, the report of the City's primary oversight body remains quite muted. To its credit, IPR presented its report in June to City Council, the Citizen Review Committee (CRC), and the Community/Police Relations Committee.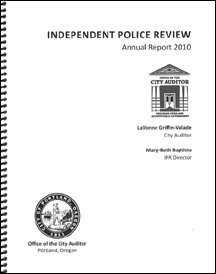 The following are some of the items Portland Copwatch found of interest:
• 2010 was the third year in a row, and the eighth of IPR's nine years, that no Disparate Treatment/Racial Profiling complaints were found out of policy. Only one such allegation has ever been "Sustained," in 2007. African Americans continue to make up 20% of complainants in a city that is 6% black.
• While 62 allegations of excessive force were filed, only three of those (4.8%) were Sustained.
• IPR and Internal Affairs (IA) collectively dismissed or declined to investigate 75% of incoming complaints, up from 71% last year.
• The 28 community cases investigated by IA represent just 7.9% of all 356 complaints, meaning a person who files with IPR now has only a one in 13 chance of having his/her case investigated.
• IPR now dismisses cases when they believe that an investigation will not lead to proof that misconduct occurred; of the cases dismissed by IPR, one in five fit this new "cannot prove misconduct" category. Portland Copwatch believes it better to conduct investigations leading to "Unproven" findings than to dismiss community concerns.
• IPR continues to inflate its "Sustain Rate" by reporting 37% of cases investigated had "one or more Sustained findings." But compared to the 356 complaints they accepted, seven with Sustained findings reflect just a 2.0% sustain rate.
IPR marginally improved their report, including new information on the status of shootings investigations, providing more details about complaints generated by Bureau members, and acknowledging the role of police labor contracts.
At the May CRC meeting, IPR Assistant Director Constantin Severe stated the report is getting smaller because Auditor Lavonne Griffin Valade wants it to be "more accessible." Unfortunately, condensation produces the side effect of making data inaccessible, further harming IPR's credibility. By only gathering information from a general City-wide survey, IPR looks to get feedback from a pool of people who have never used their services to adequately gauge the quality of their work. (Interestingly, though, that survey, like IPR's previous surveys, continues to show less than 50% approval.) Director Mary-Beth Baptista claimed that because getting a shorter IPR survey out quicker did not improve their less than 20% return rate, she chose not to spend staff time on the survey.
Baptista was careful, however, to provide a balanced response to questions about why fewer complaints were coming in: It could be changes in policy such as handing out business cards, it could be improved training, but, she acknowledged, it could be lack of faith in the system. CRC members also wondered why there had been so few appeals. The League of Women Voters' Debbie Aiona pointed out that IA only completed 19 investigations in all of 2010. By our count, about 9% of complainants appeal the outcome of their cases, with a variance of 1-3 appeals per year; in other words, you could expect 2 appeals from those 19 cases, but zero is also a likely outcome. (Actually, two police officers filed appeals of "Sustained" findings in 2010 but withdrew them after receiving more details from IPR about the process.) According to IPR, though, 21 cases were closed in the first six months of 2011 and there are still no appeals in sight.
Portland Copwatch's full analysis can be found at www.portlandcopwatch.org ; IPR's annual report is at www.portlandonline.com/auditor/index.cfm?c=27727&a=350057 .