<!IMG SRC="xxx.gif" ALIGN=left VSPACE=0 HSPACE=6 alt="[alt title]">

Illegal Drug Impact Areas Stir Controversy The "Illegal Drug Impact Areas" (IDIAs) program approved by Portland City Council in April (PPR #53) went into effect on June 1. Portland city money now pays for an Assistant District Attorney specifically assigned to prosecute downtown drug crimes. Upon a person's conviction, a judge may prohibit individuals on probation for drug violations from entering the Lloyd District, Old Town and parts of Downtown for one to three years--whether or not they were arrested in those areas. Three overlapping zones cover cocaine, heroin, and marijuana.

There are exceptions for things like accessing social services, education, or work, but violating these new IDIA requirements can lead to longer probation, and in some cases, jail time.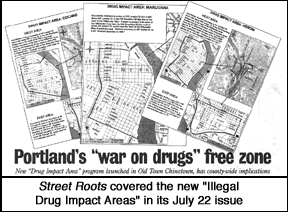 The previous Drug Free Zone policy ended in 2007 (PPR #43). As Street Roots (SR) noted on July 22, "Then Mayor Tom Potter allowed the Drug Free Zones to expire because he had concerns that the program, which largely excluded African Americans, was discriminatory." Public defender Chris O'Connor raised concerns about the new program when he asked SR, "How could a person prove they were in an area to, for example, seek social services, if they do not have written documentation of an appointment? That has not been tested." When SR made a records request to the Police Bureau for written guidelines or protocols for the IDIAs, they were told none existed.
The paper also included an editorial expressing dismay that hard drugs like cocaine and heroin are now being compared directly to marijuana. They said the IDIAs "have the potential to create systematic profiling and target [minorities and poor] people." They predict this new policy will "become another embarrassment for the city." We'd have to agree.