Site Navigation
Home
About us
People's Police Report
Shootings & deaths
Cool links
Other Information
Contact info
Donate
<!IMG SRC="xxx.gif" ALIGN=left VSPACE=0 HSPACE=6 alt="[alt title]">

QUICK FLASHES PPR #54 • Drunk cops get light punishment
• Traffic cop pulls gun in road rage
• Pervocop expunges record
• Young Black Man Catatonic After Arrest
• Taser loses $10 million lawsuit

---
Drunk Cops: Promotion, Light Sentence, Phone Duty
It seems that while getting a Driving Under the Influence of Intoxicants (DUII) can hurt your life as a civilian, things are cushier if you are a Portland Police Bureau (PPB) Officer. In May, one cop with a history of DUII, former Sgt. Brian Ossenkop (#28330), was promoted to Lieutenant by Chief Reese, causing a stir among police officers, according to the Oregonian (May 15). While Ossenkop was not criminally charged, he was disciplined for "popp[ing] open a beer while driving a police vehicle in central Oregon in front of his subordinates" in 2009.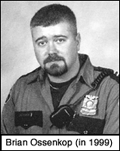 Similarly, despite objections from the Multnomah County District Attorney's office, Officer John Patrick Shadron (#37126) received a lenient sentence after pleading guilty to driving drunk and reckless driving. The off-duty Shadron was arrested in November after rear-ending a truck at a stop light, and, continuing to travel, "knocking over an electrical box and crashing into a fence" (Oregonian, July 28). He refused a breath test, which can be an automatic reason for police to suspend your license in Oregon. He originally faced seven charges including misdemeanor DUII, fourth-degree assault, criminal mischief, and two counts of recklessly endangering another person.
Under a civil compromise, Shadron and his insurer agreed to pay for the injuries to two other motorists and the property damage. Five of the charges were dismissed and Shadron pleaded guilty to the DUII and reckless driving. Judge Michael McShane gave Shadron two years enhanced bench probation, 120 hours community service, and suspended his license for 15 months. Shadron has been assigned to the PPB Telephone Reporting Unit (TRU)-- the same place Ossenkop was located until Reese became Chief in early 2010.
This wasn't Shadron's first run-in with the law; in January 2010, Shadron pleaded guilty to careless driving for chasing a former girlfriend.
A third PPB officer, Sean Sothern (#28796) was arrested for DUII in Tillamook County on August 18. He was also accused of attempting to elude and reckless endangerment (KATU-TV, August 18). He previously used excessive force while pulling special duty at PGE Park, resulting in a $15,000 settlement in 2008 from the Portland Beavers (PPR #47). Sothern too was assigned to the TRU, where drunk cops go to dry out.
Traffic Cop Pulls Gun in Road Rage

PPB Traffic Division Capt. Todd Wyatt is being investigated for pulling a gun on a motorist while off duty in Idaho. Wyatt was pulled over by WA State Police but released (Portland Tribune on line, August 23).
Pervocop Expunges Record
Former officer Jason Faulk, convicted in 2008 of an official misconduct misdemeanor for having sex on duty with a woman with autism who felt intimidated by his position (PPR #44), had his conviction expunged in June. Judge Michael Marcus was obligated to grant Faulkšs motion because expungement is possible after three years for misdemeanors. Faulk, who now works at a car dealership, can now indicate that he has never been convicted of a crime (Oregonian, June 24).
Young Black Man Lapses into Catatonic State After Corrections Officers Taser, Beat Him
On September 13, 2010, 17 year old Kyeron Fair was arrested at Parkrose High School for being an alleged accomplice to a robbery. The Skanner, the primary paper covering the case, noted that by a week later, "Fair had been housed in the adult jail, Tasered, beaten, placed on suicide watch, 'approved for strip-search,' dosed with anti-psychotic medications, and lodged in the Oregon Health Sciences University cardiac intensive care unit in a catatonic state"(June 2). Oregon State Police are investigating what happened.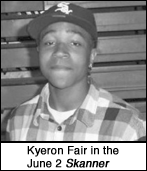 Fair was questioned for hours without his parents' knowledge or an attorney. He showed signs of mental illness; a few days later, he was unable to recognize his parents and would shout for hours at a time. Juvenile Detention officials thought he was faking, despite the assessments of mental health evaluators.
Fair had injuries which likely came from force used moving him from an isolation cell at the county jail to OHSU, when Multnomah Deputies Mindy DeArmond and Gordon Glasser simultaneously tased him. After being shackled, he was dropped onto pavement and further brutalized. Fair had other injuries which remain unexplained, including air pockets under his skin. Fair's family has retained an attorney for a possible civil suit.
TASER Loses $10 M Lawsuit
The March, 2008 Taser related death of a teen in N Carolina led to a $10 million federal jury award to his family on July 20. That night, another death led Charlotte to pull Tasers off the street (Charlotte Observer, July 20 &21).

September, 2011
Also in PPR #54
• Live Rounds Wound Man;
New Death in Custody
• OIR Group Visits Portland
• Other area shootings
• DOJ Investigates PPB
• CPRC on Race & Force;
Stats Reveal Profiling
• Whistle Blower Loses Lawsuit
• CRC: Whistle Blower Case,
Retreat and Forum
• IPR Annual Report Lacking
• Review Board Report Reveals
Cops Out of Policy
• Top 25 settlements near $7M
• Portland Rejoins Terror Task Force
• Chief Targets "Gangs," Closes Bar
• Gun Free Zone Report to Council
• Tired Mom Testifies Against Sit/Lie
• Drug Impact Areas Controversial
• Police "Union" Contract In Secret
• Quick Flashes 54:
Drunk, Angry&Pervo cops
• Drunk cops get light punishment
• Traffic cop pulls gun in road rage
• Pervocop expunges record
• Young Black Man Catatonic After Arrest
• Rapping Back 54