<!IMG SRC="xxx.gif" ALIGN=left VSPACE=0 HSPACE=6 alt="[alt title]"> • OIR Group Visits Portland
• Other area shootings


Live Rounds from "Less Lethal" Gun Hit Suspect;
Man Not Wearing Seatbelt Dies in Custody
Police Shootings and Deaths Continue Despite National Scrutiny and Past Recommendations

Ten days apart, and just three weeks after the federal Department of Justice (DOJ) announced an inquiry into Portland Police use of force (see article), two incidents involving questionable police behavior left one man critically wounded and another dead. On June 30, William Monroe, 20, was shot in the back by Officer Dane Reister (#31663), who fired live rounds from his "less lethal" shotgun. On July 10, Darris Johnson, 26, ran from police after they questioned him over failing to have his seatbelt buckled in the back seat of a car. Though he complained he was short of breath, police did not call for medical assistance; within hours, Johnson was dead. Meanwhile, the "Independent" Police Review Division (IPR) made history by "rolling out" to both scenes, a step forward in civilian oversight of shootings and deaths that has been a long time coming. Also, the Bureau's Police Review Board (PRB) released the first ever report on its closed-door deadly force hearings, with other information published starting in June by the IPR (also see CRC article & PRB article).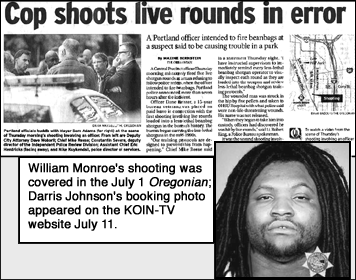 Police were called to the SW Lair Hill Park area by two calls, one alleging Monroe may have been "harassing" kids at a summer camp, the other reporting separately that he had a knife concealed in his sleeve. When officers arrived, Monroe ran. They apparently caught up with and began barking orders at Monroe, who, they say, did not comply. Reister responded by retrieving his "less lethal" shotgun, which normally would be loaded with "beanbags," or nylon sacks filled with buckshot. Even though the gun is painted orange and labelled "LESS LETHAL", and the ammunition is clear so you can see the "beanbags" (unlike the solid red and blue live rounds), for some reason Reister's gun contained real shotgun rounds. He fired off four without noticing (a) the difference in recoil or (b) that Monroe was bleeding, which would not normally be the result of a "beanbag" round. Of thirty-six combined .32 caliber pellets in the four rounds, Monroe was hit by five.
This incident raises many questions, including: Were the police justified even to use "less lethal" rounds-- was Monroe using aggressive physical resistance, or just disobeying commands? Why does the new XREP Taser shotgun (which we oppose) not allow a person to load live rounds in it, but the "beanbag" shotgun does? Why do cops fire off so many "less lethal" rounds when just one is supposed to knock a person down like a line drive baseball hitting them? (Officer Ryan Lewton fired multiple rounds at Aaron Campbell's back last January before Campbell was killed by a police sniper--PPR #50). Incidentally, the only reason Reister didn't fire a fifth round was that his gun misfired and he ejected the shell.
The Oregonian also reported that Monroe had a history of mental health problems (July 1), raising more questions about how well the Portland Police Bureau (PPB) is taking its Crisis Intervention Team training to heart.
Though Chief Reese reported Reister felt "horrible" about what happened, we have our doubts. In 2009, Reister harassed, pushed, ticketed, and failed to show up in court for two women who observed him allegedly racially profiling a man. In 2008, he was caught on camera by Joe Anybody (Mike Tabor) pushing a man who Reister accused of being a drug dealer; Reister then inappropriately seized Tabor's camcorder, leading to a lawsuit that changed police policy on taping (PPR #46). In 2006, Reister was praised by the Crisis Intervention Team when he Tasered a possibly suicidal woman in the back. Plus, Reister was named in both the lawsuit about the crackdowns on the Bush protest in August 2002 which led to one of the largest settlements in Portland history (PPR #36) and the brutal crackdown on a rowdy New Year's eve crowd in 2001 (PPR #23).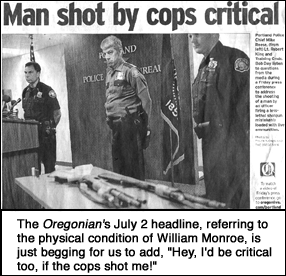 In Johnson's case, Officers Zach Zelinka (#49989) and Justin Thurman (#48255) pulled over a car with four people in it at about 4:00 on a Sunday morning for a burned out tail light. The cops checked Johnson's ID because he was in the back seat but not wearing a seat belt. (Can you say pretext?) They claim he gave them false information and fled as they re-approached the car. The PPB news release says Johnson "had a felony arrest warrant for parole violation for dangerous drugs." Police found him hiding behind a house at 5:10 AM, after he'd jumped over three fences, and while they claim he surrendered without a struggle, medical reports say he "suffered a few abrasions" (Oregonian, August 9). However, Johnson complained he was having trouble breathing. Readers may remember that when James Chasse, Jr. stopped breathing and police called medics to the scene in 2006, they sent the medics away and took him to jail (PPR #40). Having learned nothing from the $1.6 million Chasse lawsuit, they put Johnson in the police car, then noticed he had stopped breathing. Officers claim they applied CPR.
The report says the stop occurred at 4:08 AM and Johnson arrived at the hospital at 5:59 AM, nearly two hours later. Two hours after that, he was declared dead. Police quickly stated Johnson had been using meth and marijuana, even though toxicology exams take weeks to complete. After Aaron Campbell and Keaton Otis, Johnson is the third young African American man to die in police custody in 18 months.
Quick updates on other cases:
Aaron Campbell (January 2010): the DOJ agreed in early June to commence a "pattern and practice" investigation after concluding an investigation into whether officers violated Campbell's civil rights would not be easy to prove (p. 1).
Jack Collins (March 2010): On May 18, the PRB came to a (disapppointingly) unanimous recommendation that Chief Reese find this shooting within policy. They "believed the officer's response [to Collins, who emerged bloody from a restroom with an X-Acto knife] showed quick decision-making ... and that he responded with appropriate tactical strategies"--by shooting Collins to death with four bullets (PPR #50).
Keaton Otis (May 2010): On the anniversary of the shooting, Otis's family held a memorial , which featured warm stories about Keaton and calls for justice. On both July 13 and August 10, IPR reported the investigation into this case (where 23 police bullets hit Otis) is done and the North Precinct commander promised to issue findings.
Darryel Ferguson (December 2010): According to police, a hard drive allegedly containing surveillance footage of the apartment corridor where officers shot Ferguson 20 times (PPR #52) had no data on it (Portland Mercury, June 30).
Craig Boehler (November 2010), Marcus Lagozzino (December 2010) and Thomas Higginbotham (December 2010): Boehler died after being shot through the spine and inhaling smoke from a fire in the house he was in (PPR #52); Lagozzino allegedly moved toward officers with a machete when they shot and wounded him (PPR #53); Higginbotham was shot and killed in an abandoned car wash when he allegedly came at police with a knife (also PPR #53); the Training Division is reviewing the Internal Affairs investigations on all three cases before the Police Review Board reviews them.
Back to top

Shootings Review Group Visits Portland
Kicking off their three-year contract to produce reports about Portland Police shootings and deaths in custody, the OIR Group visited Portland in early May. In addition to a few meetings with community activists, OIR members spoke about their efforts at the May Citizen Review Committee (CRC) meeting.

As reported in PPR #53, the report will include at least 16 incidents between 2004 and 2011, depending on how many cases complete internal investigations by December. OIR intends to pull together three or four reports based around "themes," and are thinking of starting with mental health issues. Since most of the shootings of people with mental health issues are currently under investigation, Portland Copwatch (PCW) recommended they look instead at the pattern of people shot in the back by AR-15 assault rifles while (or after) talking with hostage negotiators (Raymond Gwerder-2005, Paul Stewart-2007 and Aaron Campbell-2010). In addition, CRC member Rochelle Silver, a psychologist, stated she hoped they would not use the report to declare that the mental health system is broken, a recurring refrain that deflects from police responsibility.
Much to their credit, OIR is not shying away from using civilians' names, unlike the previous PARC group under former Auditor Gary Blackmer. Although PCW continues to question how Auditor Lavonne Griffin Valade went about assigning the contract, we do support the openness of this review process and commend the fact that OIR is allowed to look at cases before the window closes on civil litigation.
While their earliest case, the shooting of unarmed motorist James Jahar Perez (PPR #33), took place in 2004 when PARC's recommendations were just being implemented, it's not clear OIR's statement about changes at the Bureau being "ginormous" rings true. After all, the Portland Police are still shooting and killing unarmed black men, are slow to administer first aid, and frequently jump to use deadly force rather than trying to de-escalate situations.
On June 24, Newberg-Dundee police officers in Oregon's Yamhill County shot and wounded 58 year old John Oscar Branch, who allegedly charged at them with a knife (Oregonian, June 25).
Also on June 24, Clark County, Washington SWAT officers shot and critically wounded 60 year old Mary Lee Andison, who allegedly pointed a revolver at them while at her Ridgefield home (Oregonian, June 26).
On June 15, Mt. Angel, OR Officer Steven McDonough shot and wounded 28 year old Lloyd Schafer, whom police had chased after he had failed to pull over on a traffic violation (KATU-TV, June 15).