Site Navigation
Home
About us
People's Police Report
Shootings & deaths
Cool links
Other Information
Contact info
Donate
<!IMG SRC="xxx.gif" ALIGN=left VSPACE=5 HSPACE=6 alt="[alt title]">

SIT LIE 4.0 CONTINUES:
Tired Mom Testifies to Indifferent Council; Oversight Committee Makes No Progress Over a year since its passage, the most recent version of Portland's "Sit/Lie" law continues unabated. At the June 22 Portland City Council meeting, Crystal Vaughan, who encountered ramifications of the Sit/Lie ordinance, testified in a three minute "communication" to Council. This 45 year old woman with arthritis and a previously broken back took her three year old son and his stroller on transit to downtown Portland to visit the Rose Festival. She walked for many hours, either carrying her 40-pound toddler or pushing him in the stroller. She became exhausted and suffered blisters on her feet. There was no bench on which to sit while they were waiting for a MAX train, so she sat on the ledge in front of the federal courthouse. She described "a big officer looming over her, barking that she was not allowed to sit there." She explained they were waiting for the train and that she had just walked miles. The officer yelled, "You can't sit there." She then slid down to sit on the sidewalk, which prompted the officer to scream, "You are breaking the ordinance. You're not allowed to sit down." Her son, who previously worshipped officers, awoke "to see a giant cop yelling at his mom."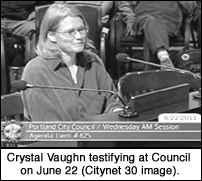 The response this woman received subsequent to her testimony can only be described as patronizing by Mayor Adams and Commissioner Amanda Fritz. Adams' main response was that there are other places on the sidewalk you can sit, while Fritz stated, "There are lots of assertions that the ordinance is targeted to people who live outside. Your testimony shows it is equally enforced." So much for citizen input. No one addresed the officer's demeanor and behavior, how patently ridiculous this ordinance is, or that people visiting downtown Portland should not be treated this way.
Commissioner Fritz continues to meet monthly with the Sidewalk Management Plan Committee, and Portland Copwatch (PCW) continues to send an observer. Little has changed, as those who are homeless continue to be given the most citations for alleged violation of the ordinance. Data furnished monthly by the Portland Police Bureau indicates that the greatest majority of those contacted by the police either have no address or give a shelter address. For several months, more contacts were made by bike patrol officers than by the intimidating mounted patrol, and we were encouraged by this trend. However, the June data indicated an equal number of contacts made by the mounted patrol and the bike patrol. The data also continue to indicate that two to three arrests are made each month when, after identifying those contacted, it is found they have outstanding warrants. While PCW points out that these are pretext arrests, Commander Vince Jarmer either ignores this, or denies they are pretext arrests. However, the fact remains that were it not for the ordinance, these arrests would not be made.
PCW has also brought up the fact that no one knows how Sit/Lie citations will fare in the judicial system. Several months ago, officials said that no one had yet been to court about a citation. Questioning this brought a promise that the District Attorney would provide the Committee with the information, but that has not yet happened.
At the June meeting, representatives of the Portland Business Alliance, Clean and Safe, and Portland Patrol Inc. discussed their programs. Clean and Safe was introduced as "a nonprofit responsible for cleaning and security and downtown marketing... and downtown ambassadors." Homeless people who are often approached by these organizations' employees might not see these guides and security guards as "ambassadors."
Meanwhile, Portland's anti-camping ordinance is still pending in federal court. During the Rose Festival, Right to Survive (RTS) displayed the hypocrisy of that ordinance. By tradition, people come downtown and camp out the night before the Rose Parade. Members of RTS also camped out that night and received no citations. Had they tried the next night, police no doubt would have cited them and/or performed a draconian "sweep."

September, 2011
Also in PPR #54
• Live Rounds Wound Man;
New Death in Custody
• OIR Group Visits Portland
• Other area shootings
• DOJ Investigates PPB
• CPRC on Race & Force;
Stats Reveal Profiling
• Whistle Blower Loses Lawsuit
• CRC: Whistle Blower Case,
Retreat and Forum
• IPR Annual Report Lacking
• Review Board Report Reveals
Cops Out of Policy
• Top 25 settlements near $7M
• Portland Rejoins Terror Task Force
• Chief Targets "Gangs," Closes Bar
• Gun Free Zone Report to Council
• Tired Mom Testifies Against Sit/Lie
• Drug Impact Areas Controversial
• Police "Union" Contract In Secret
• Quick Flashes:
Drunk, Angry&Pervo cops
• Drunk cops get light punishment
• Traffic cop pulls gun in road rage
• Pervocop expunges record
• Young Black Man Catatonic After Arrest
• Rapping Back 54