<!IMG SRC="xxx.gif" ALIGN=left VSPACE=0 HSPACE=6 alt="[alt title]">

Whistleblower Cop Trainee Loses Harassment Suit Against City

In June, a jury, followed by a federal judge, both found in favor of the City of Portland in the whistle-blower case of PPB recruit Lindsay Hunt. Hunt had accused the City of creating intolerable working conditions and of retaliation against her for reporting police misconduct.

Hunt reported multiple improprieties by her field training officer, Quency Ho (#37608). Ho was disciplined for two incidents Hunt reported--driving without a seat belt (which Ho admitted he did) and not processing a knife into evidence. Hunt's allegations also included things like entering a home without consent, ordering the destruction of evidence, and rewriting police reports. Ho also admitted to accepting free sodas from a 7-Eleven, a widespread practice the Bureau then ordered to stop (Oregonian, May 28 & June 17).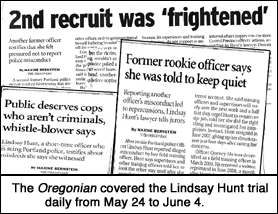 A second recruit, Erin Lewis, testified at the trial, reporting multiple instances of excessive force used by her instructor and other officers in Central Precinct. The May 26 Oregonian reports Lewis testified a teen accused of shoplifting was arrested, taken to the Old Town substation, and handcuffed to a chair by Officer Matthew Manus (#40929). She says when the teen yelled and cursed at police, Officer Mathew Delenikos (#21331) jumped up, grabbed the teen and threw him into a police car. Lewis stayed inside while Manus and Officer Darrell Shaw (#28923) went out; they returned "with this kid, blood all over his face, crying."
Lewis said she never reported the misconduct because she was "fearful of 'pulling a Lindsay'"--a slang term officers, including another recruit, began using after Hunt complained.
Days after reporting the misconduct and being transferred to a new precinct, Hunt resigned, fearing she would not receive back-up on calls. She testified that "training officers told her to look the other way and not make waves until she completed probation." The jury considered Hunt's reporting of criminal conduct and the judge considered her policy complaints and whether they led to retaliation. Later, the Citizen Review Committee reviewed the PPB's investigation (see CRC article).
Chief Reese reportedly testified about how the Bureau had done a fine job checking into Lewis' allegations but that he had instructed her to double check her policy manual, and asked whether she personally had any background in the law. He reported he'd heard the training division initiated an investigation into Lewis herself, but not at his direction (Oregonian, May 27). The Chief made it seem as though he regretted that Lewis resigned, though past treatment of whistleblowers (Liani Reyna--PPR #24, Damon Woodcock--PPR #26, Gena Hoesly--PPR #27 and Thomas Brennan--PPR #53) makes us doubt his sincerity.