<!IMG SRC="xxx.gif" ALIGN=left VSPACE=0 HSPACE=6 alt="[alt title]">

First Circuit and Oregon Courts: Filming Police Protected Right

The US Court of Appeals for the First Circuit ruled in late August that a lawyer, Simon Glik, had his rights under the First and Fourth Amendments violated when police arrested him and took his camera/ phone after he videoed an arrest in Boston.

Glik was filming officers violently arrest an alleged drug dealer when they approached him and demanded his phone (PPR #52). Police alleged Glik broke state wire-tapping laws, placed him under arrest, and took his phone. Glik then brought suit against the city and police. The ruling by the Court of Appeals allows him to continue his suit. In the opinion, the court said, in part, "Gathering information about government officials...serves a cardinal First Amendment interest in protecting and promoting 'the free discussion of governmental affairs'" (universalhub, August 23).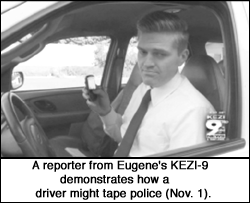 Closer to home, the Oregon Court of Appeals ruled in October that concealed recording of police is acceptable if the police are recording you. State wire-tapping laws in Oregon criminalize audio recording of a conversation if one of the parties does not know they are being recorded.
In November 2008, Shane Neff of Cottage Grove was pulled over by Eugene police Officer Sam Ou. Ou told Neff he would be recording the interaction with his dash cam. Neff then began recording the conversation with his phone. Ou arrested Neff when he discovered Neff's phone was recording.
Quoted in the Oregonian (October 31), Neff's attorney Bronson James said, "It's about whether people should have the right to record their public servants". With the ruling, the Oregon Court of Appeals shows that they believe that this is a right for all Oregonians. The Eugene Police Department now says discovery of a secret recording of their interactions with members of the public will no longer be considered by itself an arrestable offense.