Site Navigation
Home
About us
People's Police Report
Shootings & deaths
Cool links
Other Information
Contact info
Donate
<!IMG SRC="xxx.gif" ALIGN=left VSPACE=0 HSPACE=6 alt="[alt title]">

Quick Flashes
Cop Arrested For Barging In Ex's House
Graffiti Cops Raid Art Show
City Hires "Park Rangers"
PervoCop of the Month: Sheriff's Deputy

Cop Arrested for Barging Into Estranged Wife's House, Pulling Gun


Officer James Botaitis (#41139) recently used his gun as a show of power against his estranged wife and her boyfriend. On October 24, Botaitis went to his wife's apartment in Vancouver, WA, and when he asked if anyone else was there, she told him it was none of his business. Botaitis took out his gun, went past Ms. Botaitis, telling her he would "shoot and kill," and found her boyfriend, David Bacus, in the bathroom. Bacus opened the door and Botaitis ordered him to the ground.

Botaitis eventually left the apartment but was arrested later that evening by Vancouver police. The charges were "first-degree burglary-domestic violence, second-degree assault and felony criminal harassment" (Oregonian, October 26). He pleaded not guilty and was released on $100,000 bail (Associated Press, October 28). He was placed on paid leave and given a no-contact order regarding Ms. Botaitis and Mr. Bacus.

According to his brother, John, who spoke on his behalf, David Bacus is a convicted sex offender and was to have no contact with the Botaitis' 7 year old son, who is in the home of Ms. Botaitis during part of the week. He said the officer was trying to protect the child for whom he has custody (The Columbian, October 28).

Botaitis is no stranger to brutality. In 2009, he and officer Bret Burton (of James Chasse case fame) went to a condo complex to address a parking dispute. He encountered Lyudmila Trivol, who was trying to stop the family car from being impounded. Botaitis pushed her to the ground, stepped on her, pushed her face into the mud and broke her arm (PPR #48). Trivol was subsequently awarded $18,500 in a lawsuit against the city, the county and the condo association, including $5,000 paid by the City of Portland.





Graffiti Cops Raid Gallery Show, Force Eviction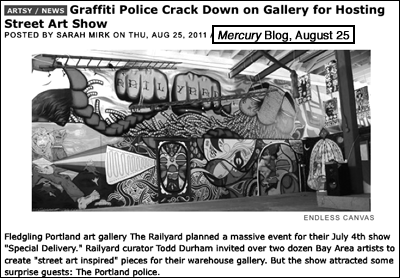 On August 23, members of the Portland Police Bureau's graffiti abatement team helped shut down an artists' space in a southeast warehouse, claiming the gallery's "street-art" themed shows had led to an uptick in local vandalism. Todd Durham, owner of the Railyard gallery, hosted a show that started July 4 which included art on the outside of the building. Officer Anthony Zanetti (#40588) threatened a $500 fine against a second gallery, the Samo Lives, because the gallery had failed to apply for a mural permit. Serre Murphy, owner of that gallery, told the Portland Mercury (September 1): "We haven't done any tagging, all we've done is beautiful artwork," but painted over the mural anyway. Durham says the outside murals are meant to deter taggers from hitting the building--the opposite of what the police accuse him of. Ironically, the October Rap Sheet, newsletter of the police "union," has a list of ways to lessen graffiti. #1 on the list? Protect local mural projects!

When Zanetti and another graffiti cop showed up in late August to help lock the Railyard out of its warehouse space, giving them a five day deadline to clear out, Durham was shocked. As well he should be--since when do cops dealing with outdoor spray-painting of private property have the right to close down an art gallery? At the time of the art show, Zanetti and six other cops were stopping people on their way into and out of the gallery (Mercury Blog, August 25).




De-Privatization of Park Rangers Causes Hubbub


In early October, Parks Commissioner Nick Fish attempted to hire City "Park Rangers" to monitor downtown parks, a task currently contracted to Portland Patrol, Inc (PPI). The Portland Business Alliance freaked out and asked for a study on the contract, worth $350,000 (Oregonian, October 5). While Portland Copwatch supports public employees doing civic work, we remain concerned about accountability, whoever patrols the parks.





PervoCop of the Month: This Time, a Sheriff's Deputy


While we documented six Portland officers who lost their jobs and/or were prosecuted for on-duty sexual misconduct from 2006-2009 (PPR #49), the most recent report of such a "pervocop" involved Multnomah County Sheriff's Deputy Adam Levin. A woman under his supervision filed a $360,000 lawsuit in October, saying he had sex with her at a motel, allegedly consensual in nature. However, her lawyer, David Paul, rightly noted that Levin had the power to send the woman to jail, and there was too much of a power differential to consider the sex consensual. Levin resigned in February and pleaded guilty to sexual misconduct "for having sexual intercourse at the motel when he checked her out of work release to attend drug treatment." He served three weeks in jail and is serving three years' probation (wonder what he would do if his probation officer asked to have sex with him). As part of his sentence, Levin was supposed to write an apology to the woman, but that had not happened as of late October (Oregonian, October 25).

January, 2012
Also in PPR #55
• Cop Indicted, Others May Go Free
• Other shootings in Oregon
• Brutality, Eviction for Occupy;
Right 2 Dream Camp Continues
• Council Makes Minor Changes To
Review Board
• Review Board Considers Future,
Prepares Appeal
• Sit Lie Targets Homeless and
African Americans
• OR Courts Protect Recording of
Police
• Incomplete Lawsuit Data; Man
Arrested for Not Giving Consent
• Human Rights Commission, CPRC
Merged and Absorbed
• Reese Not Mayoral Candidate;
Copwatch Meets With Chief
• Updates
• Road Rage Cops
• DUII Charges for Cop
• Quick Flashes
• Cop Arrested For Barging In Ex's House
• Graffiti Cops Raid Art Show
• City Hires "Park Rangers"
• Rapping Back #55