<!IMG SRC="xxx.gif" ALIGN=left VSPACE=0 HSPACE=6 alt="[alt title]">

Reese's Pieces
Chief Blunders on Occupy, Finally Meets with Copwatch Again

Reese's Mayoral Hopes Dashed After He Blames Occupy Protests for Lack of Patrol Cops

Clearly at the behest of the Portland Business Alliance and its former Vice President Mike Kuykendall, now an Assistant Chief at the Bureau, Chief Mike Reese geared up to run for Mayor of Portland for a brief three-week period. After threatening and carrying out the eviction of Occupy Portland on November 13 using horses, batons and riot gear (see article, this issue), the Chief and current Mayor Sam Adams held a news conference to pat themselves on the back for a job well done. While specific tales of abuse--and the resignation of Occupy's police and city hall liaisons the next day--exposed the inadvisability of such a move, Reese one-upped himself on Thursday November 17. Sitting in the KGW studios underneath Pioneer Square, with protestors being pushed both on and off the sidewalk and getting pepper sprayed just feet away, Reese told the news channel that a rape victim had waited for three hours for a police response because of the Occupy protests.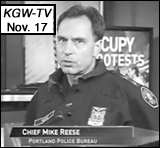 When it turned out that the incident in question had happened on November 6, a full week before the eviction put over 300 cops on overtime onto the streets, and the rape itself had happened days before that, Reese ended up backtracking. Maybe having learned his lesson, he said he should have known more about the facts before speaking. Yeah, maybe. And maybe, even if it were true that police resources were scarce, it would be good to admit that the allocation of so many cops to Occupy was a choice that he made, not the fault of the demonstrators. Two days later, Reese dropped out of the race. Reese can't be held completely at fault for the rape victim debacle: It was Commissioner Fritz who sent him the initial information, which she received as head of the Emergency Services bureau.
"OK": We Made Enough Noise to Secure a Meeting with the Chief
In 2010, Chief Reese met with just two members of Portland Copwatch, often responding to our concerns by saying, "OK" (PPR #52). Between July and November this year, we tried repeatedly to confirm a meeting where more of our members could sit down with the Chief, had one meeting scheduled and canceled, then, when we listed five interested members, were told that only one person should meet with him for coffee. As soon as we released our letter to the press demanding that more people be allowed in, the tone from Reese's office softened, and eventually four of us met with him in late October.
We covered a wide variety of topics (stuff we cover in the People's Police Report), and were met again from time to time with the short "OK," as a sign that we had been heard but that the Chief did not necessarily agree with us.
PCW did praise the Bureau for a few recent incidents where officers walked away rather than escalating the situation, such as a man who had barricaded himself in a restroom at the waterfront. (We do note with some irony that one such widely reported upon incident on September 29 involved the Washington County SWAT team rather than Portland's SERT team because they were away training.) It seems as though this tactic should be considered more often "in the totality of the circumstances," as the Bureau and the City now read the laws, so that Portland may end up with more officers and citizens going home safe and unharmed.
Among other things, the Chief also told us that:
--There will be a report on the Joint Terrorism Task Force in January even though, as of November, neither he nor the PPB officers involved have received their "top secret" clearance from the FBI;
--He would discipline any officer who retaliated against another for blowing the whistle on misconduct... even though he seemed to have been complicit in drumming Lindsay Hunt out of the Bureau when she turned in bad cops training her as a recruit (PPR #54);
--He feels that general ethics training is sufficient to address concerns about gender disparity and sexual misconduct committed by Portland officers (PPR #49), citing his oft-repeated statistic that the last batch of hires was "37% minorities and women," exceeding a goal of 20%;
--Police Review Board meetings cannot be opened up to the public because they deal with officer discipline (even though Citizen Review Committee meetings arguably also have to do with discipline and are open);
--Officers are being trained for better communication when negotiators are talking to suspects, to avoid incidents such as Raymond Gwerder and Aaron Campbell's 2005 and 2010 deaths (though the Chief still seemed unfamiliar with the also-similar shooting of Paul Stewart in 2007);
...and, he says, the reason 10 of the first 13 people excluded from Gun Impact Zones were African American is "That's who's shooting each other."
We will keep you posted as to any follow up.
The Road to Bangladesh
Chief Reese made an unannounced trip with some of his top staff to Bangladesh in early October. Citing security concerns, he explained upon his return that the Portland Police were exchanging information with the Bangladeshis on community policing. (Sarcastic remark here). While some officers seemed wary about the trip-- at the October Community/Police Relations Committee meeting, Commander Mike Crebs said the idea of living without modern conveniences was not for him -- it seems that those chosen to go are in a place of honor. So, when Chief Reese was asked why Officer Chris Burley, still under investigation for hitting Keaton Otis in the face, was being allowed to go to Bangladesh on the next journey, Reese stated that he had never heard of such an allegation (also see article, this issue).