Site Navigation
Home
About us
People's Police Report
Shootings & deaths
Cool links
Other Information
Contact info
Donate
<!IMG SRC="xxx.gif" ALIGN=left VSPACE=0 HSPACE=6 alt="[alt title]">

Updates
Road Rage Cops
DUII Charges for Cop
Road Rage Cops: Sgt Scott Westerman Fired, Traffic Captain Todd Wyatt Indicted

Yes, the officer who led the Portland Police Association's "I am Chris Humphreys" angry march on City Hall just two years ago was fired for his double road rage incidents--and for lying to investigators. Sgt. Scott Westerman, who pulled over a woman in January, 2010 while driving his personal car off duty, then pulled her over again two days later (PPR #50), was fired on September 9 with a letter from Chief Reese that stated, "All in all, your... statements are not believable and call into question your integrity as a Portland police sergeant" (Oregonian, September 10). As reported briefly in PPR #54, Traffic Division (we love the irony there) Captain Todd Wyatt, who allegedly pointed a gun at another motorist in Idaho and was eventually tracked down by Washington State Troopers, has also gotten himself into trouble. He was placed on leave on November 22 when Idaho announced they planned to prosecute him for "exhibition of a deadly weapon" (Oregonlive, November 22).

Some of Westerman's lengthy testimony to Internal Affairs, which was--in an unusual move-- released to the public, focused on his unbelievable story that he did not recognize the car he angrily pulled over for flashing its high-beams at him just two days earlier. But much of the investigation also had to do with the fact that Westerman had bought a car, told DMV that he'd lost the licence plates in order to obtain new plates, then kept driving with the old plates so his car would be untraceable. Portland Police Association Secretary-Treasurer at the time, Dave Dobler, was a key witness to Westerman's bragging about being able to run lights with impunity because of the plate scam. Dobler's actions merit adding him to the list of good officers who blow the whistle on cops violating laws or policies, though the particular offense in question did not directly relate to Westerman's inappropriate contact with community members.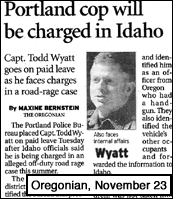 As for Wyatt, his actions could land him in jail for six months on a misdemeanor charge. At the time he was pulled over, he was not taken into custody, perhaps because he was on vacation with his family (what a role model!). Oddly, before he was suspended, Wyatt was moved into the Drugs and Vice Division to work on "special projects." As this is an incident of alleged misconduct involving someone of the rank of Captain, this would be an ideal case for the Independent Police Review Division to take on without involvement of Internal Affairs. Alas, IPR Director Mary-Beth Baptista has stated that the IPR is actively participating in the investigation, but not conducting it independently of the Bureau.


Drunk & Disorderly: Another Portland Cop Faces DUII Charges
On September 9, Portland Police Officer Randy Vanderhoof (#25521) was arrested on a Driving Under the Influence of Intoxicants (DUII) charge while off duty after failing a sobriety test administered by a Clackamas County Sheriff's Deputy. This marks at least the sixth such arrest in just over a year (PPR #54).
According to information in our files, about a week apart in January, 1994, Vanderhoof was involved in two incidents involving violent arrests that led to lawsuit settlements. One involved a drug stakeout and the other--you guessed it--a DUII arrest... of a man who wasn't drunk. Gerald Bruce ended up getting a settlement for $38,500 for the January 25, 1994 incident in which officers took him to jail, assaulted him, tried bringing him to Detox but got turned away, and Bruce ended up in the hospital for his injuries. The other case, on January 17 that year, involved Rhonda McCorvey, who got $9647.87 of taxpayer money because Vanderhoof and another officer threw her to the ground and cuffed her as she was going to get her identification.

Needless to say, this increase in officer DUIIs is very troubling. The Portland Police Association still promotes the Police Alcohol Recovery Team on their Rap Sheet website (ppavigil.org/RapSheet). The Oregonian ran an editorial (September 13) noting that 10 officers have been arrested in the last decade, quoting Independent Police Review Division Assistant Director Pete Sandrock as saying officers used to be let go frequently based on a "professional courtesy" gentleman's agreement. They cite a statistic that officers have a 25% alcohol abuse rate compared to 17% of non-police males (and 8% of females).
Meanwhile, Sean Sothern, who tried to hide from police in Tillamook County while drunk by pulling into an RV park and shutting off his car's lights (also PPR #54), was put on paid leave on September 24 following his indictment for DUII, attempting to elude police, and reckless endangerment (Oregonian, September 24). It turns out his blood alcohol level was .137, well over the legal limit of .08 (Oregonian, October 5).

January, 2012
Also in PPR #55
• Cop Indicted, Others May Go Free
• Other shootings in Oregon
• Brutality, Eviction for Occupy;
Right 2 Dream Camp Continues
• Council Makes Minor Changes To
Review Board
• Review Board Considers Future,
Prepares Appeal
• Sit Lie Targets Homeless and
African Americans
• OR Courts Protect Recording of
Police
• Incomplete Lawsuit Data; Man
Arrested for Not Giving Consent
• Human Rights Commission, CPRC
Merged and Absorbed
• Reese Not Mayoral Candidate;
Copwatch Meets With Chief
•Updates
• Road Rage Cops
• DUII Charges for Cop
• Quick Flashes
• Cop Arrested For Barging In Ex's House
• Graffiti Cops Raid Art Show
• City Hires "Park Rangers"
• Rapping Back #55